'Christian Nation' Mythos Enters America's Public Schools, As 'Bible Curriculum' Reportedly in 382 School Districts [ note: see full story for Norris video ]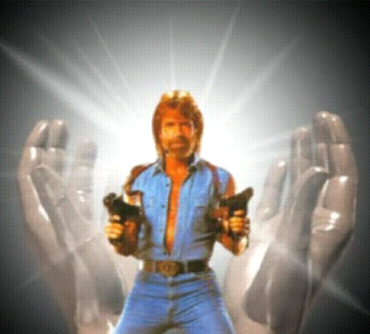 Martial arts maven Chuck Norris, legend has it, can defeat packs of savage wild animals, hordes of vicious, armed goons, and even onrushing Mack trucks with nothing more than his hands and feet. Now, Norris wants to kick secularism's ass - he wants the Bible back in public schools. But roundhouse kicks or even the "claw of death" are not especially useful for slipping a sectarian Bible course curriculum touting fake history into public schools. Stealthy, social tactics are needed. Will Chuck Norris become a Liar For Jesus ? We don't yet know but Norris has touted the work of the National Council On Bible Curriculum In Public Schools as it sneaks, in a slick wrapper of dubious and flat-out fraudulent takes on American history, its Christian nationalist Bible course curriculum into public schools, cities, and towns across America. Meet the The National Council On Bible Curriculum In Public Schools (NCBCPS), a stealth effort associated with the far right Council On National Policy and led by a woman who has said God has commanded her to bring the Bible back into public education.
| | |
| --- | --- |
| (6 comments, 1465 words in story) | |

Chalcedon Report
. There the chief publishing house for Reconstructionist thought, Chalcedon, announces that it has published Bruce Shortt's book,
The Harsh Truth About Public Schools
. Bruce Shortt, along with T.C. Pinckney, leads the movement against public schools within the Southern Baptist Convention.
| | |
| --- | --- |
| (2 comments, 314 words in story) | |
Ethics Daily
quotes a leader of the movement to get Southern Baptists to leave public schools as saying,
"This year has actually been a breakthrough year."
His resolution to devise an "exit strategy" from public schools was replaced by a resolution for Baptists to, in effect, takeover the boards of education at public schools.
| | |
| --- | --- |
| (7 comments, 317 words in story) | |
Reconstructionist thought has a special attraction for rural Americans. A glance at R. J. Rushdoony's explanation of the biblical tithe in his
Institutes for Biblical Religion
reveals why.
Rural America subsists mostly on farming and ranching. Every decade, for more than a generation, greater challenges have threatened the economic survival of those that live in these communities. Every year the population of small towns decline as the elderly die, the young move to the cities to find work, and the rest live from one day to the next. Foreclosures by banks for unpaid mortgages and by local governments for unpaid taxes have been commonplace. Bad weather, bad luck and bad policies by civil bureaucrats have caused thousands of small farmers and ranchers to lose homesteads that have been in their families for generations. Resentment is strong, conspiracy theories are rampant, and every possible scapegoat is actively pursued.

| | |
| --- | --- |
| (4 comments, 944 words in story) | |
Ethics Daily
has posted a free 20 page resource guide for advocacy and action in support of public schools.
This is a very good way to begin moving from Talk to Action on this issue of vital importance to democracy.
Below the fold is a section that I prepared for the guide on "Rights and Responsibilities" in regard to religion in the public schools.
| | |
| --- | --- |
| (9 comments, 742 words in story) | |
| | |
| --- | --- |
| (2 comments, 160 words in story) | |
| | |
| --- | --- |
| (5 comments, 978 words in story) | |
| | |
| --- | --- |
| (12 comments, 1362 words in story) | |
All of us need to be able to comprehend the issues and weigh the opinions necessary to render an informed decision whenever we are called upon to fulfill our civic duties. The duties of free citizens are not responsibilities that anyone should take lightly. They range from voting in elections, to holding public office, to serving on juries that make decisions over matters of life and death.
| | |
| --- | --- |
| (3 comments, 1004 words in story) | |
Not necessarily.
Whether evolution conflicts with religion depends upon the context in which the theory of evolution is presented. When evolution is discussed within the context of scientific inquiry and experimentation, there is no conflict. When evolution is discussed within the context of philosophical and religious inquiry, conflicts may arise -- but such conflict is neither necessary nor inevitable.
| | |
| --- | --- |
| (5 comments, 1402 words in story) | |
Pat Robertson doesn't bother to take his foot out of his mouth before he puts the other one in.
Now he's calling professors "termites" and "killers."
| | |
| --- | --- |
| (3 comments, 105 words in story) | |
Ethics Daily has published a couple insightful articles regarding the latest developments in the battle to destroy America's public school system. Bob Allen has written an essay about a new "Christian book" that "says Public Schools Subvert Parental Rights." He goes on to describe recent challenges to public schools coming from every quarter of the political and religious right. Ed Hogan has written about his "Concerns about the 'Exodus' Movement." The "Exodus" movement is an organized effort to get Christians to remove their children from public schools.
| | |
| --- | --- |
| (3 comments, 426 words in story) | |
| | |
| --- | --- |
| (6 comments, 1015 words in story) | |
Focus on the Family Vice President Tom Minnery wasn't very happy about my piece on James Dobson and the Christian right's ties to Jack Abramoff,
"Abramoff's Evangelical Soldiers."
Of course, he can't -- and doesn't -- dispute one single fact in the article. The Nation received this today:
| | |
| --- | --- |
| (2 comments, 410 words in story) | |
It is good to see that
The Evangelical Climate Initiative
has received a great deal of media attention.
The interesting story here is that a group of relatively conservative Christians have come together to not only shake up the Republican status quo on environmental issues, but to directly challenge the loyal pro-Bush faction of the Christian Right.
| | |
| --- | --- |
| (6 comments, 479 words in story) | |