The Hell House phenomenon was first publicized in
Hell House
, a 2001 film by director George Ratliff, whose movie focused on the production staged by the
Trinity Church
in Cedar Hill, Texas. Most reviews of the film read a lot like
this one
.
Hell House is a movie full of contradictions. It's a documentary about a church that creates a haunted house every Halloween to teach visitors the perils of modern life.
:::
Throughout British history, there were books that would detail the lives of the saints. Often times, the saints were reformed sinners. Ostensibly the tracts would be about redemption, but in reality the tracts were like soft porn or horror (he was a sinner because he took the woman's breast in his hand slowly, etc. etc.) It was publicly acceptable to read them because they were "religious."
:::
That's what Hell House seems like to me. It's a way for the very suppressed religious right to act out in an environment that seems religious. It's a way for them to participate in raves, shoot people and pretend to have sex.
:::
There's also the glaring irresponsibility that Hell House presents as well. Hell House suggests that only gays get AIDS and all gays will eventually get AIDs. That abortions always equal death for the mother. And funniest of all, reading Harry Potter ... will lead to the service of Satan. How little Harry goes about tempting you to kill your parents, I'm not really sure.
:::
There is a nice little scene towards the end that shows how angry some people have been after being 'duped' into thinking Hell House was just another non-denominational haunted house.
Although Jerry Falwell is credited with originating the Hell House concept -- and his Liberty University is sponsoring an elaborate version, known as ScareMare, in Virginia this year -- any church can stage its own Hell House by purchasing an Outreach Kit from the Hell House Ministry of the Reverend Keenan Roberts, pastor of Colorado's New Destiny Christian Center ("Soaring at a Godly Altitude").
Being utilized to preach the Gospel from coast-to-coast and around the world! Hundreds of kits are equipping churches and ministries on the front lines of spiritual battle in virtually every state and eighteen foreign countries... and counting!
:::
Several years ago, the world watched, and the media was shocked as a church began to take an uncompromising stand on the red-hot issues facing our culture today!

Piece by piece, prop by prop, costume by costume - the master plan is organized in a comprehensive manual. A video of what Hell House in action looks like and a special-effects compact disc audio master are also included. This sizzling evangelism event is designed to capture the attention of our sight and sound culture!

"The method is timely! The message is timeless! Desperate times call for drastic measures! If your church or ministry is determined to take a stand against sin and the kingdom of darkness and to reach people for Jesus like never before, then this outreach is for you! Get prayed up and powered up and be prepared for the ride of your ministry life!"

Senior Pastor Keenan Roberts of New Destiny Christian Center,
Broomfield, Colorado
The author and creator of The Hell House Outreach Kit
For a basic charge of $299, with additional sin scene modules available for about $45 more, Pastor Keenan's kits provide all the resources a church might need to stage its own extremely realistic event as a "dynamic evangelism tool" -- including special effects CDs, advice on the best kinds of meat to buy to make stage prop fetuses, and ... oh, yes ... how could I have forgotten the guns?
I'm gonna shoot straight with you. These guys and their blank firing products have given our productions a totally authentic look, sound and feel in every way when it comes to impressing a live audience with your props. The guns are well-built; they have the weight of the real thing, and they sound terrific. If you're on the look for theatrical guns, and/or five-star blank-firing ammunition, there's no better place to go than IAR. We have utilized their blank firing weapons and high-octane, blank-firing ammo for many years with great satisfaction. Click on their site, look over their amazing inventory and make sure you let them know we sent you when you place your order.

Pastor Keenan
What does a ticket to a Hell House buy? Sheer misogynistic, homophobic and anti-Semitic horror.
As one reviewer of Ratliff's documentary explains, there's no "sin" left behind.
[A] young Baptist pastor named Keenan Roberts dreamt up an alternative to haunted houses for the month of October: he called it "Hell House," and it featured different rooms that re-enacted the ways you could go to hell. Abortion, heavy metal, homosexuality, even the RU-486 pill is not spared.

The documentary [catalogs] throngs of kids lining up to see a room sprayed with fetal blood, and Roberts, who seems to be having WAY too good a time portraying Lucifer. It's a chilling journey into the reptilian hindbrain of American religion.
Among the high(low)lights: in one room a kid listens to some rock'n'roll and then blows away his entire classroom with a .357 magnum. In another, a woman has a botched abortion and tries to grab the unborn fetus from the doctor. In the best scene, a man with AIDS - pockmarked and covered in sores - is eaten in his hospital bed by a giant monster. And lastly, after descending into Hell itself, you meet a Hasidic Jew who is being ground into meat - and then you are granted audience with Lucifer himself.

When you watch the documentary, you see small kids go through Hell House, having the ever-loving SHIT scared out of them. By the time they get to "Jesus," they're ready to crawl back into the womb. There are endless interviews with vacant-eyed teenagers describing Hell with the brainwashed monotone of the recently-hypnotized. And there are THOUSANDS of kids that have gone through this thing without the slightest bit of irony.
:::
[I]t is NOT OKAY for kids to grow up thinking fags go to hell. It is TOTALLY UNCOOL for people to believe that Jews get churned into hamburger meat in the afterlife. In one Hell House scene, a girl is raped at a "rave," taunted by Lucifer because her dad had molested her, and then goes to Hell BECAUSE SHE COMMITS SUICIDE.
:::
Even living in an outrage-resistant world, "Hell House" is deeply deserving your attention and scorn. This is what we're up against, and it makes you wonder if this country is big enough for all of us.

[Photos: Hell House, 2001 and Amy Bench for the Daily Texan Online's report of an Austin church's annual Hell House production, "Virtual Hell"]
But this country apparently is big enough for hundreds of Hell House productions each and every Halloween. This year the production values of the official trailer for the Cedar Hill church's DARK RAIL House (presumably the train to hell, since nearby Dallas' public transportation system is known as DART) far exceed those in Ratliff's original film.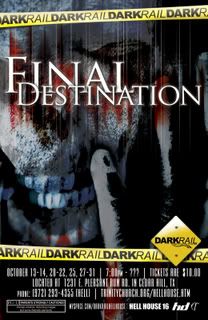 The Cedar Hill church's elaborate production has grown into a tremendous moneymaker, but even more modest enterprises are effective. The following text and photos are excerpted from one Ohio church's account of its own 2005 Hell House production (all errors in the original).
The funeral home where the descendent died from AIDS contracted from the so called Alternated Life Style, the funeral in progress. A young lady laying in a casket, mom, grandma and sisters weeping for their lose. They seen how Satan had deceived this young lady into believing that she was born a lesbian and she had died from aids. A demon jumps out from behind the casket and informs the group how he had convinced her into believing that this was the way she was and how they had led her into hell through this deception without the hope of escape.
[A] school class room where a troubled teen enters the room during class and shoots several students and the teacher, this depicting school violence we are plagued with today because of sin, no more bibles or prayer in our public school. A demon speaks to the young man with a gun hidden under a long black coat he carries out the mission the demon has convinced him to carry out. The demon is present during all of this as the groups looks on.
The abortion clinic, a young lady lay on the operating table as the medical staff take the life of another unborn child. The demon is present telling the tour group how he had convince this young lady to murder her unborn child. The young lady dies during the abortion.

The Tour Continues [t]o ... where kids are playing around with the occult, there is a satanic ritual taking place. The kids are worked up into a frenzy until a young man is pulled form tour group ... and is offered on a satanic altar as a human sacrifice.
A teen girl is having trouble with her family, boyfriend, school, so called friends alcohol and drugs. A demon is convincing her no one cares or loves her. At the precise time as the demon talks to her she slowly brings a gun to her head the lights grow dim and a pistol is shot is heard ( a pistol loaded with blank rounds is fired undetected) and she falls to the floor as the lights come back up.
Then the group is then led to HELL, It can't be described it has to be experienced!

People crying and screaming lock up in chains in a smoke filled rooms with eerie glow of fire. They seek help from the tour group as they cry out for help. Satan appears as he dooms the tour group to an eternity in hell.

Out of no where The Angel of The Lord appears and leads the group to heaven with all it's WONDER and GLORY they came face to face with JESUS CHRIST THE KING OF KINGS AND THE LORD OF LORDS! (an actor of course) where they told the gospel story and given a chance to be born again. Councilors are stationed just out in the lobby to assist anyone that would ask.
And plenty of impressionable youngsters probably needed them.
As George Ratliff discovered in Texas in 2001, Hell House is an important event for the participants.
You're not going to believe this but after Hell House every year, they have their own Oscar award night. It's their prom and awards ceremony merged into one. It's a huge night of the year because they don't really have a dance or prom -- they have this. So they get dressed up to the nines, their best clothes, buy dresses, rent tuxes. It's a seated formal dinner in the church and they have awards layed out for, you know, "Best Rape Girl," "Best Abortion Girl" and so forth. And it's a full ceremony with the screens and clips. It's huge, huge deal for them.
And it's also a huge, huge deal for the thousands of impressionable children and adolescents who experience Oscar-worthy performances in countless other Hell Houses in churches across the country.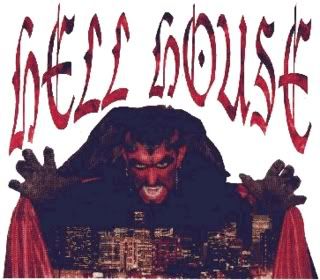 Trick or Treat.