Proponents of criminalizing abortion in the United States hasten to assure the nervous that under the South Dakota ban, only doctors will be subject to imprisonment. However, as noted by Lynn Paltrow and Charon Asotoyer in
South Dakota's New Murderers
, that apparent exception in no way protects women from prosecution under other laws already in existence.
Those who authored the law want to create impression that only the people providing the abortions will be punished, not the women having them. They are not brave enough to admit what is clear: women will be punished and they and their families will suffer if this law goes into effect.
:::
Undoubtedly, the bill's supporters will point to language that states that "nothing in this Act may be construed to subject the pregnant mother upon whom any abortion is performed or attempted to any criminal conviction and penalty." The truth is, though, that this particular act need not authorize arrests of pregnant women for such arrests to start taking place.
:::
South Dakota has a feticide statute that makes the killing of an "unborn child" at any stage of prenatal development fetal homicide, manslaughter, or vehicular homicide as well as a law that requires doctors to tell women that an abortion ends the life of "a whole, separate, unique living human being." The new law banning virtually all abortions states that it is based on the conclusion "that life begins at the time of conception," and that "each human being is totally unique immediately at fertilization."

If the unborn are legal persons, as numerous South Dakota laws assert, then a pregnant woman who has an abortion can be prosecuted as a murderer under already existing homicide laws.
Like its Nicaraguan counterpart, the South Dakota ban admits no exception for females who are victims of rape, or even for those whose health is critically endangered by pregnancy. That same legal provision refuses mercy even to children. "Rosa," a 9-year-old girl pregnant as a result of rape, obtained an abortion in 2003 under a 130 year old provision of Nicaraguan law that permitted abortion to preserve a woman's health Her highly publicized case provoked a firestorm of objection from the Catholic Church, whose Nicaraguan authorities threatened to excommunicate anyone who assisted her. Just as in South Dakota, that same exception is now construed as a legal loophole that permits "abortion on demand," even though only 6 legal abortions were allowed in Nicaragua in 2002 -- as compared to an estimated 32,000 per year that actually take place, almost all of which are as dangerous as they are illegal.
The stylized universal symbol for woman stamps the backdrops of so many television reports on our own abortion controversy that we hardly think about what it means anymore.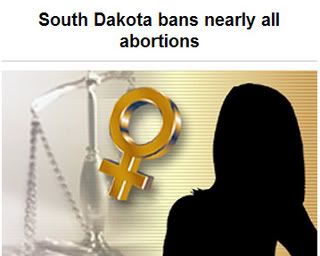 But for women faced with their total subjugation to a religiously-controlled government here and now, that symbol hasn't lost its power. With their very lives at stake, to be a woman means everything.
The BBC reports that "hundreds of people protested outside the National Assembly in the capital Managua on Wednesday night, saying the law would be a death sentence for the some 400 women who suffer ectopic pregnancies in Nicaragua each year."
One protester, Xiomara Luna, told Reuters, "They are forcing women and girls to die. They are not pro-life, they are pro-death."
In South Dakota, as anti-choice physicians in white coats lull the public with lies about the law, some Nicaraguan doctors are more honest about the inevitable consequences of the abortion ban they endorse.
"The current law allows a small door in which abortions can be performed, and we are trying to close that door," said Dr. Rafael Cabrera, an obstetrician and leader of the Yes to Life Movement. "We don't believe a child should be destroyed under the pretext that a woman might die."
In a Managua press conference, members of the Nicaraguan Society of Gynecology and Obstetrics unequivocally stated that the new law would "endanger women and make doctors reluctant to perform life-saving procedures."
"When a woman arrives at a hospital with vaginal bleeding ... we're going to be afraid to do anything," said society President Efrain Toruno, according to the newspaper El Nuevo Diario. "If we treat her we could be prosecuted, and if we don't we could also be prosecuted."
Dr Marvin Buehner of South Dakota writes in the current issue of the British Medical Journal that the South Dakota law poses an urgent and identical danger to women.
[P]roviding abortion services would be professional suicide for any private practitioner, he writes.

"The environment of intimidation here is still so pervasive that neither I, nor my colleagues, nor our state medical association spoke in objection when the legislature proposed a sweeping abortion ban, vetoed in 2004, or when it was reintroduced this year."
:::
He has publicly testified that the law does great harm to women with complicated pregnancies and has worked with the South Dakota State Medical Association and the American College of Obstetricians and Gynaecologists to oppose the law for its "horrific medical consequences."
Dr. Buehner ... said there are certain illnesses that require abortion before effective treatment for the woman. Cancers of the reproductive organs could require chemotherapy and radiation best done after the pregnancy has been aborted, he said. Treating a pregnant woman could amount to malpractice.
:::
"You'd end up with a dead fetus, an irradiated pelvis with an immune system compromised by chemotherapy," he said. "And when the woman starts to hemorrhage from her miscarriage, removing the pregnancy from the uterus would be a perilous medical misadventure."
Gynecological oncologist Dr. Maria Bell of Sioux Falls is another doctor who has spoken out frequently, citing health serious conditions -- in addition to cancer, in which she specializes -- such as the retinopathy of severe diabetes, which can leave a woman no alternatives except therapeutic abortion or permanent blindness.
OB/GYN Dr. Keith Hansen of Sioux Falls ... fears the ban could result in the unnecessary death of pregnant women and leave doctors open to a felony charge.
:::
Determining when abortion would be allowed to preserve the woman's life could be a difficult judgment call open to legal second-guessing by a local prosecutor, Hansen said.

"If somebody has a 10-percent chance of dying, is that what they mean? Or is it 30 percent or 50 percent or 80 percent," he said. "By the time you figure out somebody is at a high risk of dying, they're probably going to die."
Like Drs. Buehner, Bell, Hansen and more than two-thirds of the other obstetricians and gynecologists in South Dakota, many physicians in Nicaragua have taken a public stand, if to no avail. In an open letter to one newspaper, a group of medical associations wrote, "Getting rid of therapeutic abortions will make the parties involved responsible for the death of women and the physical and mental handicap of children."
Marta Maria Blandon, Central American director of the reproductive rights group Ipas, said, "The worst message of this proposed law is that the lives of women don't matter to this president, or to the government or the church."
Presidential candidate Daniel Ortega once defended the heavily restricted abortion rights of Nicaraguan women, and he once was a fiery critic of the Catholic church, too -- but that was 20 years ago, when he headed a politically liberal Sandinista government. Now, hungry for a political comeback in a hotly contested November 5 election, he has made a highly opportune return to his religiously conservative roots. Ortega's 2005 marriage was performed by a Catholic cardinal, and in recent months he has taken to quoting the Pope and releasing photos of himself attending mass.
It hasn't escaped the notice of women's groups in Nicaragua that the text of the new law is substantially identical to a proposal drafted earlier this year by the Catholic Church. Not surprisingly, they consider the total ban on therapeutic abortion as cynical hand-in-glove pandering to the political influence of the church hierarchy.
We have our own Daniel Ortegas in Democrats for Life of America, the Trojan donkeys who applaud the South Dakota ban as a "comprehensive approach" to ending abortion. And just as in Nicaragua, the Catholic Church is deeply involved in campaigning for the South Dakota abortion ban.
In an "educational" booklet titled Response of the Catholic Diocese of Sioux Falls [pdf link], the church instructs South Dakota Catholics on why they must vote for the abortion ban appearing on the November 7 ballot as Referred Law 6, and displays the same contempt as their Nicaraguan brethren for what they call women's "health."
During the legislative session, there were attempts to amend HB 1215 to include exceptions for the "health" of the mother, rape and incest, and fetal anomalies, all of which were successfully defeated for solid pro-life reasons.

"Health" of the Mother: (Section II.D.2.)

* The South Dakota Legislature clearly understood that a "health" of the mother exception would have made the rest of the bill worthless. The "health" exception is what has allowed abortion to be available on demand in our country because "health" has been interpreted by the courts to include any reason.

Rape and Incest: (Section II.D.3.)

If you believe that life begins at conception, and that life should be protected from that moment on, and then go on to say "except in the cases of rape and incest," then you logically would also support the killing of the child after its birth. ... You cannot logically choose conception as the defining moment in non-rape cases, and birth as the defining moment in cases of rape and incest.

If you support a rape and incest exception, then you must be prepared to also support an exception for the "health" of the mother - the exception that swallows the rule.
Fr. Frank Pavone of Priests for Life and the Rev. Thomas Euteneuer of Human Life International join the chorus of near-universal praise from the Christian right -- and their views are at one with the hierarchy. So saith the church.
As election day approaches, Leslee Unruh, who is managing the "Vote Yes for Life" campaign with dubiously legal tactics, says that people need to "forget the rhetoric and vote what they know what is right in their hearts."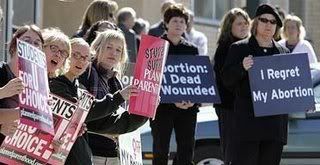 Rosa, a pregnant nine year-old girl in Nicaragua who didn't want to have a baby because she would have to "share my toys with other children," knew what was in her own heart. During her weeks of waiting to find out whether she would be allowed to have her abortion -- which ultimately was clandestinely performed by doctors who defied church and government pressure -- Rosa drew this picture of herself lying in bed.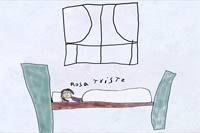 "Rosa triste" . . . "Rosa sad."
moiv sad, too.
[Title photo by Oswaldo Rivas/Reuters, from The Guardian UK]