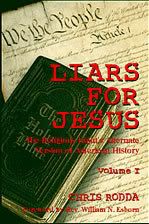 That failure of contemporary historians - to confront the miasma of distortion, misrepresentation, misquotation, and bald fabrication that characterizes
the historical myth of "America, the Christian Nation"
- stretches even into complicity. A few outside the hallowed halls of academe have stood up, however, to challenge the veneer of Christian Nationalist pseudohistory descending over America, and Chris Rodda is one. One could characterize the project as a form of patriotism, or a passion for truth : in four hundred painstaking pages of analysis extensively footnoted and tied to numerous original and sometimes never before cited source documentation, Rodda methodically traces and debunks the references of alleged works of history by leading Christian nationalist authors and, in the end demonstrating them to be rooted in vanishingly little truth and extensive artifice, calls into question the entire revisionist oeuvre.
At four hundred pages, "Liars For Jesus" is not an easy or a quick read, but Democracy itself is neither easy or quick and - as Benjamin Franklin's alleged words challenge us still ( to paraphrase ) We have our republic... but can we keep it ?.
Thanks to the work of a few such as Chris Rodda, we may yet do that.