"Plugged In Online", a website published by Focus On The Family, has enthusiastically endorsed the "Left Behind: Eternal Forces" video game that Talk To Action contributor Jonathan Hutson has
described
, in his multi part
expose on the game
, as one in which
"Christian militias wage physical and spiritual warfare using the power of prayer and modern military weaponry to convert New Yorkers and kill those who resist."
and which has been targeted at teens and young adults. Although Jonathan Hutson's Talk To Action series has so far been viewed by several hundred thousand readers, The Left Behind Games Company has not so far challenged its factual basis. Promotional screen shots from the game in play show armed forces firing at point blank range at civilians and bodies littering the streets (
screenshots
from the game ), and the official description, from the manufacturer, states that in the game there can be no neutral noncombatants.
"We want to entertain first, but we want to entertain in a way that the loving message of Jesus Christ comes through." - From an interview of Left Behind Games Company CEO Troy Lyndon by GameSpy Magazine.

"Conduct physical & spiritual warfare : using the power of prayer to strengthen your troops in combat and wield modern military weaponry throughout the game world....

Command your forces through intense battles across a breathtaking, authentic depiction of New York City....

Control more than 30 units types - from Prayer Warrior and Hellraiser to Spies, Special Forces and Battle Tanks!"....

Play multiplayer games as Tribulation Force or the AntiChrist's Global Community Peacekeepers with up to eight players via LAN or over the internet!"

- excerpted from a description of the game, on the official "Left Behind: Eternal Forces" game website. From the official Left Behind Games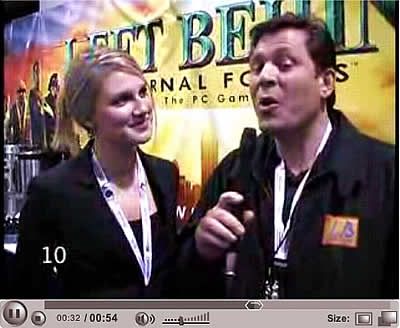 The makers of the "Left Behind: Eternal Forces" game have made numerous apparently contradictory characterizations of their product, and some of those cast a dubious light on their efforts to market the game as a means for imparting moral lessons to children. Left Behind Games CEO Troy Lyndon seemed to justify the killing in his video game with the explanation that
"the Bible is full of warfare, [ and] so are all the other great games on the market"
( note : the Biblical narrative also describes father-daughter incest, polygyny, infanticide, ritual sacrifice, and genocide ). Meanwhile, Left Behind Games Company President Jeffrey Frichner has publicly stated that
"The reason "Left Behind: Eternal Forces, the PC game, is such a great, incredible, fantastic game is because you can play both the good side and the bad side."
[ click on image, above, to watch short video of Frichner's statement ] Given that the "bad side" in the "Left Behind: Eternal Forces" game is, more than "bad", actually depicted as satanic, a logical inference is that Frichner was endorsing a form of satanic role playing. "Plugged In Online", having reviewed the game, is presumeably aware that players can choose to command the forces of the "AntiChrist" in the game.
Focus On The Family's endorsement of the "Left Behind: Eternal Forces" game also seems to imply an endorsement of a curious game feature ; the "Left Behind: Eternal Forces" video game has a built in mechanism that reduces the combat strength of characters in the game each time they kill, so that killing in the game is nominally penalized. But, that combat strength can be restored when players press a "prayer button" on their gaming control sticks, causing fighters in the game who have killed to rebuild their strength through prayer.
In a December 1, 2006 Business Week Op-Ed,The New God Game, Left Behind Games Company CEO Troy Lyndon, in an apparent reference to such a "prayer button" wrote:
"Think about it. Is it all that bad to include a "pray" or "worship" button in a game? By itself, that's not preachy or negative.....

What publishers need to consider about developing their first 'inspirational' game is to be careful that subtle changes in design or game play don't violate doctrine.....

...games should focus on modeling positive behavior through prayer, worship and caring for people. If this is done in an engaging manner that is fun, mainstream America and the world will embrace it.
However, a Wired Magazine writer who reviewed Lyndon's video game wrote:
"....In the thick of a really hectic Left Behind battle, I'd click the prayer button so instinctually that I pretty much forgot I was, well, praying."
That description puts Lyndon's "prayer button" in a different light by suggesting that, in the "Left Behind: Eternal Forces" video game depiction of religious warfare, the violation of the foundational Mosaic Biblical commandment against killing can be nullified by the repetitive pressing of a button. Did the game designers intend that their product might possibly convey a message, to teenage game players, that the moral and spiritual gravity involved in killing, and the weight of sin that major world religious traditions attach to the act, can be expiated by pressing a button ? That is impossible to say but such an apparent reduction of killing, to a mechanized process, certainly lends creedence to Mr. Lyndon's suggestion that his video game is worthy of "fascinating coffee table discussions".
*as a minor but significant technical note on James Dobson's attack on Spongebob Squarepants : sea-sponges cannot be homosexual, they are unisex creatures.