Even though OSA and some other groups publicly disavow violence, they maintain associations with others who are more open about their own understanding of the will of God. Joining Benham and OSA in Raleigh was Johnny Hunter, director of
L.E.A.R.N., Inc.
, who has built a career on denouncing abortion as "black genocide," and says that "It is time for the women of our nation to become like the mothers and midwives in ancient Egypt." Hunter appeared with Mark Crutcher - whose
Life Dynamics
web site details the addresses and phone numbers of every abortion-providing clinic in the country under the header
Death Camps
-- to expound upon the "holocaust" of abortion.
The video of Mark Crutcher's interview with Johnny Hunter is available in its entirety on the web site of the Rev. David Trosch, and it is hard to imagine that either the highly litigious Crutcher or Hunter would permit it to remain there without their permission and approval. David Trosch is a renegade priest who openly advocates the murder of physicians who provide abortion care.
A Catholic priest sat behind his desk in Magnolia Springs and pulled out a drawing on a sheet of paper.

It's an advertisement that shows a doctor about to perform an abortion, and a man with a gun about to shoot the doctor. Two words accompany the drawing: "Justifiable Homicide."

The ad was designed by the Rev. David Trosch, head of St. John the Baptist Catholic Church in Magnolia Springs, about 45 minutes south of Mobile.

"If 100 doctors need to die to save over 1 million babies a year, I see it as a fair trade," Trosch said in an interview.
:::
For the moment, Trosch says, he has no plans to kill a doctor himself. He has "only remotely" thought about it, he said.
:::
Still, Trosch wouldn't say with absolute certainty he'd never kill a doctor.

While Trosch said he has never told anyone else to kill a doctor, he casually acknowledged that the advertisement could have incited people to kill.

"It doesn't bother me," he said.
Benham to Hunter to Crutcher to Trosch: Tinker to Evers to Chance and then some. Following are excerpts from the OSA version of what Benham, Hunter and their friends did in Raleigh on May 27.
At 9:00 a.m. sharp, in accordance with the sound permit, Bill's sound system begins operation. Roger with his sharp eye has previously informed Bill that the clinic has the American flag hung backwards - stars to outside. This becomes a great opening dialogue for Bill, "The flag is hung backwards like everything else inside the clinic is backwards against God's laws. You can pretty up the outside with a flag and flowers out front but it is the devils death camp, filled with his lies and murder. Your flag hanging backwards and the killing done inside gives only dishonor to America on this day."
:::
Around 9:30 a.m. Flip arrives with his trailer, pulls out his gigantic speakers, signs and billboards and sets up on the sidewalk directly across from the clinic. Our first example today in how boldness for the Lord overcomes oppression. The awesome sound of a trumpet call of victory from Curtis Fenison rings gloriously to God through the streets! The powerful words of life pour out from Flip as he begins broadcasting that the church of Jesus Christ has come to the gates of hell in Raleigh!
:::
About this time Dr. Johnny Hunter of "Black Genocide" arrives with his wife. While both Flip and Rev. Hunter continue to loudly preach the words of life the multiple squad of police with their leaders have retreated to a bank parking lot across the street while trying to figure out the municipal city statues, while, with wand in hand, they continue to measure decibels. ... The security forces are left without recourse. They can only stand in front of the clinic with multiple cameras going as they must now wait for police relief from the "Church in the Street" which is powerfully flowing.
:::
The oppression previously being effected ... by these security people is, by now, gone forever. It becomes plainly obvious the power belongs to God alone.

As the sound system blared with music, worship and evangelizing, Curtis with great beauty declared God's presence with his trumpets and the police dithered.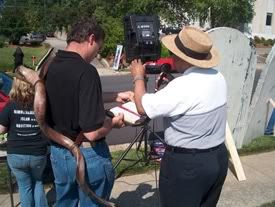 Curtis Fenison (with shofar trumpet across his back) and Johnny Hunter in Raleigh
After several hours of disruption and intimidation at the Raleigh clinic, what Flip Benham calls God's "gentle Christian warriors" reassembled at the home of Susan Hill.
Flip had printed posters with Susan's picture headlining that "Susan Hill has Murdered Thousands of Children in Raleigh - Please Pray for Her Repentance and Conversion to Christ!" Below her picture is a list of "Did you knows" with a call to speak up in witness for the least of God's children. Copies will be available in Jackson .

Arriving about 2:00 p.m. we split up into a two pronged approach towards her house, passing out posters on the way, carrying graphic signs with an "abortionist" arrow to be appropriately pointed.
:::
An unexpected great spectacle of publicity in the neighborhood for the infamous Susan Hill occurred as numerous police cars and officers gathered and were in conference with us for probably an hour or so in the front streets focusing much attention to her home. How the Lord works in mysterious ways!
Last year, Dr. Warren Hern had this to say about OSA'a campaign of intimidation against him in Boulder.
Hern said the group had spent two days demonstrating at his office and another Boulder clinic before going to his neighborhood to pass out the flyers.

"It's bad enough that they harassed women in my clinic," he said. "But this group can't leave anyone alone. The flyer they passed out is a very personal attack."

Hern noted that elsewhere in the country, where abortion doctors have been killed, similar flyers have been posted.

"This is telling the fascists to kill abortion doctors," he said of the leafleting campaign.

"This is a terrorist operation. This means that they would stop at nothing. Who will be next? When they get through with the abortion doctors, Operation Save America has a long list of people that they hate."
This is the "Justifiable Homicide" ad circulated by the "Reverend" David Trosch.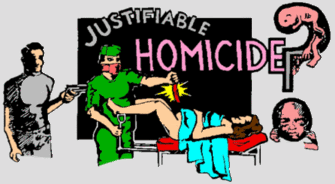 This is the flyer that Operation Save America used to target Dr. Warren Hern less than a year ago.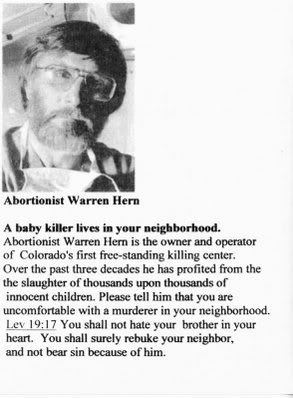 And this is the text of the poster - which bears two photographs of Ms. Hill [pdf link] - that OSA distributed in Raleigh, and plans to use to incite the mobs in Jackson next month.
Susan Hill has Murdered Thousands of Children in Raleigh
PLEASE PRAY FOR HER REPENTANCE AND CONVERSION TO CHRIST!

DID YOU KNOW?
Susan graduated from the Meredith Baptist Women's College here in Raleigh.

Since 1973 Susan has been tragically involved in shedding the innocentblood of God's unborn children.

Susan is the President of multiple abortion centers known as the "National Women's Health Organization" located in several states, including one right here in Raleigh on Haworth Drive, off of Six Forks Road.

Susan publicly boasts that she is doing something "beautiful."

Tens of thousands of children have died at her hand and enriched her pockets.

Susan believes what she does is good, while unborn babies are being terrorized to death in her clinics.

Silence is consent! God calls us to speak for those who cannot speak for themselves (Proverbs 31:8).

Will you speak up in witness for the least of God's children (Matt. 25.40)?

"We pray that God would take the wicked heart of Susan Hill and turn it towards Himself. We pray that Jesus would apprehend her heart and enable Susan to use the wonderful gifts and abilities He has bestowed upon her to bring health and life rather than destruction and death. In Jesus' Name!"

www.operationsaveamerica.org
It feels reassuring to think that these campaigns of fear are being carried out by fringe groups that lie -- in a phrase beloved of politicians on the religious right -- "outside the mainstream of the American people." But the truth is that Operation Save America has a great many friends among the politically powerful.
Fr. Frank Pavone, the Vatican's own "vicar for life" who actively participated in the OSA action in Colorado last July, had this comment on the recent attempt to pass an abortion ban in Mississippi: "[W]hen the people and lawmakers of a state want to protect their own children, and have been prevented from doing so for over three decades, perhaps the only way to regain that right is to force the issue."
And Pavone enjoys access to the highest corridors of power. One of Pavone's more notable allies is Senator Sam Brownback, whose "constituency of one" makes him God's Senator. So Flip Benham and his friends might have reason to be feeling cocky right now.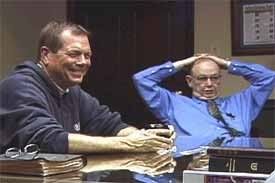 Flip Benham meets with Don Wildmon of the American Family Association
"... Shall your countrymen go to war while you sit here?"

God Himself is orchestrating this event in Jackson, and we all are standing by in humble amazement. He has given us great favor with the American Family Association (AFA) and, during our meeting with Don Wildmon, we were assured that we would have the formidable support of the AFA attorneys to bring the Gospel of Christ right to the gates of hell. We believe that Mississippi may well be the first abortion free state in our country. What a message that would send to the nation!
They are sending a message to the nation already, loud and clear, if only the nation will hear it.