DFLA - "Democrats For Life Of America" (link to DFLA's website links page - its chosen allies one would presume), meanwhile, is in some significant ways hard to distinguish from the hard Christian right. The group's website links not only to a who's who of the hard right antiabortion movement but also to groups that have specialized in attacking the mainline Christian Protestant denominations - a significant component of the Democratic Party's base - for close to 3 decades.
Is this Democratic Party Stockholm Syndrome ?
Now, reducing abortions is a good goal. But, the Christian right obsession with emphasizing the failure rate of condoms is a strategy that has apparently not worked very well in Texas, a state now in the middle of a mini STD boom that dates from the arrival of George W. Bush and the passing of legislation in Texas mandating the teaching of "abstinence-only" sex education. Let's look at the apparent results :
Syphilis rates in Texas had been declining for many years prior to the advent of "abstinence only" sex non-education in Texas.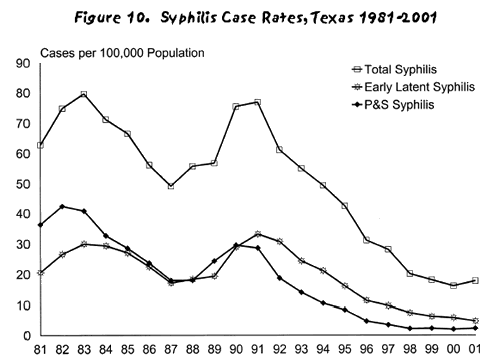 Then, the arrival of "abstinence only" in Texas - in 1996 - saw a strange reversal in that trend: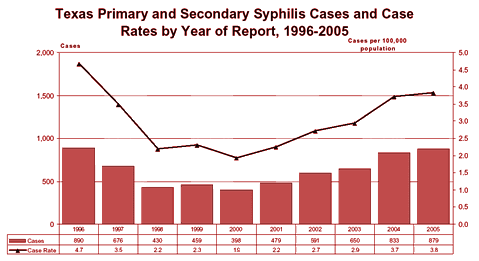 Am I cherry picking the data ? Is this simply a case of the rise in antibiotic resistant Syphilis strains ? No, according to the Texas state 2005 epidemiological survey, rates of Gonorrhea, Chlamidyia, and even HIV all seem to now be increasing in Lone Star State. "Abstinence Only" has been a dismal failure in Texas - regardless of the considerable amounts of state and federal money dumped in to promote the initiative....
so NOW - rather than bother to pay any attention to actual facts, by supporting DFLA's 95-10 initiative that would compel physicians to emphasize just how useless condoms are ( per the Christian right ), the Democratic Party is buying in to those failed policies.
Enter moiv :
Here's an excerpt from moiv's commentary :
The 95-10 Initiative is becoming legislation in the U.S. House!

Congressman Lincoln Davis (D-TN) introduced the Pregnant Women Support Act on Wednesday, September 20th at 10:00 am.

We now have a comprehensive measure that will support pregnant women who don't want to have abortions by ensuring health care, child care, support to stay in school, and other important support for pregnant women and their families.

Gee, that all sounds just great, doesn't it? What's not to like? Why should such a compassionate program have had to wait so long for a sponsor?

Maybe it's because 95-10 calls for preventing pregnancy, but mentions contraception only in regard to failure rates -- anti-choice dog whistle code for "abstinence-only." Maybe it's because 95-10 also calls for the imposition of repressive legislation upon every physician in the country. Maybe it's because 95-10 mandates federal funding for a nationwide network to funnel unsuspecting women seeking information about abortion into crisis pregnancy center "ministries."

Maybe it's because most Democrats have scruples about crawling into bed with Concerned Women for America, Priests for Life, the March for Life, the Conservative Congregational Christian Conference, Lutherans for Life, CareNet, Heartbeat International, Project Rachel, the "abortion is genocide" Abortion in Black America, Life Issues Institute, LifeSite, Joe Scheidler's Pro-Life Action League, Americans United for Life, the American Life League's Stop Planned Parenthood International, Human Life International, Feminists for Life, National Right to Life, and the same Life Dynamics that lists every provider of abortion care in the country as "American Death Camps" -- all of them directly linked from the DFLA site.

Maybe it's because DFLA opposes embryonic stem cell research. Maybe it's because DFLA is still spreading the discredited lie that abortion causes breast cancer. Maybe it's because DFLA officers publicly refused to support the Democratic presidential ticket in 2004, calling John Kerry the "Hitler of the Unborn."

Yes, maybe those are some of the reasons -- the same reasons that DFLA is a Trojan donkey.
Nevertheless, in an election season distinguished by the efforts of even some Rove-spooked Democratic politicians to "out-Jesus" each other, 95-10 has finally found a Democrat willing to attach his name to it in public, and a Democratic site to promote it.