A common view in American mainstream political thought and among American progressives, holds that many leaders of the US Christian right who profess to hold beliefs about "Geocentrism", Creationism, or the coming end of the world, are putting on an act. This view is easier to accept in the case of Christian right leaders who makes lots and lots of money. That makes it easy to view them as scammers. What if many who would appear to be scammers are not ? What if making lots of money is simply a component of their theological views ? What if Geocentrists and Premillenial Dispensationalists
really believe ?
Well, let's start with the easy, happier part of this: The Geocentrists
really do believe that Galileo and Copernicus were wrong
. They spend huge amounts of apparently unpaid time discussing, and bickering over religious and technical minutia, with other geocentrists, about their pre-Copernican views. In fact, some geocentrists hold that
Einstein's Theory Of Relativity supports a geocentric ( or "geostationary" ) model
. They really believe this. It's
not
an act or a joke. They believe that the entire known universe revolves around the Earth once every 24 hours, and they have mathematical proof.
This is not an act, they really believe it.
In the case of the Geocentrists, it's notable enough that seminal figures on the Christian right such as RJ Rushdoony, and at least one current major leader at the Chalcedon Foundation, reject the Copernican system. ( see my link at the top of this post ) It's worth knowing, too, that Tom Willis --the man who led the 1999 revision of the Kansas State school curriculum on science-- was a "Young Earth" creationist and a geocentrist. Willis was, one might say, 'credentialed'.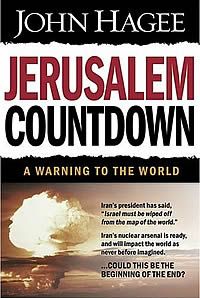 Geocentrism is, in relative terms, the happy Janus face of the Christian right's rejection of objective, science based approaches to public policy. The angry, fearful, vengeful face of that rejection is to be found in "Christian Zionism", and specically in the recent work of influential Texas Megachurch pastor John Hagee, who has formed a political lobby to advance his "Apocalypse Based" foreign policy agenda, that of fomenting a catastrophic world war, and it is possible, even, that President George W. Bush shares Hagee's lust for apocalyptic destruction. That's no laughing matter. Like the Geocentrists, John Hagee, along with numerous Christian right religious leaders and millions of Americans --including many who serve in the US Armed Forces-- really do believe that the end-times are immanent, and some believe they must personally work to bring about catastrophic global war in order to usher in the end-times, the Rapture, and the Second Coming It's no joke. This, they believe. Really. Texas pastor John Hagee believes it so strongly he's formed a major new national lobbying group for the Apocalypse, for apocalyptic war. Hagee has formed a national Christian right lobbying group, with chapters in all 50 US states, to exert pressure on US politicians for the sort of maximally aggressive US foreign policy approaches --including a preemptive joint US/Israeli attack on Irah-- that Hagee thinks is necessary to bring on the Tribulation, the Rapture, the Apocalypse, the battle of Armageddon, and the return of Jesus Christ. So, while the memo - below - may seem funny, in the wider context.... Well, suffice it to say - I'll be writing on the "Apocalypse Lobby" very soon. Please stay tuned.