In Quentin Tarantino's cult movie hit "Reservoir Dogs", a pack of hired guns gathers at a cheap breakfast diner the morning before a bank-robbery attempt that goes horribly, bloodily awry. Given the rampant criminality of George W. Bushes' presidential administration, these photos of Bush, George Bush Sr. ("41"), Dick Cheney, Condi Rice and the unlikely Don King, at a tackily decorated Asian restaurant with controversial John McCain-endorser, political king-maker Pastor John Hagee take on a Tarantino-esque cast except that in the 2004 election cops didn't swoop in to break up the heist and so America had to endure four more years under George W. Bush's neo-imperial reign while Bush cronies and deficit spending looted the national bank, Bush undermined the US Constitution and the US floundered deeper into the West Asian morass that has become Bush's fiasco in Iraq. They gathered at the restaurant in 2004, a year before New York Times writer Maureen Dowd was to wail, in 2005 as alarm at the disproportionate influence of the American religious right was cresting, "Oh my God, we really are
in a theocracy
!". In 2008 now, swelling, braying punditocratic chorus declares the death or immanent collapse of the political religious right but the importance of the movement to the GOP doesn't seem to have actually ebbed much if at all and so GOP presidential hopeful US Senator John McCain has, in the lead-up to the 2008 presidential race, been hotly pursuing rising kingmakers of the religious right, powerful pastors such as John Hagee and Rod Parsely who have built their own evangelical GOTV machines, like a dog in heat.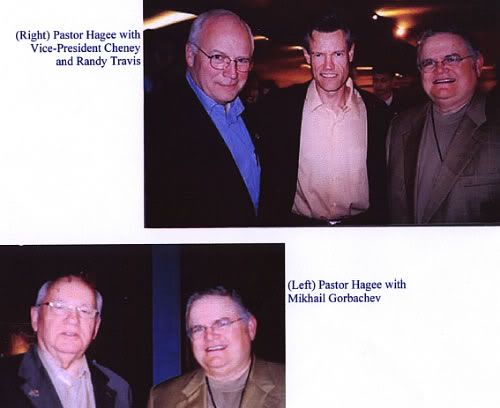 And this despite John McCain's stern denunciation in 2000, as "agents of intolerance", of fundamentalist evangelical leaders like Pat Robertson and Jerry Falwell. The first fundamentalist leader Pastor John Hagee consulted, as he considered forming Hagee's Christians United For Israel was Jerry Falwell---who blamed Americans themselves (such as "pagans","abortionists", feminists, gays, lesbians and the ACLU) for the September 11, 2001 terrorist attacks, has spoken of his expectation of a future, coming "holocaust" in Israel, declared on the anti-Christ "of course he'll be Jewish" and inveighed against the alleged gay-ness of the Tele-Tubbies.
Pastor John Hagee's views are, if anything, more extreme than Jerry Falwell's and Hagee is as close to the late Falwell's presumptive heir, as Moral Majority head, as anyone in the running except that Hagee's own burgeoning organization is geared towards more ambitious outcomes than the "traditional morality" Falwell's organization was ostensibly formed to promote. Pastor John Hagee's CUFI lobbies, according to his own written and stated views, for apocalypse, the death of much of humanity and the obliteration of Jews and Judaism. Oh yes - "The Rapture" too. Never forget "The Rapture".
So it's all the more astonishing to see John McCain, now in 2008, dragging John Hagee's political endorsement around, in unruly tow like a giant badly trained and poorly housebroken dog the size of a pony and which over and over again over again makes pungent messes on the carpet of national opinion.
The Hagee messes pile up and up and up with each new day bringing some new rhetorically rank dropping - Hagee blames Jews for the Holocaust, he compares women to Doberman Pinschers with lipstick, he calls Islam a Moon-God religion and true Muslims bent on the deaths of Christians and Jews. Hagee declares God has cursed and doomed America and predicts that, in the war he says he wants the US to initiate against Iran and which Hagee says will lead to WW3 (or WW4) God might launch a preemptive Nuclear strike against America's coastal regions. As a longstanding hobby while not noisily proclaiming his love for Jews and demonstrating it by staging Havah Nagilah - Hoedown fusion musical events among his megachurch members divided into church units named for the 12 Tribes of Israel, Hagee promotes conspiracy theories, involving international financiers based in Europe and also malevolent secularists who want to destroy Christianity and traditional morality, conspiracy theories that sound all-but identical to Nazi propaganda with the actual terms "Jews" and "Jewish" removed, replaced by code words - "Hollywood hellraisers","secularists", "ACLU" and so on - that Neo-Nazi and White Supremacist groups routinely associate with Jews.
Senator John McCain is extremely conservative but he probably knows his father, Admiral John S. McCain, would be rolling over in the grave over his son's courtship of political endorsement from the likes of Hagee and Senator McCain couldn't have been too thrilled at being filmed at a nationally televised press conference embracing Hagee. Probably all that McCain was thinking of was sprinting off to a hot shower to wash off the Hagee-ness before it seeped indelibly in.
But, backing from leaders such as Hagee, or obeisance to powerful cult leaders such as Sun Myung Moon, is essential to the political success of major GOP political figures. McCain's religious-right bashing may well have cost him the fight against George W. Bush in the 2000 GOP primaries and now, in 2008, McCain knows better and so makes regular stops to genuflect at Hagee's fundament.
The Bush family embraces the religious right for the same reasons, and they do it with more gusto than McCain ever has or probably ever will - as George Bush Sr.'s recent hosting of a powerful cult leader, Sun Myung Moon, shows. The Bush clan is generously catholic in its association with ideologically extreme American religious leaders, and in the summer of 2004, on June 12 after George Herbert Walker Bush celebrated his 80th birthday by parachuting into Houston's Minute Maid Park, after the day's celebratory hoopla was over, John McCain's controversial political endorser Pastor John Hagee, along with George W. Bush, George "Poppa" Bush, Dick Cheney, Condi Rice, Larry King and Randy Travis made their way to an unknown, tackily decorated Asian restaurant, probably the sort of place with an ornate carved wooden door with dragons, the type of establishment that serves very strong fruity rum drinks in giant ceramic goblets sporting small tropical ceramic islands jutting out from fruity rum seas.
At the restaurant, call it an old school middlebrow Chinese restaurant with dim lighting and piped in musak, Hagee and his White House buddies probably feasted, made merry, posed for photos and discussed the evangelical GOTV effort which some credit for putting George W. Bush over the top in the 2004 presidential race against Democratic presidential candidate John Kerry. In the 2008 presidential election, it's likely Senator John McCain III will be in an analogous set of photos, with Hagee, conferring on the fundamentalist GOTV effort of 2008 but those images probably will not escape into the public domain. Ever.
As the John Hagee Ministries "current events" page explained back in 2004,
'Pastor Hagee and Diana attended "An 80th Birthday Salute to our 41st President" George "Papa" Bush on June 12, 2004 held at Minute Maid Park in Houston, TX.

Entertainment included: Houston Symphony, Larry King, Wynonna Judd, Michael W. Smith, Bo Derek, Dennis Miller, Tommy Tune & Manhattan Rythym Kings, Amy Grant, Vince Gill, Dan Quayle, Randy Travis, Ronan Tynan, Oak Ridge Boys, Crystal Gayle, Larry Gatlin & Gartlin Bros., Yolanda Adams, Lee Greenwood, Lyle Lovett and all the Bush children.'
What sort of entertainment Dan Quayle provided at the Minute Maid Park birthday celebration event is unknown, nor did the John Hagee Minstries website divulge whether Dennis Miller, Bo Derek, Amy Grant, Dan Quayle, Lyle Lovett or 'all the Bush children' were tapped for the Chinese restaurant soiree'.
The original John Hagee Ministries website page with these images has, since 2004, been taken off the Internet. An internet archive copy of the page exists but the only image which was saved with the page was that of John Hagee with Condoleeza Rice.
Unfortunately, my source for these images has lost the image of Pastor John Hagee with George W. Bush but a caption in the bottom image on this page, Hagee with George Bush Sr., indicates that a pinkish dome at the bottom of the picture is either the top of George W. Bush's, or apocalyptic megachurch preacher Pastor John Hagee's, head.