VOA Interviewer Jerome Socolovsky: So, I understand that, that you and people from the NAR feel that you need to reclaim control over government and society, and that there is this concept of the Seven Mountains. Can you explain what you mean by that, and why you need to have this control?

C. Peter Wagner: Yeah, that's a good, that's a good point. We actually don't use the word 'control,' that's a little too strong for us.
Wagner continues,
...there's no thought of anyone that I know in the NAR of taking over society.
In the 2008 video below, Wagner explains the meaning of "dominion," when speaking at an NAR conference to kick off the new year.
"Dominion has to do with control. Dominion has to do with rulership. Dominion has to do with authority and subduing and it relates to society. In other words, what the values are in Heaven need to be made manifest here on earth. Dominion means being the head and not the tail. Dominion means ruling as kings. It says in Revelation Chapter 1:6 that He has made us kings and priests - and check the rest of that verse; it says for dominion. So we are kings for dominion."
The embedded video is a short, edited version of Wagner's comments from an article by Right Wing Watch. For a longer version see this video of the 2008 "Starting the Year Off Right" conference.
For more on the NAR's usage of "the head and not the tail" as the battle cry for the Seven Mountains Mandate, see:
http://www.talk2action.org/story/2010/9/13/11834/9878
http://www.talk2action.org/story/2011/6/14/11151/3650
http://www.talk2action.org/story/2010/9/12/172231/428
In his 2008 book Dominion! How Kingdom Action Can Change the World, Wagner writes about the Seven Mountains campaign, or the mandate to take control over the cultural power centers of art, business, education, family, government, media, and religion. He quotes Apostle Lance Wallnau, one of the leading international speakers on the 7-M Mandate.
"I maintain that whatever society we live in, we cannot hope to see that particular society transformed unless all seven molders of culture are transformed simultaneously. Business consultant Lance Wallnau was the first to draw my attention to this. He likes to call the seven molders the 'seven mountains.' Wallnau says, 'If the world is to be won, these are the mountains that mold the culture and the minds of men. Whoever controls these mountains controls the direction of the world and the harvest therein.'"
Under the subtitle "Overthrowing a Government," Wagner continues,
"Let's remember that our responsibility for taking dominion amounts to an invasion of territory that Satan has held for a long time. Think of the seven molders of culture. Satan has succeeded in maintaining control in each of them because he has established a government in each one. And it takes a government to overthrow a government. The people of God constitute the Church in the workplace, but this extended Church has been relatively impotent because it has not had a biblical government."
In the VOA interview Wagner responds to a question about the NAR, stating,
Well, see, there, when we talk about the NAR as a movement, I think that's a very poor term for it. It's a movement of God, but it's not the kind of thing that there's an organization. It doesn't have a person or group who is the leader. It doesn't have a newsletter. People don't pay dues. There's no membership to it. Um, it's just a description of what God is doing. So it's not an organization.
That may be true of the larger NAR movement, but Wagner formed entities which are by-invitation-only and dues-paying. Some of these entities include the International Coalition of Apostles, Eagles Vision Action Team, Apostolic Council of Prophetic Elders, International Society of Deliverance Ministries, and more. The current ICA newsletters can be accessed here. A 2007 letter from Wagner's Global Harvest Ministries explained changes that were taking place in the network at that time and the new emphasis on the "Seven Mountains."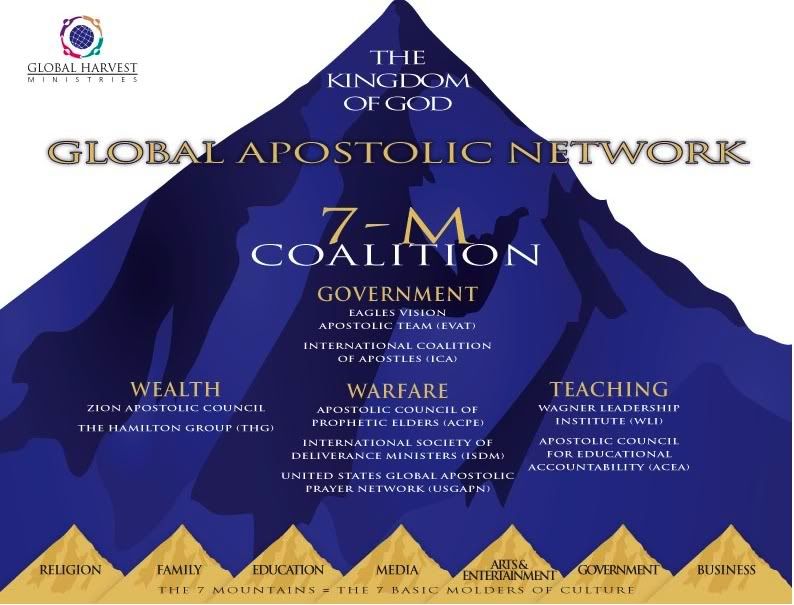 Wagner wrote in his 2008 book Dominion!,
"It would be difficult, if not impossible to imagine taking dominion back from Satan without the active participation of the Church in the workplace. I realize that this is a fairly new thought, and that practical implementation fo these principles is still in the beginning stages. We are identifying workplace apostles, an essential first step. At this writing, among the five hundred members of the International Coalition of Apostles, some sixty to seventy are listed as workplace or extended church apostles."
I don't know what Wagner will say in the interview to be broadcast on Fresh Air on Monday, but this interview should help bring public attention to the New Apostolic Reformation and the movement's growing influence in the Religious Right and politics.
See a full transcript of the Voice of America interview with C. Peter Wagner on September 7 and my article following that interview.