On Friday, October 7th 2011, Texas Baptist megachurch pastor Robert Jeffress introduced Rick Perry's speech at the 2011 Family Research Council Voter Values Summit and endorsed presidential hopeful Perry (a key endorsement for Perry's campaign
according to
the LA Times.) Perry's presidential campaign specifically
approved
of the choice of Jeffress to introduce Perry's speech at the event.
On the same day, pastor Jeffress attacked Mormonism, the faith of presidential hopeful Mitt Romney. As Jeffress stated in an interview with American Family Association spokesperson Bryan Fischer, "We need to understand, it [Mormonism] is not Christianity, it is not a branch of Christianity, it is a cult" (see video at Right Wing Watch.)
The Perry campaign, now in damage control mode, has responded with a statement that "The governor does not believe Mormonism is a cult." But Perry's ties to overtly anti-Mormon tendencies include his alliance with the rapidly growing movement on the charismatic evangelical right known as the New Apostolic Reformation, whose leading figure C. Peter Wagner has also labeled Mormonism a cult and whose top leaders (Wagner included) advise burning books of Mormon.
On September 28th, 2009, as described in an August 3, 2011 story in the Texas Observer, members of C. Peter Wagner's New Apostolic Reformation blessed Governor Perry, in a private ceremony at the governor's office in the Texas State House. On August 6th 2011, standing alongside Wagner apostle Alice Patterson (who has endorsed a book attacking Martin Luther King, Jr.), Rick Perry addressed (link to video of full Perry speech) tens of thousands assembled at Houston's Reliant Stadium for The Response.
Within C. Peter Wagner's New Apostolic Reformation, whose apostles overwhelmingly dominated Rick Perry's August 6th, 2011 The Response prayer rally that served as Perry's de facto presidential campaign launch event, Mormonism is not only branded a cult; it is also doctrine within Wagner's branch of the NAR movement that Books of Mormon, which according to Wagner "bring honor to the spirits of darkness", should be doused with gasoline and burned.
There is no question as to the facts; repeatedly in their in-print books, Wagner and his top NAR movement leaders (including Cindy Jacobs, Ed Silvoso and Chuck Pierce) have detailed the need for believers to burn, smash, flush down toilets or otherwise destroy allegedly evil and idolatrous objects including Books of Mormon, statues of Catholic saints and rosary beads, and native art, such as ceremonial masks and totem poles.
Lists of items slated for destruction by Wagner's movement include those associated with Mormonism, Islam, Jehovah's Witnesses, Hinduism, eastern religions, Christian Science, native religions, and Baha'i. The movement also targets, for destruction, objects associated with the Catholic faith including statues of Catholic saints, crucifixes, and rosary beads.
At an October 2008 movement gathering in Argentina, top NAR apostle and prophet Cindy Jacobs told (link to video of Jacobs at event) her audience at the conference, held by Peter Wagner's close NAR movement Ed Silvoso,
"Pastors, sanctify your people! You go and you tell 'em, if you have any idols in their homes we're gonna to burn 'em! If you have any witchcraft items in your homes, you bring 'em Sunday and we're gonna burn 'em! We're not gonna have witchcraft in this church!"
[below: screenshot from page 38 of C. Peter Wagner's book Hard-Core Idolatry: Facing The Facts (1999, Wagner Institute of Practical Ministry), which details objects to be burned]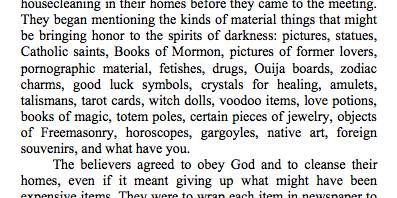 [video, below: following 1:42 in this video, from a lecture C. Peter Wagner gave for his Wagner Leadership Institute course AP825, on the New Apostolic Reformation, Wagner describes Mormonism as a "cult" and "cultic".]
In the video above, while describing the sector of Christianity from which the NAR has emerged, Wagner shows a chart of world Christianity as defined in the World Christian Encyclopedia, by David Barrett. Wagner states,
"You have the Protestant and this is sometime called evangelical as well. This is where the Pentecostals and the Assemblies of God would be in one of David Barrett's mega-blocks. And then you have the marginal Christians, which I tend to leave out because this is the Jehovah's witnesses and the Mormons and that kind of cult, what we think is cultic, but he includes it in the whole thing."
For more information and perspectives on the New Apostolic Reformation, see two recent full length segments of Terry Gross' Fresh Air NPR show (1, 2), and also this collection of articles by author and researcher Rachel Tabachnick.