In his book
Ruler of the Nations: Biblical Principles for Government
, DeMar spells out his anti-abortion agenda and the logic behind it.
"Fourth, we must elect public officials who say they will vote for Biblical laws. First and foremost, this means voting to prohibit abortion. While few Christians are willing to go this far, the longterm goal should be the execution of abortionists and parents who hire them. If we argue that abortion is murder, then we must call for the death penalty. If abortionists are not supposed to be executed, then they are not murderers, and if they are not murderers, why do we want to abolish abortion? In short, Christians must learn to think consistently."
-Gary Demar in Ruler of the Nations: Biblical Principles for Government, Edited by Gary North (Dominion Press, 1987)

[Bolding of text is my emphasis and not in the original.]
If a blastocyst has the same rights as a human being, and abortion at any stage of a pregnancy is murder, then the logical conclusion is to imprison or execute women who have abortions (as well as the doctors and possibly fathers). But pregnancy as a result of rape or incest becomes a major stumbling block to acceptance of this logic, even among the most vocal anti-abortion activists. This stumbling block can be circumvented in a narrative in which rape does not result in pregnancy.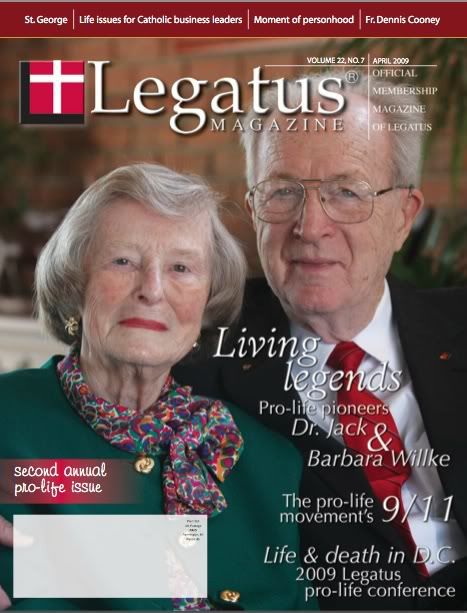 As DeMar suggests, even most evangelical and Catholic anti-abortion supporters would be taken aback by the idea of executing women for having abortions. However, as DeMar also points out, this is the logical conclusion of today's anti-abortion arguments, even if it is seldom said out loud.
Akin's statement should not be viewed as the ramblings of a kook, but typical of the way in which pseudo-science is used to justify an ideological positions of the Religious Right. The rape theory voiced by Akin has been promoted by one of the most revered leaders in the anti-abortion movement - Dr. John "Jack" Willke, former president of the National Right to Life Committee and International Right to Life Federation. [Graphic: 2009 cover of Legatus magazine, with the caption "Living Legends: Pro-Life Pioneers Dr. Jack and Barbara Willke" ]
Gary DeMar, quoted above, is not an obscure figure. He's is one of the leading spokespeople for Christian Reconstructionism, a worldview promoted by the late Rousas J. Rushdoony that has been publicly shunned but privately embraced by Religious Right leadership. This worldview includes the concept of "Dominionism," which, in brief, is the belief that evangelical Christians must take control over government and reconstruct America under Biblical law - a mandate that is now a central theme of Religious Right activism.
Key to reconstructing American society is ending abortion and homosexuality.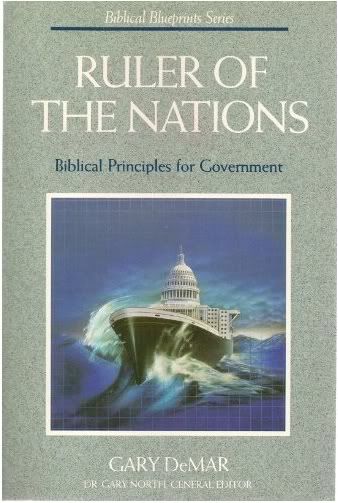 Following is Gary DeMar on homosexuals, also from Ruler of the Nations.
Obviously, certain sins often may escape detection. Homosexuals who practice behind closed doors are out-of-bounds for the courts, of course, unless others witness their criminal behavior. Such behavior may not be dealt with by courts in history, but will be dealt with by God, either in history (e.g., AIDS) or eternity. The law that requires the death penalty for homosexual acts effectually drives the perversion of homosexuality underground, back to the closet, to the dark realm of shameful activity.
Ruler of the Nations lays out the blueprint for a reconstructed America or developing a theocracy with small bottom-up governments and a very small central or federal government. Many of DeMar's ideas continue "percolating throughout the Christian Right" as described by Frederick Clarkson in 1997 in Eternal Hostility: The Struggle Between Theocracy and Democracy.
Again, DeMar is not an obscure figure. On September 13, DeMar's American Vision will be leading "Georgia's Christian Heritage Day" at the Georgia statehouse, including participation of legislators. American Vision hosts an annual Worldview Super Conference with sponsors including the Acton Institute and Liberty University Law School. DeMar has been a featured speaker at conferences including World Net Daily's "Taking Back America" with Michele Bachmann, Alan Keyes, Joseph Farah, and Jerome Corsi.
DeMar is the author of America's Christian Heritage, with the epilogue contributed by the late D. James Kennedy, a pioneer of the modern Religious Right and spiritual mentor to Rep. Todd Akin. Kennedy also spoke at the 1996 fundraising banquet for DeMar's American Vision, an event where DeMar stated,
"God does not tolerate rival religions and neither should we."
The foreword to DeMar's book
Ruler of the Nations
(source of above quotes) was written by John W. Whitehead, head of the Rutherford Institute. (Whitehead has since tried to distance himself and the Rutherford Institute from the Reconstructionist movement and is published regularly in Huffington Post.)
DeMar's American Vision was the publisher of the first edition of "Power for Life" a booklet used in a massive domestic and international stealth proselytizing scheme financed by the Arthur S. DeMoss Foundation.

The DeMoss foundation gives in the range of 20 million dollars per year to conservative evangelical causes and is a leading funder of anti-abortion activism, including millions to Americans United for Life.
Americans United for Life has been featured in articles on the Todd Akin controversy as the publisher of the book Abortion and Social Justice, which included Dr. Fred Mecklenburg's claims that rape seldom results in pregnancy - claims based in part on experiments conducted on women in concentration camps by Nazi doctors.
Mark DeMoss, son of the late Arthur DeMoss and Nancy DeMoss, matriarch of the family evangelical empire, is head of faith outreach for the Romney-Ryan campaign.
Reconstructionists for Romney
DeMar and some other leaders in the Reconstructionist camp have, to my surprise, joined the political blog world and are actively supporting the Romney-Ryan ticket. DeMar and other American Vision leaders are now regular contributors to a blog titled "The Godfather," which at first glance appears to be a political, not religious website. Articles have included an August 8 post by DeMar, but written by leading Reconstructionist James B. Jordan, titled "Is It OK for Christians to Vote for Mitt Romney?" The answer is "yes," based on a curious interpretation of Daniel 7 and other Biblical references.
In brief, the point of all of the above and my previous article on the Todd Akin controversy, is that an extreme anti-abortion agenda and the pseudo-science to support it is not an anomaly in today's state and national politics, no matter how much GOP leadership tries to distance themselves from Akin. Neither are the people who promote these ideas dumb or crazy. In the "Dominionist" worldview that has spread throughout the Religious Right (which Mark DeMoss tries to deny exists), an alternate reality and alternate "truth" with different science, history, economics, and other narratives has taken root and informs the political decisions of millions of Americans.
To read more about the Reconstructionist agenda and the use of "religious liberty" to deny "the religious liberties of the enemies of God," see http://www.talk2action.org/story/2012/4/3/155629/6754 .