The Sunday
New York Times
reported that Erik Prince, founder and former owner of Blackwater (now XE), is building a "secret desert force" of 800 non-Muslim foreign mercenaries for the United Arab Emirates. Blackwater "collected billions of dollars in security contracts from the U.S. government," but Prince sold the company and moved to Abu Dhabi in wake of legal troubles. Over the last decade, as Prince has built private armies funded with tax dollars, his older sister Betsy DeVos has been leading a campaign to privatize education but fund it with tax dollars. Her organizations have also run into legal troubles, including a $5.2 million fine in Ohio for breaking campaign finance laws.
The Prince and DeVos Families
Betsy Prince DeVos and Erik Prince are two of the four children of Elsa Prince Broekhuizen and the late Edgar Prince. The Prince family made their fortune in Prince Automotive, and became one of the primary supporters of numerous Religious Right organizations and right-wing causes. Betsy Devos is married to Dick DeVos, former CEO of Amway/Alticor and Republican candidate for governor of Michigan in a failed bid in 2006. Betsy DeVos has served as chair of the Michigan Republican Party, but is best known for her many years at the helm of the national movement to privatize public education through the use of school vouchers and tax credits. (Links to a series of articles on DeVos and the school voucher movement follow the article.)
The four Prince siblings, including Erik Prince and Betsy DeVos, serve on the board of the Edgar and Elsa Prince Foundation. A partial listing of recipients of grants from the foundation from 1999 - 2009 are listed in the chart, below right. The chart was compiled using the 990 IRS tax forms filed by the foundation. Some pages were missing from the 1999 and 2007 990 reports available online, so some of these figures would actually be a little higher.
Money given to family foundations is tax deductible. These funds, in turn, can be donated to 501(c)(3) nonprofit institutions, such as those seen in the chart. This chart does not include donations given individually by Prince family member, or contributions to nonprofits that support political candidates, such as 527s and political action committees (PACs).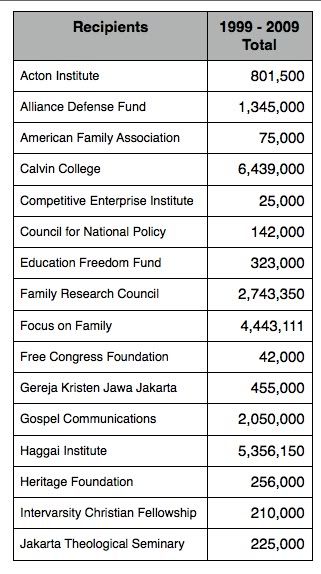 The Elsa and Edgar Prince Foundation gave over $2.7 million to Family Research Council and over $4.4 million to Focus on Family between 1999 and 2009.
In his book Blackwater: The Rise of the World's Most Powerful Mercenary Army, Jeremy Scahill quotes Gary Bauer on the formation of Family Research Council.
"When James Dobson and I decided that the financial resources weren't available to launch FRC, Ed and his family stepped into the breach," wrote Bauer. "I can say without hesitation that without Ed and Elsa and their wonderful children, there simply could not be a Family Research Council."
Erik was one of the first interns at FRC, according to Scahill, and the organization was bankrolled by both the Prince and DeVos families. Betsy Prince married Dick DeVos, in a merger of the two wealthy Holland, Michigan families. Dick DeVos is son of Richard and Helen DeVos. The DeVos fortune was made through the multi-level marketing business Amway, and they now own the Orlando Magic.
Both the Prince and DeVos families give many millions of their billions away, primarily to Religious Right organizations, ultra-conservative religious institutions, right-wing think tanks, and the Republican Party.
In his book, Scahill writes that DeVos and Prince funding was also crucial to the "Republican Revolution" led by Newt Gingrich in 1994, with Amway and the DeVos family giving the largest soft-money donation on record to any political party in history. He adds,
In 1996, Amway also donated $1.3 million to the San Diego Convention and Visitors Bureau to pay for Republican "infomercials" broadcast on Pat Robertson's Family Channel during the RNC convention."

Scahill's footnote on this quote is "She Did it Amway" in Mother Jones Sept/Oct 1996.
Ten years later in 2006, Russ Bellant, author of The Religious Right in Michigan posted a four-part series on Dick DeVos at Talk2action.org, as DeVos was running for governor of Michigan. Links: One, Two, Three, and Four.
The author of a Metro Times editorial from 2006 titled "You Don't Know Dick" also interviewed Russ Bellant for an article about the ability of Dick DeVos to hide his hard right agenda while running for governor. The author, Curt Guyette pointed out that DeVos only slipped up once during the campaign, stating in an interview that he wanted intelligent design to be taught in science classes.
Guyette also quoted Molly Ivins from the Fort Worth Star-Telegram on the ties between the DeVos family and the Republican Party.
"'My favorite tax break in the new budget package is worth $283 million to one corporation: Amway. The company and its top leaders have contributed at least $4 million to the Republican Party during the last four years, so that's a $4 million investment in campaign contributions with a $283 million payoff for Amway.'
Ivins went on to report that the break was inserted into the legislation `at the last minute' by then-House Speaker Newt Gingrich."
In January 2010,
ABC News credited
the Dick and Betsy DeVos Foundation with helping to fund the Citizens United case. The Supreme Court decision allows unlimited and unpublished funding of Super PACs.
Both the Prince and DeVos families belong to the Christian Reformed Church in North America, which has roots in Dutch Calvinism. Several members of the families, including both Richard and Dick DeVos, Elsa Prince, and Betsy Prince DeVos attended Calvin College. The Edgar and Elsa Prince Foundation has contributed $6,439,000 to Calvin College and the Richard and Helen DeVos foundation has contributed $13,449,300 and close to $4 million more to Calvin Theological Seminary. (One of Richard DeVos' recent projects is an effort to unite the Christian Reformed Church with the Reform Church of America.)
Erik Prince converted to Catholicism and has worked with Chuck Colson to promote Catholic and Evangelical unity in what Jeremy Scahill describes as a "common theoconservative holy war." Colson, one of the Watergate conspirators, is an advocate for faith-based prisons and founder of Prison Fellowship Ministries has been heavily funded by the Prince and DeVos foundations. The Elsa and Edgar Prince foundation contributed $962,000 between 1999 and 2009, the Richard and Helen Devos Foundation have contributed at least one million, and Jeremy Scahill reports that Erik Prince's Freiheit Foundation gave $500,000 in 2000. (Freiheit is German for liberty.)
Edgar Prince died in 1995 and Elsa Prince has since married retired pastor Ren Broekhuizen, who sits on the board of the Acton Institute and the Russian-American Christian University. Betsy DeVos has also served on the board of the Acton Institute, which was the recipient of $801,500 from the Edgar and Elsa Prince Foundation between 1999 and 2009 and has also been heavily funded by the DeVos families.
Elsa Prince Broekhuizen has served on the board of the Council for National Policy, the Family Research Council, Focus on Family, and Focus on Family Action. As reported in previous articles in the series of Betsy DeVos and school privatization, Richard DeVos has also been an important figure in the Council for National Policy, which brings together right-wing business and political figures with Religious Right leaders, or as DeVos describes it, bringing together the doers and the donors.
Tens of Millions to Evangelize and Privatize the Globe
Acton Institute is a right-wing think tank which combines free market fundamentalism with Dominion Theology, or the belief that Christians should take control over the institutions of society and government. Acton Institute brings together Dominionists and business interests that have common interests, such as opposition to environmental regulation.
Calvin Beisner, who has been an Acton Fellow, heads the Cornwall Alliance, which recently produced a pseudo-documentary titled "Resisting the Green Dragon." In the production, Religious Right leaders, including several from organizations funded by the Prince and DeVos families, claim that environmentalism is a cult competing with Christianity. The Acton Institute is a sponsor of the Worldview Super Conference of American Vision, a Dominionist organization cited as a hate group by the Southern Poverty Law Center for their virulently anti-gay activism.
The chart continuing at right shows some of the entities receiving funding from the Edgar and Elsa Prince Foundation from 1999 - 2009. Elsa Prince Broekhuizen is president of the foundation and Erik Prince, Betsy DeVos and their two siblings are vice presidents. The Prince siblings and the children of Richard and Helen DeVos have their own charitable foundations, including the Dick and Besty DeVos foundation.
The Richard and Helen DeVos foundation have given to a similar list of pro-privatization think tanks, Religious Right groups, and missionary organizations including $4,790,000 dollars to Focus on Family, $6,300,000 to the Heritage Foundation, $14,665,800 to Coral Ridge Ministries (founded by the late James Kennedy), $3,500,000 Luis Palau Evangelistic Association, $8,025,000 to Prison Fellowship Ministries, and$2,000,000 to Russian American Christian University. (Regular Talk2action.org readers will be interested to note that Luis Palau is the brother -in-law of Ed Silvoso, head of International Transformation Network and a leader in the New Apostolic Reformation.)
The chart of contributions at right also includes one Jewish organization. Toward Tradition is headed by Rabbi Daniel Lapin, who for many years has participated in Christian Right organizations and activities, allowing them to present their events as including Jews. Lapin rails against liberal Jews and has befriended Tom DeLay and other right-wing politicians. Jack Abramoff has served on the board of Toward Tradition and documentation in his plea bargain in his Indian casino lobbying case revealed some involvement of the organization in moving money from gambling interest. Senate testimony in the Abramoff scandal revealed the creation of fake awards from Toward Tradition to embellish Abramoff's resume.
One relatively unknown entity stands out on the list of recipients of multi-million dollars contributions. The Haggai Institute received $2,490,000 from the Richard and Helen DeVos Foundation, $2,000,000 from the Dick and Betsy DeVos Foundation, $5,356,150 from the Edgar and Elsa Prince Foundation. This is an organization based in Atlanta which has quietly trained over 80,000 lawyers, judges, doctors, engineers, and other government and professional leaders from Asia, Africa, and South America, in missionary skills for evangelizing their own communities and countries. Jeremy Scahill reports that, despite his conversion to Catholicism, Erik Prince has also contributed to Haggai Institute through his Freiheit Foundation. *See notes on the Haggai Institute at the end of the article.
The Southern Poverty Law Center has published a list of the dozen most influential anti-gay groups in the nation. The Prince and DeVos families have directly funded at least seven of them and indirectly funded more. [Update 5/17/11: There are now 18 organizations in the list, several designated as hate groups including ones directly funded by the Edgar and Elsa Prince Foundation.]
In addition to the causes supported through the family foundation, Elsa Prince Broekhuizen was the top individual contributor in 2004 to Citizens for the Protection of Marriage, giving $75,000 in support of a ban on gay marriage in Michigan, according to Media Mouse. She gave $450,000 in support of Proposition Eight in Californian, which prompted Californians Against Hate to produce a commercial in response. (Video) She was ranked the fourth largest individual donor to Proposition Eight behind: #3 - Robert Hurtt, #2 -Howard Ahmanson, and #1- John Templeton, president of the Templeton Foundation.
Erik Prince's Private Armies
Erik Prince was not charged in many of the cased against Blackwater, including the cases for the killing of 17 Iraqi citizens in the Nisoor Square massacre, however, in 2009, former Blackwater employees brought cases against Prince. The cases focused on the claims that Blackwater defrauded the U.S. government. The affidavits filed in the case included claims that Prince was motivated by a crusader mentality.
One affidavit filed in the case was quoted in The Economist,
To that end, Mr. Prince intentionally deployed to Iraq certain men who shared his vision of Christian supremacy, knowing and wanting these men to take every available opportunity to murder Iraqis. Many of these men used call signs based on the Knights of the Templar, the warriors who fought the Crusades.

Mr. Prince operated his companies in a manner that encouraged and rewarded the destruction of Iraqi life. For example, Mr. Prince's executives would openly speak about going over to Iraq to "lay Hajiis out on cardboard." Going to Iraq to shoot and kill Iraqis was viewed as a sport or game. Mr. Prince's employees openly and consistently used racist and derogatory terms for Iraqis and other Arabs, such as "ragheads" or "hajiis."
It is interesting that Prince has landed in the UAE working for Sheikh Mohammed bin Zayed Al-Nahyan, the crown prince of Abu Dhabi . As the press has noted, the UAE has no extradition treaty with the U.S. The New York Times describes the purpose of Prince's new "secret desert force" is to conduct "special operations missions inside and outside the country" including defending oil pipelines and putting down internal revolts
Erik Prince's new venture in the United Arab Emirates is called Reflex Responses or R2. The company has brought in Latin American recruits to be trained by South Africans from the mercenary company Executive Outcomes, known for manning coup attempts in Africa. The article states that due to his notoriety Erik Prince hides his involvement in contracts, sometimes using the name "Kingfish" and that they hire no Muslims because Prince doesn't believe that Muslims could be counted on to kill fellow Muslims.
From Sunday's New York Times article:
People involved in the project and American officials said that the Emiratis were interested in deploying the battalion to respond to terrorist attacks and put down uprisings inside the country's sprawling labor camps, which house the Pakistanis, Filipinos and other foreigners who make up the bulk of the country's work force. The foreign military force was planned months before the so- called Arab Spring revolts that many experts believe are unlikely to spread to the U.A.E. Iran was a particular concern.
Hundreds of thousands of foreign workers are brought into the UAE for construction and other heavy labor jobs from East Asia. (See an article on labor camps for foreign workers.)
The New York Times article closes,
So far, the Latin American troops have been taken off the base only to shop and for occasional entertainment.

On a recent spring night though, after months stationed in the desert, they boarded an unmarked bus and were driven to hotels in central Dubai, a former employee said. There, some R2 executives had arranged for them to spend the evening with prostitutes.
One of the accusations in a case brought by two former employees against Prince is that the company was hiring prostitutes and billing the U.S. government.
Melan Davis, who said she handled some record-keeping and billing roles at Blackwater, said in a signed court statement that she found that a prostitute in Afghanistan had been placed on Blackwater's payroll under the "Morale Welfare Recreation" category.
Davis, who was fired from the company and is challenging her dismissal, said she also helped with record-keeping for Blackwater's response in Louisiana to Hurricane Katrina. Among other charges of excessive billing there, Davis said two workers paid a vendor for "cleaning services" but the vendor would instead provide strippers.
A
2007 article
on Prince in the New York Times, "Blackwater Chief at Nexus of Military and Business," examined his background and ties with leaders from across the spectrum of the right-wing world. Prince's defenders claimed that he was more of a libertarian than a social conservative like his father. But as is increasingly apparent, the "free market" fundamentalist and Religious Right have been partners for many years.
Right-wing think tanks promoting radical privatization schemes have claimed for years that privatizing government services would be cost effective and services provided would be superior. The much-touted experiment in privatizing the military has not been the cure-all that was promised. Although this experiment in privatization has failed, and often with disastrous outcomes, Betsy DeVos is leading another experiment in privatization which could impact every community across America.
Privatizing American Schools
Betsy DeVos, like her brother, is at the intersection of free market think tanks, the Religious Right, and business interests that see the potential in privatization. She has been able to bring together into a coalition unlikely partners including libertarian hedge fund managers and openly theocratic organizations. Meanwhile the pro-voucher movement is framed in terms of reforming public education, fighting bigotry, and saving poor urban children and has spent millions promoting this mirage.
Both Americans United for Church and State and People for the American Way have documented the push to privatize public education. My ongoing series at Talk2action.org documents the role of Betsy DeVos and her American Federation for Children in the current wave of school voucher legislation. (Links at end of article.)
Betsy DeVos credits her organizations with moving many tens of thousands of children into private schools, predominately religious-based schools, which can teach as much bigotry against other religions and those who are different, as they choose. There has been little discussion of this in the media's coverage of the voucher wars.
The Prince siblings would not be where they are today without the ability to bring together these different factions in support of their privatization goals. And the ability to direct many tens of millions to the beneficiaries of their choice did not hurt their prospects.
Also see:
Overview of school voucher movement
Meet the Super-Wealthy Right-Wing Family Working with the Religious Right to Kill Public Education.

Details of AFC-affiliated financing and mobilizing in Pennsylvania
http://www.talk2action.org/story/2011/4/20/232844/831

Details of AFC-affiliated financing in Indiana and other states
http://www.talk2action.org/story/2011/4/24/22559/1547

Update on AFC-affiliate activities in Pennsylvania and sponsorship of mailer attacking opposing senator
http://www.talk2action.org/story/2011/4/26/112152/230

Also see the transcript of Amy Goodman's interviews of author Jeremy Scahill and Samer Muscati of Human Rights Watch, concerning Erik Prince's building of a mercenary army in the UAE. Link.
*Notes on Haggai Institute
Although virtually unmentioned in the press, the Haggai Institute is one of the top recipients of foundation grants of any entity in the Atlanta area. For instance in 2007, the institute had 10 grants totaling almost five million dollars, giving it a ranking of 18th in the city, along with major Atlanta universities, art centers, and organizations. Rev. Michael Youseff, of the Atlanta-based Church of the Apostles and a signer of the Manhattan Declaration, worked with the Haggai Institute for ten years. The Egyptian-born evangelist also heads Leading the Way, which recevied $117,500 from the Edgar and Elsa Prince Foundation.
The Haggai Institute was founded by John Edmund Haggai on the principle that the best missionaries are those who come from the countries where they are working. The organization claims 80,000 alumni, bringing professional leaders from other nations, particularly third world countries, to train at their Atlanta headquarters. They do not widely advertise their work. Haggai Institute also has locations in Hawaii, Australia, Argentina, Brazil, West Africa (Nigeria and Cameroon), Guatemala, Indonesia, Malaysia, Middle East, Mexico, Philippines, and the United Kingdom.