In this period could be found a whole network of some three or four hundred ecclesiastical courts whose activities affected many aspects of our ancestors' lives. Just as we have a hierarchy of courts from the local Magistrates' Court to the County Court, the Central Criminal Court to the Courts of Appeal, there was a similar hierarchy of the church - BBC documentary on the history of church courts in Great Britain
The conflict between Justice Poritz and attorney Christie was the first indication that any in the legal community might be less than fully enthusiastic about such a literal blurring of lines between church and state. Citing technical concerns Poritz refused Christie's request, but the aggressive efforts of US attorney Christie indicate that the program is very much alive although it seems to be proceeding quietly for now. "Fugitive Safe Surrender" was scheduled to launch in August 2006, then an August 17th 2006
Akron Beacon Journal story
headline announced "Fugitive Surrender Called Off". But, the body of that story contradicted its headline and explained that the program had not been actually cancelled but simply postponed until next year:
"We weren't 100 percent ready to go, so I made the decision to hold off,'' said U.S. Marshal Peter J. Elliott of the Northern District of Ohio. "We're still waiting for the funding to come in. But we are still going to offer the program in the future. We're targeting June."
Money had actually already been approved. Matching bills to fund the "Fugitive Safe Surrender" program were passed by Congress earlier this year and on August 1, 2006 George W. Bush signed a bill funding the program into law: Meanwhile, on August 1, 2006 :
President Bush signed the Children's Safety and Violent Crime Reduction Act of 2005 that toughens sentences for child predators and improves the tracking of child sex crime offenders. The bill also includes $16 million for three years for the Fugitive Safe Surrender program based on a pilot program in Cleveland, Ohio in which churches are temporarily transformed into courthouses where fugitives can turn themselves in to federal marshals. The funding will help expand the program to eight cities.
So, the national launch of the US Marshals Service
program
seems likely despite apparent establisment clause violations inherent in the language of matching bills sponsored by Representative
Stephanie Tubbs Jones
( D-Ohio ) and Senator
Mike DeWine
( R-Ohio ) that described a program which
"temporarily transforms a church into a courthouse..."
.
"Congress Finds The Following: (1) Fugitive Safe Surrender is a program of the United States Marshal's service, in partnership with public, private, and faith based organizations, which "temporarily transforms a church into a courthouse..." ( from Senate Bill S.2570, that authorized 16 million dollars for a three year implementation of the "Fugitive Safe Surrender" program )
[ image, left: detail from "Examination of a Witch", Thompkins H. Matteson, 1853] Beyond Establishment Clause concerns, the origin and implementation of the program is a dense conflict of interest tangle even to the point of absurdity. According to a
webpage
from a US Marshals Service website that appears to have been scrubbed today, October 28, 2006 but which is still accessible via its Google cache, the term "Fugitive Safe Surrender" has been trademarked by "
DC Strategic Services, LLC
", an entity incorporated in 2002 by Douglas S. Weiner, former Criminal Division Chief of Ohio's Cuyahoga County Prosecuting Attorney's Office, and who appears to have played a very significant role in the creation of the "Fugitive Safe Surrender" program.
You can partner with us. You'll work directly with other key decision makers - DC Strategic Services
DC Strategic Services
advertises
on its website that "We bring leaders together - elected and appointed officials, senior executives, clergy, university professors and community advocates - to develop, fund and sustain cutting-edge projects that protect America".
The company specializes, unsuprisingly, in the area of law enforcement and offers a comprehensive package:
First, we develop winning proposals - grants, cooperative agreements, earmarks - to secure start-up funding.... We then stand shoulder-to-shoulder with our partners during implementation... with award-winning results.... when start-up funding ends, we work to secure new revenue streams to sustain these vital initiatives...
DC Strategic Services is not shy ; the company works on a national scale, it says, with the U.S. Marshals Service, mayors, and the US legal systems apparently within its field of influence:
Our projects are national in scope, and implemented either nationwide, statewide or locally.They're led by the U.S. Marshals Service, U.S. Attorneys, mayors, prosecuting attorneys, county sheriffs and police chiefs... to name just a few.
Although the new US Marshals Service website for the "Fugitive Safe Surrender" program states the program is the sole creation of "Peter J. Elliott, U.S. Marshal for the Northern District of Ohio", DC Strategic Services' seemingly grandiose claims are supported by information that was very recently scrubbed from two web pages on the previous US Marshals Service website describing the "Fugitive Safe Survivor" program. While the new "Fugitive Safe Surrender" website provides a contact number in the US Office of Congressional Affairs for the safe surrender program, the old, scrubbed website gave DC Strategic Services and its CEO Douglas S. Weiner a primary role:
The United States Marshals Service in Washington, D.C. is leading the implementation of Fugitive Safe Surrender across America, and DC Strategic Partners is directing the project's expansion.

Community leaders - i.e. city, county and state government officials; clergy; senior executives (private and nonprofit); and university researchers - who would like to bring Fugitive Safe Surrender to their city may directly contact their district's U.S. Marshal, or email Douglas S. Weiner, J.D., CEO of DC Strategic Partners at dc@DCAmerica.us.
[ image: scrubbed US Marshal's Service web page ]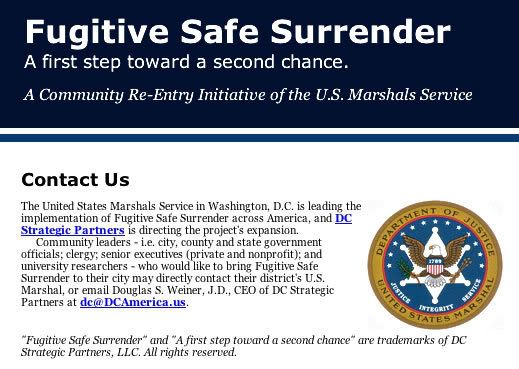 To be continued.....
*The unfriendly exchange between Poritz and Christie was, as the New Jersey Lawyer editorial notes, Christie's second attempt to gain approval to bring the "Safe Fugitive" program to New Jersey. In February 2006 Justice Poritz had turned down an earlier request for clearance by Christie, and the second attempts was, as the New Jersey Lawyer editorial describes, somewhat less than collegial ; "The U.S. attorney general, in tones which seemed petulant and querulous, chastised the chief justice for invoking legal technicalities." The editorial also notes reports that Christie will try again with Poritz' successor after Poritz retires in October.