The results of a new study from the University of California only
confirm what previous research
had
already indicated
:
Abortion Pill May Help Prevent Breast Cancer
The abortion pill might ward off breast cancer in women at high risk for the disease.

New research finds the chemical compound in RU486 prevented tumors from growing in mice that were genetically engineered to carry the BRCA1 breast cancer gene.

RU486, or mifepristone, blocks the production of the hormone progesterone, and this anti-progesterone effect could have prevented the growth of tumors in these mice, the authors speculated.
Mifepristone aborts an early pregnancy by the same mode of action. And therein lies the rub.
Within hours of the announcement, Steve Ertelt at LifeNews, a primary abortion propaganda outlet for the religious right, had upped the terror alert level to red.
A leading biochemist who has published internationally-respected studies on breast cancer and a top pro-life organization both reacted to a study released Thursday showing the RU 486 abortion drug helped suppress the breast cancer gene in mice. They agreed the drug will not likely benefit humans.
This means that LifeNews speed-dialed Dr. "abortion-causes-breast-cancer-no-matter-what-studies-say" Joel Brind (left) -- a college professor who uses the honorific "doctor" to lend spurious credibility to his one-man religious crusade for an abortion-breast cancer link-- because he's always good for a quote.
"There is reason to believe that RU 486 as an anti-progestin might suppress growth of breast cancer in an experimental system in rodents, but RU 486 also neutralizes the essential hormone cortisol which mice do not make," Brind said.

"Therefore, there is good reason to believe that such a drug would not be an effective anti-cancer drug in people," he told LifeNews.com.

Brind said that the aboriton [sic] pill's backers have been trying for over twenty years to find legitimite medical use for the drug without success.
The highly qualified UC researchers express no reservations about a lack of cortisol in mice. And if Dr. Brind, as a professor of biology and endocrinology and as a self-styled expert on the actions of mifepristone, really doesn't know that mifepristone has other medical indications, he certainly ought to. Because as everyone else has known since 2002, the drug also is highly effective as a treatment for psychotic depression. Hey, Joel, catch up; it was even in the New York Times. (But since mifepristone's suppression of cortisol has been so widely publicized, one suspects he might have heard.)
Two small studies, the latest appearing last month in the journal Biological Psychiatry, have found that mifepristone is effective in helping people whose severe depression is accompanied by delusional beliefs or hallucinations. Of the 30 patients in the recent study, those who took mifepristone for seven days at dosages higher than those used for abortions showed substantial and rapid improvement in their symptoms, the researchers found. The drug produced only mild side effects in the study.
:::
Patients with psychotic depression often suffer from delusions, believing, for example, that they deserve punishment for imagined crimes or that they have terminal illnesses.

Psychiatrists have traditionally treated psychotically depressed patients with some combination of antidepressants, antipsychotic drugs and electroshock therapy, an approach that has yielded only moderate success.
:::
A chemical compound used for abortions may seem an odd candidate for a depression drug. But mifepristone attracted the attention of researchers for good reason.

Mifepristone induces abortion by blocking the action of progesterone, a hormone necessary for implanting a fertilized egg in the lining of the uterus.

But in higher doses, the drug also blocks another hormone, cortisol, which is secreted by the adrenal glands and plays a critical role in the body's response to stress. Patients with psychotic depression, studies have shown, often have elevated levels of cortisol.

Dr. Anthony Rothschild, a professor of psychiatry at the University of Massachusetts Medical School, who has studied psychotic depression, said he and Dr. Schatzberg had hoped to test RU-486 as a treatment in the late 1980's.

''You just couldn't get it because of the political controversy,'' Dr. Rothschild said.
Gee, Dr. Rothschild, no kidding?
The LifeNews spin continues with more expert commentary from another "doctor" -- Dr. Randy O'Bannon, director of the education department at the National Right to Life Committee.
Though he doubts the drug will ultimately help patients, he said the Population Ation [sic] Council, a pro-abortion group that holds the rights to the drug, has been more worried about promoting abortions than assisting women.

"If there turn out to be such applications, it is likely that they would have been found much sooner, and saved a lot more lives, if the researchers and patent holders hadn't poured all their time, money and energy into promoting its use for abortion, the killing of unborn children," O'Bannon said.
The Population Council helped make mifepristone available in the United States for use in early abortion, an application totally irrelevant to the subject at hand: cancer research -- which is not the purview, and not under the control, of an organization called the Population Council. So "Duh," Dr. O'Bannon, but thanks for contributing to the conversation anyway. Next time LifeNews asks you for a quick quote, maybe you can read them something from the 119,000 Google hits for "mifepristone+breast cancer."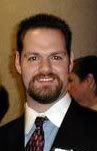 Steve Ertelt (right) seems to have been so agitated that he could barely type, although that might not be the only reason that Ertelt completely misrepresents the opinions of the researchers involved in the study.
Other reashers [sic] also urged women and the general public to not get excited about the abortion drug's potential to treat patients.
:::
Dr. Len Lichtenfeld, the American Cancer Society's deputy chief medical officer ... told AP "it would not be appropriate in any way, shape or form that women start taking RU-486 for this purpose."
Let's look at the full text of Dr. Lichtenfeld's remarks to the Associated Press as published in the Washington Post.
Dr. Len Lichtenfeld, the American Cancer Society's deputy chief medical officer, said researchers and patients will "take interest in this topic and explore it further."

He called the paper "elegant research," but stressed that "it would not be appropriate in any way, shape or form that women start taking RU-486 for this purpose."

Long-term use of RU-486 could suppress the immune system and cause other side effects.
Ertelt's selective quotations are his stock in trade, so of course there's more.
Eva Lee, the UC biologist who conducted the study, also warned AP that the abortion drug isn't the answer for women with breast cancer, saying it could suppress the immune system and cause other long-term problems.

She said the drug wouldn't be used to help women and that another similar drug that more specifically targeted the progesterone hormone would need to be developed.
But wait, Steve, there's more. Again, from the AP via the Washington Post:
Although the study was done in mice, the same mechanism occurs in human cells, said study author Eva Lee, a professor of developmental and cell biology and biological chemistry at the University of California, Irvine.

She speculated that clinicians may one day be able to use progesterone-blocking compounds to prevent breast cancer in women with a genetic predisposition.
:::
"[Mifepristone] is the most widely available anti-progesterone drug," Lee said. "We are currently testing a more specific anti-progesterone drug to see whether it has the same effect and if that's proven, we'll go to a small clinical trial to see if that anti-progesterone is effective in a high-risk population."
So what Lee really appears to be saying is that since mifepristone shows such promise, a more specific drug could be even better.
The most absurd assertion of all from LifeNews is that this research should be discounted because the drug was tested in mice. Considering its regurgitation of Tony Perkins' inane endorsement of the religious right's favorite gynecologist, Dr. Eric Keroack, and his wacky rodent-fueled "sex = drug addiction" theory, a legitimate mouse study should be all the proof they'd need.
Such pathetic and blatant dissembling might be funny if the subject wasn't, well ... as serious as cancer.