Rep. Frank Corte -- "
big, fat liar
,"
Texas Christian Coalition "Friend of the Family,"
and author of the 2003 "Woman's Right to Know Act" that
requires
Texas physicians to
lie to women
about the mythical link between abortion and breast cancer that exists only in the fervid imaginations of folks like him -- is making an early start on the 2007 session.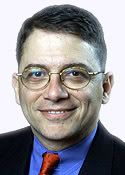 We have come to expect no less from this pet legislator of the Christian Coalition, the American Family Association of Texas, the Texas Eagle Forum, Texas Right to Life, religious right "sugardaddy" Jim Leininger and apocalypse-monger John Hagee.
Per his usual custom, Corte sent an aide rushing to the Capitol at 5:00 AM to pre-file bills that are sending Planned Parenthood and NARAL Pro-Choice Texas into full activism mode.
The bill that set the NARAL email platform humming is HB 23, a piece of legislation so asinine that it should embarrass even Frank "The Fetus" Corte, whose attempt to provide legal cover for pharmacists who refuse to dispense birth control pills failed in 2005. HB 23 would require pharmacies that sell Plan B -- now readily available to adults over the counter -- to obtain more personal information from purchasers than is legally mandated for dispensing prescription drugs.
PREREQUISITES TO SALE. (a) Before dispensing or distributing emergency contraception over the counter, a business establishment must:
(1) require the person obtaining the drug to:
(A) display a driver's license or other form of identification containing the person's photograph and indicating that the person is 18 years of age or older; and
(B) sign for the purchase; and
(2) make a record of the transaction, including:
(A) the name of the person obtaining the drug;
(B) the date the drug is dispensed or distributed; and
(C) an acknowledgment that the pharmacist provided the person obtaining the drug with the information required by Section 172.002.
Corte's bill requires all records, including the purchaser's personal information, to be kept by the pharmacy for at least two years. And just what is "the information required by Section 172.002" that the pharmacist must provide? This information not only must be relayed to each purchaser on an individual basis, but also must be displayed on signs measuring at least two feet wide by 18 inches high, in both English and Spanish "in block letters in a font that may be read clearly," at each cash register. The text of the signs reads like this:
IF YOU BELIEVE THAT LIFE BEGINS AT FERTILIZATION--THE POINT WHERE THE SPERM AND EGG UNITE--THEN YOU NEED TO KNOW THAT EMERGENCY CONTRACEPTION MAY EITHER FUNCTION AS A CONTRACEPTIVE TO PREVENT THE EGG AND SPERM FROM UNITING OR PREVENT THE IMPLANTATION OF YOUR ALREADY FERTILIZED EGG IN YOUR WOMB. THE PHARMACIST DISPENSING THIS DRUG IS REQUIRED TO EXPLAIN TO YOU HOW THE PRODUCT MAY HELP TO PREVENT YOUR PREGNANCY.
Vince Leibowitz at Capitol Annex has the definitive analysis of this one.
How stupid is this? Where do I start? How would you like your seven year old asking you, "mommy, how does the sperm fertilize the egg?" while you're standing in line at Walgreens? You have got to be kidding me.

What is the purpose of requiring a photo ID? Total and complete humiliation?

And, if someone is getting emergency contraception, what are the actual odds that they don't know it will stop their egg from being fertilized?
Whatever the odds, Frank Corte will take them. And then he'll double down.
After a decade of attempts to limit access to abortion care in Texas, Corte succeeded in 2003 with HB 15, the "Woman's Right to Know Act." Modeled on a Mississippi statute, it requires doctors to deliver a list of state-mandated information "orally, by telephone or in person" at least 24 hours prior to an abortion, and to furnish women with medically inaccurate materials published by the state. In Mississippi, state authorities interpret those directives in the most rigorous way possible, which means that women must make a preliminary trip to Mississippi's only remaining clinic in Jackson solely to satisfy the state's notification requirements. Since Texas has a land area roughly equivalent to that of France, Corte expected HB 15 to drastically curtail access to abortion care for low-income women in Texas.
But the Texas Department of State Health Services ruled that women could receive the mandated information from a physician by telephone via a voice recording. Additionally, the agency determined that while physicians were obligated to offer the state's printed materials, women had the right to refuse them. Women who accept the materials also have the option of reading them online, on a site that Corte's 2003 bill established for that purpose. But that's still not enough, and Corte has plotted since his initial success to tighten the noose.
Rep. Frank Corte ... believes abortion center operators are trying to circumvent the law, preventing women from getting the information they need about abortion.
:::
[A]bortion facilities must offer women considering abortion a brochure stating the medical risks of abortion and alternatives that are available. But, according to the rules adopted to implement the law, the pamphlet must only be given if the woman selects to view it.
:::
According to Elizabeth Graham of Texas Right to Life, Corte is on the right track.

"The Woman's Right to Know law was written very carefully," Graham said. "Through the implementation process, however, several points in the bill were wrongly interpreted, thereby creating and expanding loopholes enabling abortion providers to ignore the law."
If you were a physician, would you ignore a law that could destroy your career with a criminal indictment? Only in Frank Corte's dreams, although he does give every known indication of leading a rich and full fantasy life. He definitely imagines that women in Texas still have too damned many rights -- so now Corte gives them House Bill 21.
Sections 171.012(a) and (b), Health and Safety Code, are amended to read as follows:
(a) Except in the case of a medical emergency, consent to an
abortion is voluntary and informed only if:
:::
the woman certifies in writing before the abortion is performed that the information described by Subdivisions (1) and (2) and the printed materials described by Section 171.014 have ... been provided to her
:::
the physician provides the woman with the printed materials described by Section 171.014
:::
The information required to be provided under Subsections (a)(1) and (2):
(1) must be provided:
(A) orally by telephone or in person; and
(B) at least 24 hours before the abortion is to be performed; and
(2) may not be provided by audio or video recording.
Unfortunately, Frank Corte is not the only Texas legislator striving to impose his personal theology upon millions of women he'll never know.
Warren Chisum, the friend of Tony Perkins who's been called the "top crack smoker" in a legislature that offers him some tough competition for that dubious honor, has stolen some thunder from Dan Patrick, newly elected to the state senate from a Houston district. Conservative radio host Patrick -- whose most outrageous performance until now was having his vasectomy performed during his live radio show -- ran for office on his promise to introduce an abortion ban to become effective immediately should Roe v. Wade be overturned.
Imagine Rush Limbaugh coming to the Texas Senate as its newest member.
:::
Lt. Gov. David Dewhurst and the Senate, particularly Republicans, are bracing for this self-proclaimed man of faith who vows to hold them accountable for blocking the will of the state's conservative majority.
:::
"I'm not coming up to Austin to throw hand grenades," Patrick says, "but we're all going to be held accountable."

The accounting, no doubt, will be on the radio as Patrick will broadcast his show from Austin when the Legislature is in session.
:::
A fellow Republican, Richardson Rep. Fred Hill, who tossed Patrick from a legislative committee meeting three years ago, calls him "morally schizophrenic."

Patrick wields his audience as a shield and a sword. "If I'm disrespected, my people are disrespected," he warned.
:::
He often talks about God speaking to his heart.

"I never actually heard God speak," Patrick says, "but I'd like to think he'd say, 'This is a longtime listener and a first-time caller.' "

[Dan Patrick photo: Larry Kolvoord photos
Austin AMERICAN-STATESMAN]
But Warren Chisum has beaten Patrick to the punch.
State Representative Warren Chisum of Pampa has come up with a "Trigger Bill."

His idea is, if the Supreme Court strikes down Roe v. Wade, the decision that legalized abortion in America, his bill would trigger a law to make Texas a non-abortion state.
:::
"That was always the will of the state of Texas. Roe v. Wade was not. That was a Supreme Court deal and not the will of the people of Texas. It has always been a non-abortion state, except for the life of the mother." Said Chisum.

Chisum believes this issue plays perfectly into the area of "states' rights."
In accordance with that belief, Chisum has introduced House Bill 175, in order to make abortion in Texas dangerous and illegal as soon as possible.
Notwithstanding this chapter, Chapter 171 of this code, Chapter 245 of this code, Chapter 33, Family Code, or any other statute regulating abortion, it is the policy of this state that life, including unborn life, is protected from the point of fertilization.
:::
Sec. 50.01. EFFECT OF CHAPTER; DETERMINATION BY ATTORNEY
GENERAL. (a) Sections 50.02-50.06 take effect only after the attorney general of this state:
(1) determines based on a decision by the United
States Supreme Court or a newly ratified amendment to the federal
constitution that the United States Constitution no longer
prohibits a state from banning abortion that is not procured on
medical advice for the purpose of preventing the death of the
mother;
:::
(b) The attorney general shall monitor federal legal
developments for purposes of this section and shall act as required
by Subsection (a) not later than the 60th day after the date a
decision described by Subsection (a) becomes final or an amendment
described by Subsection (a) becomes effective.
:::
Sec. 50.03. ABORTION. (a) A person commits an offense if the person, with a woman's consent, produces an abortion by:
(1) administering to the woman or procuring for administration to the woman any drug or medicine for the purpose of producing an abortion;
(2) applying any external or internal means to the woman for the purpose of producing an abortion; or
(3) furnishing to another the means to produce an abortion knowing that the person intends to use those means to produce an abortion with the woman's consent.
:::
(c) An offense under Subsection (a) is a felony of the third
degree.
People have been snickering at Warren Chisum for years -- but he's still the man who authored the 2004 Texas ban on gay marriage, signed by Gov. Rick Perry at a Fort Worth church (on the same day that Perry signed yet another abortion law, making a doctor's failure to obtain written parental consent a new way to commit capital murder).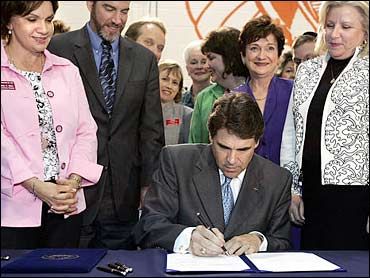 The controversial proposition was supported by Gov. Rick Perry and many churches throughout the state.

"That's where the victory was won, from the pulpits of the state of Texas," said state Rep. Warren Chisum, a Pampa Republican who wrote the amendment.
:::
Matt Foreman, executive director of the National Gay and Lesbian Task Force, said the outcome was not unexpected.

"When you put a fundamental right of a minority up for popular vote, it's almost impossible to win," said Foreman. "I'm not sure the right to desegregate schools, the freedom to marry another race or even access to contraception in many states would exist if those issues were put up for a vote."
Nancy Pelosi might be the new Speaker of the US House, but these old boys are the ones who hold the votes in the Texas Lege, and they ain't playing.
[Title image: AustinChronicle.com]