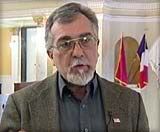 How much better are Napoli and his friends making life for women in South Dakota, and potentially for women in at least a dozen other states that have jumped to follow South Dakota's lead?
Earlier this month, Ellen Goodman declared that the pretense is finally over.
Until now the antiabortion right has not only tried to frame itself as moderate, it has dressed up in woman-friendly camouflage. It has touted research that makes one false claim after another linking abortion with depression and breast cancer. It has cast women as the hapless victims of abortion and portrayed its own side as protectors.

Earlier this week, with superb irony, Governor Rounds promised tender care for the women he would force to continue their pregnancies. Representative [Roger] Hunt explained that women themselves would not be prosecuted under the law because any woman choosing abortion was ''not thinking clearly."
:::
This is what it looks like in front of the curtain. South Dakota's law would make felons out of doctors who perform nearly any abortion. The government would replace women as moral decision-makers. And it would trump doctors as medical decision-makers.

After all, if abortion is legal only when the woman's survival is at risk, who makes that decision? If, according to the law, a doctor has to ''make reasonable medical efforts . . . to preserve both the life of the mother and the life of her unborn child," who judges those efforts? A cop? A court? One of those activist judges the right so loves to hate?
One man in Rapid City had a little trouble understanding what Napoli meant by "simple rape," and asked him for some clarification.
Excuse me, Bill Napoli, I was wondering if you could describe "simple rape" to me. According to your interview, you don't think "simple rape" is enough to warrant a woman having an abortion.

Now, if it's a "brutal" rape, if she was savaged, if and only if the girl was religious, and of course, that's your religion, not Islam, Buddhism, Taoism, or anything other than Christianity, if she planned on saving her virginity until she was married, never mind that maybe the woman was gay and hadn't planned on getting married, if she was sodomized as bad as you can possibly make it, whatever that means, then and only then would you consider an abortion to be OK.
:::
Ten years ago, my girlfriend was raped and, thankfully, it didn't result in pregnancy. But was it simple rape? Well, you tell me. You seem to be the authority.
However, a woman in Deadwood flatly objects to rule by fundamentalist fiat, and feels qualified to make her own decisions, thank you very much.
If reason applies (and it's rare these days), it seems obvious that the contentious issues of abortion, stem cell research, creationism and a host of other religious/political opinions expressed in this paper can be separated into one of two camps. Are you more inclined to believe in your own personal religious dogma, or scientific facts?

Science has always been at odds with religion worldwide. The compassionate Christians have put hundreds of thousands of people to death over the last 2,000 years for their scientific and/or heretical beliefs, just in case you were feeling morally superior to Islam, Judaism, or any of the other approximately 10,000 religions worldwide.
:::
Pascal, in the 16th century summed it up: "Men never do evil so completely and cheerfully as when they do it from religious conviction."

Don't bother to write to me about your personal form of self-delusion. It's irrelevant.
But she's only one uppity female, and she's probably in the minority. A lot of people aren't quite so sure of themselves. Many of us lack confidence in our ability to navigate the storms of life, and it can be comforting to know that experts more qualified than we are there for us.

Bill Napoli isn't the only member of the South Dakota Legislature standing by to assist you with difficult choices. Senator Brock Greenfield, in particular, has shown himself eager to shoulder the burden of decision making for women as the director of South Dakota Right to Life. So if the relentless demands of everyday decision making are wearing you down, now you know that there is one more divinely assured savant available to help you be sure you're making the right choice.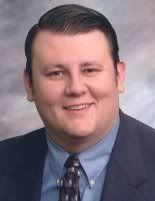 Greenfield also maintains the South Dakota Right To Life blog, where he urged the public to contact public officials to support HB 1215, which Greenfield hopes will have "a huge impact on abortion not only in South Dakota, but also on the national front." So wherever you might live, in whatever state, if you're afraid that any decision you might need to make lies beyond your own personal capabilities, Brock's your man.
Deeply religious and profoundly knowledgeable senators like Bill Napoli and Brock Greenfield have plenty of backup from the amen chorus over in the House of Representatives, too.
Rep. Gordon Howie, R-Rapid City, said he intends to "continue to be a voice for traditional family values" and that he hopes to be "one of many who invoke our state motto, `Under God the people rule'" during discussions of issues including abortion.

Two members of the audience challenged Howie's remarks. "You don't speak for me," one woman said.
Well, no, ma'am, but he didn't claim to. What Howie seemed to be saying - albeit in a somewhat roundabout fashion - is that when he speaks in the statehouse in Pierre, he speaks for God.
Which might have been why quite a few folks were taken aback when Howie compared women to breeding stock.
"We place value on life in South Dakota, and even with a mother cow, as soon as you can demonstrate she is pregnant, an even higher value is placed just because she is pregnant," Howie said. "I said that, and it was a clumsy way to make a point. I probably deserve to be beat upon the head and shoulders for it."
Yes, he probably does. But he has the Lord on his side. And if God is with him, who can be against him?
And then there's the primary sponsor of the bill in the House, Rep. Roger Hunt. Hunt, an attorney retired from the Navy, knows how to make a decision. He's a gifted long-term strategist, a man who knows how to weigh the pros and cons of a given situation and make a rational, calculated judgment.
"The momentum for a change in the national policy on abortion is going to come in the not-too-distant future," said Rep. Roger W. Hunt. ... To his delight, abortion opponents succeeded in defeating all amendments designed to mitigate the ban, including exceptions in the case of rape or incest or the health of the woman. Hunt said that such "special circumstances" would have diluted the bill and its impact on the national scene.
:::
"I'm convinced that the timing is right for this," Hunt . . . said earlier, noting the appointments of Chief Justice John G. Roberts Jr. and Justice Samuel A. Alito Jr. to the court.

"The strong possibility of a third appointee sometime soon makes this all very real and very viable," Mr. Hunt added, a reference to conjecture that Justice John Paul Stevens, 85, might soon retire. "I think it will all culminate at the right time."
There, you see? No matter what your particular dilemma might be, Roger Hunt has got the analytical skills to sort out your options for you.
Most of their Solomon-like colleagues -- the omniscient men and women who have just taken the most monumental decision of her life out of a woman's hands -- are available to assist you with your own tough choices, too. In fact, they make it easy for you to reach them day or night by prominently posting both their home and business phone numbers on the South Dakota legislature's website. It stands to reason that they wouldn't have been thoughtful enough to do that if they didn't want the phone to ring.
Here, courtesy of the Rapid City Journal, is the complete list of all 70 of the senators and representatives who voted to make compulsory childbirth and parental rights for rapists the law of the land in South Dakota.
Senate:
Gene Abdallah, R-Sioux Falls; Jerry Apa, R-Lead; Julie Bartling, D-Burke; Eric Bogue, R-Faith; Mike Broderick, R-Canton; Jay Duenwald, R-Hoven; Bill Earley, R-Sioux Falls; Jason Gant, R-Sioux Falls; Bob Gray, R-Fort Pierre; Brock Greenfield, R-Clark; Tom Hansen, R-Huron; Dick Kelly, R-Sioux Falls; Frank Kloucek, D-Scotland; Gil Koetzle, D-Sioux Falls; John Koskan, R-Wood; Jim Lintz, R-Hermosa; Kenneth McNenny, R-Sturgis; Garry Moore, D-Yankton; Bill Napoli, R-Rapid City; Jim Peterson, D-Revillo; Lee Schoenbeck, R-Watertown; Orv Smidt, R-Brookings; Dan Sutton, D-Flandreau.

House of Representatives
Jamie Boomgarden, R-Chancellor; Thomas Brunner, R-Nisland; Michael Buckingham,R-Rapid City; Justin Davis, R-Ipswich; Thomas Deadrick, R-Platte; Joel Dykstra, R-Canton; Bob Faehn, R-Watertown; Larry Frost, R-Aberdeen; Art Fryslie, R-Willow Lake; Cooper Garnos, R-Presho; David Gassman, D-Canova; Margaret Gillespie, D-Hudson; Mary Glenski, D-Sioux Falls; Jeffrey Haverly, R-Rapid City; Phyllis Heineman, R-Sioux Falls; Thomas Hills, R-Spearfish; Gordon Howie, R-Rapid City; Jean Hunhoff, R-Yankton; Roger Hunt, R-Brandon; Gary Jerke, R-Tripp; Ted Klaudt, R-Walker; Al Koistinen, R-Watertown; Elizabeth Kraus, R-Rapid City; Shantel Krebs, R-Sioux Falls; Michael Kroger, D-Dell Rapids; Gerald Lange, D-Madison; Alice McCoy, R-Rapid City; Matthew Michels, R-Yankton; Kathy Miles, D-Sioux Falls; Paul Nelson, R-Hetland; Al Novstrup, R-Aberdeen; Ryan Olson, R-Onida; Gordon Pederson, R-Wall; Deb Peters, R-Hartford; Jim Putnam, R-Armour; Val Rausch, R-Big Stone City; Tim Rave, R-Baltic; Larry Rhoden, R-Union Center; Tim Rounds, R-Pierre; Donna Schafer, R-Vermillion; Lou Sebert, R-Mitchell; Shawn Tornow, R-Sioux Falls; Charles Turbiville, R-Deadwood; Don Van Etten, R-Rapid City; Keri Weems, R-Sioux Falls; Hal Wick, R-Sioux Falls; and Mark Willadsen, R-Sioux Falls.
What? You say that you don't live in South Dakota? Why, these fine Christian men and women don't mind if you're in another state. Since they hope, pray and intend that their sweeping decision for the women of their state will be upheld by the Supreme Court, they've already committed themselves to making personal decisions for millions of women all across the country.
Sure, its a big job, but these folks are on record. They not only have volunteered to make your choices for you, but they insist on it. Their words of Godly wisdom will be a lamp unto your feet and a light unto your path - so when you have a big decision to make and just aren't sure of what to do, remember that they all want to help you.
[Title image by Mount Blogmore contributor Bob Newland]