Talk To Action contributor the Rev. Dr. John Dorhauer has kindly provided me with these scanned examples of literature ( see full story for complete set of full size images ) used in attacks on United Churches of Christ churches by fundamentalist "renewal group" para-church groups associated with the far-right funded
Institute on Religion and Democracy
Listen to a recent, groundbreaking
Talk To Action / State of Belief radio show
[ link to archived podcast of show ] on these attacks, hosted by Interfaith Alliance head C. Welton Gaddy. See "State of Belief"
show description
.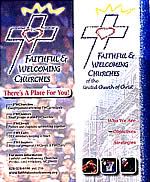 John Dorhauer writes an ongoing series here
, on Talk To Action, detailing methods used to attack individual UCC churches and also methods for protecting and innoculating churches against takeover efforts.
Such takeover efforts can be highly traumatic to church congregations, and even among those which succesfully resist such attacks - which often feature covert tactics of innuendo and misinformation - those who have lived through such conflicts can be loath to talk openly about the experience.
That has worked to cast a veil over the subject which has in turn facillitated this ongoing "shadow war" which is detailed in Dorhauer's writing and also in a dedicated section of collected writings here on Talk To Action which - although very far from comprehensive - nonetheless may have no equal, in its range of material and sustained treatment of "The Shadow War"
All mainline Protestant denominations are under such attack ( see: The Shadow War ), and both the Presbyterian and Episcopalian churches face possible schism this summer.