Even people who openly oppose abortion rights are protesting the tactics of Flip Benham.
Mary Woodward, of the Catholic Diocese of Jackson, chairs the Mississippi Religious Leadership Conference. She characterized OSA's tactics as hatred, bigotry and intolerance "not representative of Christianity."
"And I think what made me saddest is that they included their children in these acts. I'm opposed to abortion, but I didn't see what happened with the burning of the Quran and everything as having anything to do with the issue."
And Ms. Woodward wasn't alone.
At the abortion rights news conference outside the Capitol, Jackson lawyer Ali ShamsidDeen, a Muslim, said, "We want everyone to understand that you will not see Muslims out burning Bibles or ... the Torah. We all believe that we believe we are brothers in this faith and that we should learn to live together and make the society one that we all can prosper in."
Even before Benham's group gathered in the parking lot of Pastor Aguize's church last Thursday night, even before "Miss Norma" McCorvey struck a match to the holy scriptures of Islam, there were rumblings in Jackson that Flip's people already had gone too far.
An anti-abortion demonstrator who tried to pass out literature during the news conference said she does not agree with destroying property.

"To me, when you walk in that destruction and you walk in that hatred of anger, you're not representing Jesus Christ," said Amy Williams, of Pearl. "Jesus was not a violent man."
Being uncomfortable with abortion doesn't mean that you want to see Ron Brock's "Truth Truck" coming around the corner, either.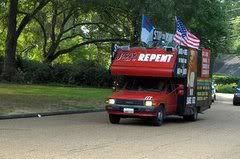 Photo: ItinerantRabwhat
As Trina Knott mused to one reporter in Jackson, "The steps by which they're taking, sometimes will cause you to wonder."
Terri Herring, who recently resigned as president of Pro-Life Mississippi to pursue anti-choice activism in an expanded role, estimated that only about 50 residents of the state joined last week's OSA protests, saying, "Many people are concerned about the controversy, and it's difficult for them to take a step to be that controversial."
Only "controversial," Terri?
Deirdra Harris Glover at Pro-Choice Mississippi calls it more than that (emphasis in the original).
Ten years ago, I was at Centennial Olympic Park when it was bombed by Eric Robert Rudolph, a Christian Identity member. Rudolph later said "the purpose of the attack on July 27 was to confound, anger and embarrass the Washington government in the eyes of the world for its abominable sanctioning of abortion on demand." Rudolph also bombed abortion clinics in Georgia and Alabama, as well as a gay night club before he was captured.

Yesterday, five people were arrested for harrassing (sic) St. James Episcopal Church, and a dude in a car played chicken with a line of church-defending pro-choice activists at the Unitarian-Universalist Church of Jackson (and was surprised when they defended themselves from a huge piece of metal coming at them.)

Bomb threats, driving into protest lines: these aren't the actions of anti-abortion activists, or even fanatics: they're acts of domestic terrorism.
The newly installed president of Pro-Life Mississippi, Tanya Britton, eagerly broke the law last week in the company of hardened militants such as Ken Scott and Patrick Johnston, and was detained by the Jackson Police. But Britton differs from Terri Herring more in style than in substance.
Last fall, Herring appeared in PBS Frontline's The Last Abortion Clinic, a film in which she advocated the criminalization of abortion. No one's voice of moderation, Herring made herself available for a meeting and photo op with Operation Rescue front man Keith Mason last spring, and took Mason along as she lobbied state senators to exclude an exception for rape survivors from a proposed abortion ban.
She has appeared as a radio guest [PDF transcript] of Mark Crutcher, a down-and-dirty antiabortion operative whose Life Dynamics lists the addresses and phone numbers of hundreds of clinics across the country under the heading Death Camps.
But after a week of Flip Benham and his "saints," even adamant activist Terri Herring is now distancing herself from what Benham calls "gentle revolution."
Anti-abortion activists over the last week have trotted out an aborted fetus in a vacuum-packed bag, torn up then burned a Quran, shredded a gay pride flag, and preached Jesus' message over loudspeakers in the street.

While their style of activism has gotten attention, it also has left some Christians and anti-abortion supporters in the state unsettled, worried these out-of-town protesters have given them a bad name and distorted their message.

"Anything that anyone pro-life does that does not show respect for all human life - born, unborn or dead - does not represent our movement," said Terri Herring, a longtime anti-abortion activist in the state and former head of Pro-Life Mississippi. "It's important not to judge the entire pro-life movement based on the events of this week."
Gee, Terri. Does that mean you didn't want your picture taken at the fake funeral in Smith Park the other day, all lined up to view Frank Pavone's traveling fetus?

Photo: Joe Ellis, Clarion-Ledger
Herring told the Clarion-Ledger that "she applauds the courage of those who stand up for 'the unborn,' but those in the anti-abortion movement have to be cognizant they can become ineffective when they are perceived as radical." She's hoping that Jackson and the rest of the state can forget about OSA's grotesque excesses of last week and move on, "because I think we have gained too much ground to lose momentum now."
Is that really what you're hoping for, Terri? Well, I have just two words for you: Oh, Saratoga!
While Mississippi awaits next week's promised advent of Father Francis and Oh, Saratoga! for the second shift in the Siege of Jackson, "Christian" activists everywhere might ponder these words from Mark McElroy: Making Hatred Real.
Along with many others in the Jackson metro area, Agueze and other members of the Making Jesus Real Church seemed shocked by Operation Save America's actions. But what, exactly, did they expect?

Like many fundamentalists, members of Operation Save America suffer from a dangerous form of spiritual schizophrenia. On one hand, they claim to celebrate America's liberty; on the other, they fight against the freedom of religion that liberty entails. On one hand, they talk a lot about their desperate love for the unborn; on the other, they seem to have a great deal of hatred and bile to direct toward adults.

Fundamentalism justifies hateful actions in the name of love. It ignores our freedom in Christ, seeking instead to bind its beliefs on others. It positions physical, emotional, and spiritual abuse as ministry. It stirs up frenzied emotionalism and dismisses rational thought. In short: it's the fast path from Christian to Crazy.

I'm glad to hear that the people at the Making Jesus Real Church were taken aback by Operation Save America's actions. Perhaps they and other Christian fundamentalists, having glimpsed the logical extension of their own particularly poisonous brand of faith, will remember this lesson.

Perhaps they will finally understand that striking out at the faith and lives of others does not, in any way, help make Jesus real.
And that says it all.
[Title photo: OSA]