Saying partisan politics are tearing apart people of faith, a group of clergy members launched a campaign on Thursday urging their fellow ministers to ensure all political viewpoints are respected in their congregations.

The Texas Faith Network wants religious leaders to sign a pledge saying they will refrain from endorsing or appearing to endorse candidates or political parties and avoid involving their congregation with partisan organizations or campaigns.

Their actions are aimed at groups like the Texas Restoration Project, which mobilized 2,000 conservative pastors to win the passage of a state constitutional amendment banning gay marriage.

"Dragging churches into partisan politics endangers the integrity of our houses of worship and is disrespectful of the faith and beliefs of all congregants," the Rev. Samuel Hose of St. John Vianney Catholic Church in Round Rock said.

The 600-member Texas Faith Network is affiliated with the Texas Freedom Network, a group that calls itself a watchdog of the religious right.

Hose and three other religious leaders unveiled the campaign outside the sanctuary of the University United Methodist Church in Austin.
This new coalition of Catholic, Protestant and Jewish leaders could not have declared their independence at a better time.
Last April, PBS's NOW took a look at the pro-Blackwell campaign in which Russell Johnson made this comparison regarding the dozens of religious leaders who accuse him of breaking the law.

[Photo: Kichiro Sato, AP]
You know, in Germany, many of the churches were positioned next to railroad tracks. And as Sunday mornings, the trains were making their way towards Auschwitz, the Jewish families would cry out to the churches for help. It became so disruptive that the German churches, many of them decided they would start singing during the rail times.

And if the people cried louder, they sang their songs louder. It's not enough for people in the pews to sing louder songs while a culture is going on a direction away from God.
The work of both Russell Johnson and Rod Parsley has been greatly bolstered by the background support of Texan David Barton, president of Wallbuilders and until recently the second-in-command of the Texas Republican Party. In a symbiotic relationship that blurs the state lines of God's country, Parsley lent his influence to invigorate Rick Perry's pet get-out-the-vote project, a state constitutional amendment to "protect marriage" as the "union of one man and one woman." Parsley's video endorsement on the web site of the Texas Marriage Alliance was followed by a personal appearance with Tony Perkins and Rick Perry at a Fort Worth church rally where Perry signed both the Texas Marriage Amendment and a parental consent law that exposes physicians who provide abortion care to the death penalty.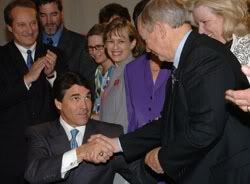 At the bill-signing rally held at a Fort Worth church, Gov. Rick Perry congratulates Rev. Laurence White of the Texas Restoration Project on their victory [Photo by Craig Bland]
As revealed in NOW's report, the cooption of religion in the service of the Republican Party by operatives such as David Barton is a pervasive and ever-widening trend.
In the run up to the 2004 election, Barton traveled the country, boldly encouraging pastors to preach politics from the pulpit. In October 2004, Barton told the on-line publication "Beliefnet" that it was okay for pastors to stand in front of church and say, quote, "John Kerry is not fit to be president." Barton went on to say most pastors would be "shocked" to learn how much they could get away with.

And who was Barton working for all that time? The National Republican Party. As a paid consultant for the Republicans, Barton held nearly 300 meetings with pastors and church groups.

In Ohio, Pastor Russell Johnson told [PBS NOW] his work has been encouraged by Barton. But Johnson's connections to the Washington political scene don't end there. Johnson is also a member of the "Arlington group." The Arlington group is a coalition of the nation's most powerful conservative Christians, including James Dobson of Focus on the Family, and Tony Perkins of the Family Research Council. They want to take Johnson's concept nationwide.
Here in Texas, that concept has become a political force to be reckoned with as an adjunct to Rick Perry's branch of the GOP. Although the Texas Restoration Project's pastor training events claim no partisan affiliation, their timing dovetails conveniently with the busy schedules of Governor Rick Perry, as well as those of speakers such as Rod Parsley, Tony Perkins and David Barton.

East Texas-based Rev. Rick Scarborough of Vision America, who first enlisted a network of "Patriot Pastors" in 2004, told the Dallas Morning News of his plans to mobilize 20 million "values voters" to bring to fruition an agenda that includes a constitutional ban on same-sex marriage, installing the Ten Commandments in government buildings and giving church leaders a bully pulpit to openly promote political candidates to their congregations. [Photo: Dave Martin, AP]
And Scarborough definitely means Republican candidates: "One of my goals in life is to give the Republican Party courage ... We have a lot of gutless wonders who wear the tag conservative Republican. Anytime there's any amount of fire, they crater."
The Texas Restoration Project is led by Laurence White, a Lutheran minister from Houston in the Parsley/Russell mode. Like them, White now is spreading the gospel of "Biblical America" beyond the borders of his own state to foster a Florida Restoration Project.
Recalling the compromise of Christian pastors in Germany when Adolf Hitler rose to power before World War II, Lutheran pastor Laurence White told the Florida pastors that they cannot remain silent in the face of the homosexual lobby's attempt to gain "gay marriage" in America.

"The Devil is a liar and it's time we stopped listening to his lies in America and saw what is happening in our country for what it truly is - the soul of America is dying. And that death is facilitated by the apathy, the ignorance and the uninvolvement of America's pastors," said White.
At a Vision America "War on Christians and Values Voters in 2006" conference in Washington, D.C. last January, attendees heard from Rick Scarborough lieutenant Don Feder that "Hollywood likes Islam almost as much as it loathes Christianity." Feder told an audience composed almost entirely of white Protestants that they were "more Jewish than people like Barbra Streisand, because you embrace Jewish values. She doesn't."
One delegate came to the conference dressed as George Washington and quoted "my friend, Thomas Jefferson" to defend the Restorationists' primary tenet -- that the Founders established the United States upon Biblical principles as a Christian nation.
But on this 230th anniversary of our Declaration of Independence, despite the fraudulent "historical" claims of David Barton, let's remind ourselves of what some of our Founders really thought about religion as an arm of government.
[ see editor's note below ]

George Washington
"As the government of the United States of America is not in any sense founded on the Christian Religion ..."

from the Treaty of Tripoli, signed by John Adams, June 10, 1797
"The day will come when the mystical generation of Jesus, by the Supreme Being as his Father, in the womb of a virgin will be classified with the fable of the generation of Minerva in the brain of Jupiter." [ this quote has been amended for accuracy - see editor's note below ]

Thomas Jefferson
"Who does not see that the same authority which can establish Christianity, in exclusion of all other Religions, may establish with the same ease any particular sect of Christians, in exclusion of all other Sects?"

James Madison, in "Memorial and Remonstrance", 1785
And only because the specter of Adolf Hitler is repeatedly invoked by the staunch defenders of "Biblical America," let us remember Hitler's own words on Christianity as a guiding force in government.
"The national government ... will maintain and defend the foundations on which the power of our nation rests. It will offer strong protection to Christianity as the very basis of our collective morality."
In Texas, in Ohio, and wherever else they may be found, let us give thanks on this Independence Day for true Patriot Pastors.
editor's note: Ed Brayton, writing on Dispatches From The Culture Wars has kindly informed Talk To Action that one of the quotes above are incorrect. There was a sentence attached to the Jefferson quote, at the beginning of the quote, which does not belong with the quote and which seems to get tacked on to a number of real Jefferson quotes. According to Brayton, "I do not find in orthodox Christianity one redeeming feature." is not found anywhere in Jefferson's writing. Also, the Washington quote is not supported by the historical record. I've notified moiv, the author of this piece but Talk To Action is a volunteer organization and so she likely is at work. So, I've taken the liberty of making the correction to the Jefferson quote and have cut out this quote Brayton says is incorrectly attributed to Washington : "The United States is in no sense founded upon the Christian doctrine."