Frank Pavone isn't the only Religious Right crusader who has been working for Randall Terry's election.
Gary McCullough
, Terry's media advisor when he
resurfaced
during the Schiavo affair, provides Terry with a testimonial on the
campaign Web site
where Terry publishes photos of his 1991 meeting with Pope John Paul II and
compares himself
to Martin Luther King, Jr.
You may have seen -- and if you haven't, you surely will -- the flyer that is coming in the mail. It is a vicious, lying attack against Randall Terry. I know it's vicious, and I know it's lying, because I have been a close friend of Randall's for many years.

This piece of literature may have actually broken the law -- committing libel and slander.
:::
"40 arrests": This is true; but what the piece cleverly ignores is the fact that Randall Terry was arrested for peaceful protest in his work to protect the unborn from abortion.

Martin Luther King Jr. was arrested over 100 times for peacefully protesting against the injustice of segregation; Mr. Terry has been arrested for the exact same type of peaceful protest.
:::
Henry David Thoreau, Martin Luther King Jr., Susan B. Anthony, and a host of other American political activists and heroes of the past (Remember St. Paul?) also spent time in jail because they were protesting to make a point, or obeying the "higher law." Mr. Terry is a best-selling author -- and four of his books were written while he was in jail! One of his books is titled, Why Does a Nice Guy Like Me Keep Getting Thrown in Jail?
Well, on one occasion, it was because he had a fetus delivered to Bill Clinton at the 1992 Democratic Convention. The Secret Service tends to frown on stunts like that. But it wouldn't have bothered Fr. Frank Pavone, of course, as owner and media consultant of the most well-traveled and frequently memorialized fetus in America.
And according to Gary McCullough, Terry is just as non-violent as Fr. Pavone as well.
"Mr. Terry has been arrested 40 times. He is threatened others..." yes, Mr. Terry has been arrested, as we have discussed. But he has never threatened anyone. This is another lie.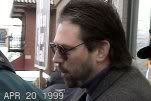 Of course, Gary McCullough's own concept of what constitutes either a threat or a lie might not be the same as yours or mine. McCullough's extremely questionable past includes a stint as Paul Hill's media consultant, too, back when Hill and McCullough were defending Michael Griffin, the murderer of Dr. David Gunn, as a "hero," and before Hill committed a couple of shotgun murders of his own -- crimes which McCullough publicly defended as well.
So perhaps in that light, it's understandable that McCullough wouldn't have thought Terry sounded threatening when he said this about Christianity . . .
"Let a wave of intolerance wash over you. I want you to let a wave of hatred wash over you. Yes, hate is good.... If a Christian voted for Clinton, he sinned against God. It's that simple.... Our goal is a Christian Nation... we have a biblical duty, we are called by God to conquer this country. We don't want equal time. We don't want Pluralism. We want theocracy. Theocracy means God rules. I've got a hot flash. God rules."
. . . or this about doctors who provide abortion care . . .

"When I, or people like me, are running the country, you'd better flee, because we will find you, we will try you, and we will execute you. I mean every word of it. I will make it part of my mission to see to it that they are tried and executed...
. . . or this about male supremacy . .
If we're going to have true reformation in America, it is because men once again, if I may use a worn out expression, have righteous testoserone flowing through their veins. They are not afraid of contempt for their contemporaries. They are not even here to get along. They are here to take over...
. . . or this about biblical retribution.
Somebody like Susan Smith should be dead. She should be dead now. Some people will go, "Well how do you know God doesn't have a wonderful plan for her life?" He does, it's listed in the Bible. His plan for her is that she should be dead."
Frank Pavone evidently doesn't see any of that as threatening, either, because he considers Terry's race against King to be "one of the most important in the nation."
From the Desk of Father Frank Pavone

One of the most important political races in the nation is happening in Your state Senate District in Florida - the race between pro-life champion Randall Terry, and your current State Senator, Jim King.

Dear friend of life,

I'm writing to earnestly solicit your help in one of the key pro-life battles facing us in this election cycle -- the Republican primary -- scheduled for September 5 -- between challenger Randall Terry and incumbent State Senator Jim King.

Let me refresh your memory -- Randall Terry has been on the front lines of the pro-life movement for over two decades -- a nationally and internationally known pro-life leader.

Randall and I have worked on various projects together for over 15 years.

Jim King, on the other hand, is a firm supporter of Roe versus Wade -- and he led the efforts to starve Terri Schiavo to death last year.

While Randall Terry and I were at the hospice,

Working side by side to save Terri from starvation...

Senator Jim King was working to starve Terri to death.

I am writing you as a private citizen, because I know you share my passion for life.

I know you want strong pro-life legislators in government as much as I do.

Frankly, you could not have a more proven and dedicated servant of life in office than Randall Terry.

I'm asking you to do three critical things in the cause of life:

1) Vote for Randall Terry. Early voting begins on August 21, and ends on September 2. The Republican primary is on September 5, the day after Labor Day.

Please vote for my friend Randall.

2) Volunteer for Randall's campaign. I recently spent two days in the district, traveling from Daytona to Jacksonville, meeting with voters, and helping Randall put together an incredible volunteer team.

With the election soon upon us -- there is much to be done -- but this is absolutely a race that can be won by Randall. He just needs help from people like you.
:::
3) Give to Randall's Campaign. I am asking you to give is generously as you possibly can today to help Randall launch his final wave of advertisements, mailings, literature drops, and phone banks.

Randall must hear from you by August 27, so he can have the finances for the last week of the campaign.

Please rush your gift today!

I pray you will do all you are able for the cause of life,

Father Frank Pavone
Just in case anyone at the IRS is paying attention, Fr. Pavone adds a token disclaimer.
(This endorsement is made in my own name, not in the name or with the funds of any organization I lead.)
That's right, it says so right there at the bottom of the page: "Paid for and Approved by Randall Terry, Republican, Florida Senate"
That means that it was paid for with money raised by Frank Pavone and Alan Keyes at up to $250 a plate, as well as over $100,000 poured into Terry's campaign account from the same Religious Right network that made Terri Schiavo a household name. According to donation records, Randall Terry's campaign raised only one dollar out of five in Florida, let alone from the district "base" that he claims to represent.
And today the voters of Florida's State Senate District 7 will tell Randall Terry and his friends on the Religious Right exactly how much political power their money and their perverted version of Christianity can buy.
[Photo of Gary McCullough from BARF.org]