Former Kansas Attorneys General Carla Stovall Steckline and Bob Stephan both say that the limited set of special circumstances that require, or justify, the hiring of a special prosecutor are not present in this case. And that even when hiring a special prosecutor is indicated, the Attorney General has
responsibilities
that go beyond simply making an announcement of that appointment.
Stephan said that an attorney general can appoint anyone as a special prosecutor, but the selection has little import until responsibilities are detailed.

"In my opinion, it would not be effective until a contract has been entered into, spelling out the responsibilities and the hourly rate."

Steckline said that even if a contract isn't in place with a special prosecutor, an attorney general should try to find out some general information about issues such as finances when making such an appointment.

"It would not be a good business practice, obviously, to not have that nailed down ahead of time," she said.
Don McKinney dismisses such concerns, along with the objections to his irregular appointment by Governor Kathleen Sebelius: "I don't have time for political posturing. I have work to do."
With only days left for Kline to make his career-destroying fixation on Dr. Tiller count for something, McKinney -- whose primary credentials for the job seem to consist only of his own hardline antiabortion activism -- already has filed an eleventh hour motion to reinstate charges that have been thrown out of court.
Even without any legal contract with the state, McKinney is already asking Judge Paul Clark to rule that his own just-issued ruling was wrong. Sedgwick County District Attorney Nina Foulston explained to the Wichita Eagle, "At this time, there is no case in which to file a motion of that nature as it has been dismissed." But for those minds steeped in single-issue fanaticism, reality has nothing more than nuisance value.
One of Don McKinney's personal and political allies is Cheryl Sullenger of Operation Rescue, another veteran antiabortion activist who herself has served prison time for conspiring to bomb a clinic. Operation Rescue's view of the now legally nonexistent charges against Dr. Tiller might seem to border on the delusional, but it echoes that of the Attorney General of Kansas.
While Attorney General Phill Kline continues to work to reinstate 30 criminal charges against abortionist George R. Tiller for illegal late-term abortions, the media has ignored and even misrepresented the seriousness and validity of the charges, and has instead turned the focus of the case to partisan political personality conflicts.

"If anyone has politicized this case, it is the Kansas media and Attorney General-elect Paul Morrison," said Operation Rescue President Troy Newman. "They are political enemies of Kline's and cannot seem to put aside politics and look at the justice issues involved here."
:::
"Morrison has already made the decision to fire Mr. McKinney even though he has never spoken to him nor has he even bothered to read the complaint," said Newman. "This is the least professional behavior an Attorney General could engage in ..."
:::
"Why is it that Morrison can be a supporter of radical abortion rights, yet is not questioned about his ability to do his job in prosecuting an abortionist? The question is only raised if one is pro-life. That double standard is completely unfair. People can hold personal convictions and still act professionally. Apparently that is a concept that Morrison is unfamiliar with in thought and action."
This is less than delusional only if Morrison's support of the law, as laid out in the Roe v. Wade ruling, is "radical." If Sedgwick County District Attorney Nina Foulston is "not behaving as a professional" by refusing to relinquish the duties of her office in the service of Kline's crusade. And if in merely upholding their legal responsibilities, Morrison's and Foulston's actions are somehow less professional than the behavior of Phill Kline, the man whose zeal to prosecute the routine provision of abortion care led him to declare adolescent puppy love a sex crime in Kansas. Or if professional behavior is exemplified by that of, according to Kline, the "well respected attorney" Don McKinney, pictured below (left) displaying his "professionalism" while participating in an Operation Rescue action outside Dr. Tiller's clinic.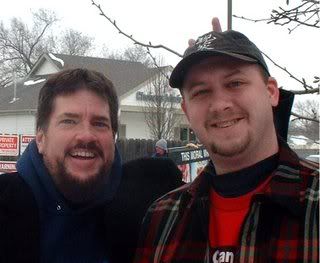 Newman continues, "The average man on the street sees this behavior and can sense that there is some serious monkey-business going on here to circumvent the normal judicial process."
There's certainly some serious monkey business going on somewhere.
The normal judicial process has been followed, and has proceeded exactly as the law specifies, but that isn't enough, simply because it hasn't delivered the result that Phill Kline and Operation Rescue wanted, and still demand. As John Hanna writes, such is the nature of obsession.
Consider some of Ahab's words just before he spears the behemoth he has been hunting obsessively, only to have the line from his harpoon gun wrap around his neck so that he's pulled under by the whale, along with his ship and all but one of its crew.

Ahab says: "Towards thee I roll, thou all-destroying but unconquering whale; to the last I grapple with thee; from hell's heart I stab at thee; for hate's sake I spit my last breath at thee."

It has a familiar ring in Kansas these days.
The actions of Phill Kline evoke William Faulkner's description of Ahab as a man "bent on his own destruction and dragging his immediate world down with him with a despotic and utter disregard of [its people] as individuals."
But in Ahab's madness, his "boat seemed drawn up towards heaven."
[Don McKinney photo: Maggot Punks
Moby Dick images: The art of George Klauba]