One bill, a South Carolina measure that would compel a woman to view ultrasound images before she was allowed to have an abortion, has captured national attention.
It is a cherished myth of the religious right that providers of abortion care "hide the truth" from women, their supposition being that a woman who sees an ultrasound image will change her mind about having an abortion. The truth is that we encourage a patient to let us review those images with her before an abortion procedure. That is the best way to reassure her that they bear no resemblance to the shock graphic images so beloved of anti-abortion activists, and most women feel comforted to know that.
What proponents of personal freedom oppose is compelling a woman under force of law -- forcing her to look at an ultrasound she objects to seeing, or forcing her to continue a pregnancy against her will -- but that is what the Christian right's anti-choice campaign is all about.
The South Carolina House of Representatives already has passed its bill mandating forced viewing of ultrasound images. Most of the credit for that anti-freedom victory belongs to Focus on the Family, which has spent millions bankrolling ultrasound machines for about 300 crisis pregnancy center ministries that admit to using them as tools for influencing "abortion-minded" women, despite evidence that prolonged exposure to ultrasound radiation can have damaging effects [pdf link] upon a developing fetus.
But none of that matters to groups such as Focus on the Family. What matters to people like them is imposing their politico-religious fantasies upon the rest of us by force of law.
The S.C. House's landslide passage of an ultrasound abortion bill, which kindled a firestorm of attention and controversy, was sealed weeks before the House voted.

The turning point came when a leading group opposed to abortions, the Palmetto Family Council, was given a treasure trove of telephone numbers and e-mail addresses for S.C. abortion opponents. The new contacts far exceeded the group's existing grass-roots network.

The national conservative organization Focus on the Family had the information and agreed to share it with the Palmetto Family Council.
:::
The groundwork that led to 91 votes for the abortion ultrasound bill March 21 began months earlier, in a quieter fashion.

Americans United for Life, a Chicago-based law firm that promotes abortion restrictions in states, issued a policy report on ultrasounds as a method for reducing abortions.
:::
All the attention -- from the grass-roots organizations, constituents and national media -- came to a head March 21, when the House considered the bill.

Democrats, led by Rep. Todd Rutherford of Richland County, tried to carve out an exception in the proposal for women who are victims of rape or incest. Time and again, they were beat back in fairly close votes.
:::
"Honestly, people, including Democrats, their lack of guts doesn't surprise me anymore," he said.
That shouldn't surprise anyone these days, when so many Democrats ride to the statehouse or to Congress mounted astride Trojan donkeys.
The same kinds of tactics are being used to similar effect in our state, where Texas Christian right groups -- the Texas Catholic Conference, the Roman Catholic Bishops of Texas, Texas Alliance for Life, Texas Eagle Forum, Concerned Women for America, the Texas Conservative Coalition, Texans for Life, the Texans for Family Values PAC, The Justice Foundation and its Operation Outcry project, and FOF's Texas outpost, the Free Market Foundation -- packed an all-night House State Affairs Committee hearing on abortion-related bills last week.
Their central argument, repeated for hours by witnesses professing to speak for women, was that women are passive victims who cannot be trusted to act as their own moral agents, or to understand their own best interest.
[Note: The following testimonies were transcribed as they were being delivered. Any inaccuracies are minor and unintentional.]
Ann Younger is director of A New Song, which advertises itself as a "Post-Abortion Recovery Ministry." Younger gave testimony that, in another context, could have gotten her arrested.
I am here to speak ... 15 years after I made the choice to have my daughter, Charity, murdered. I'm so grateful for my deliverance from the bondage that abortion put me in. That does not make it OK that I was given the legal right to murder my daughter. ... I know how it feels to be sexually violated as a child. Abortion is a life-altering decision.
Of course, Younger had no notion that she would have had a daughter named Charity until the Lord provided her with that revelation years later. And surely the fact that she was sexually abused as a child had no bearing upon her emotional problems in adult life. No, she was merely a victim of abortion.
Yvonne Chumchal of Grace Fellowship Church runs the Tears of Life abortion recovery ministry: "This ten-week confidential bible based study will help you find freedom through the truth of God's Word and the cleansing power of the blood of Jesus."
Grace Fellowship Church sponsors other programs as well, such as one reminiscent of Robert Tilton's notorious "prayer cloths."
Prayer Blankets
Prayer blankets are given to those in the Grace Fellowship family who are experiencing crisis situations as a tangible expression of God's power and love, as well as a reminder that they are being lifted in prayer. This blanket is to keep, and has been soaked with prayers of healing, comfort, and peace for the one we are praying for and their family. We are believing that just as in Acts 19;12, God's healing power can go with this blanket to accomplish His healing work. Please let us know if you'd like a prayer blanket for yourself or someone you love.
If a prayer blanket isn't enough to protect you from the workings of Satan, the church will send out a lay exorcist.
Spiritual Housecleaning
If you are experiencing unexplainable circumstances and phenomena in your house; continuous family problems as if a "dark cloud" is over the family/house - this prayer ministry (FIC) conducts spiritual housecleaning by the use of specialized prayers of warfare, reunciation (sic), and consecration.
Chumchal recounted that she had two abortions, and founded Tears of Life after "20 years of fearing that someone would find out I had murdered my children." She went on to say, "Abortion causes divorce, attempted suicide, drug addiction, and alcoholism. ... We have killed our babies, babies with names (reciting a list of names too long to reproduce, but presumably also revealed after a woman entered "abortion recovery"). ... It is never in the best interest of a mother to end the life of her child. Abortion is murder, and hurts women. ... An abortion ban restores women's rights. Abortion should be banned in Texas and in the USA!"
Chumchal's closing declaration was rewarded with a loud round of applause from her co-religionists and most of the State Affairs Committee -- almost all of whom are white Republican males in thrall to the religious right.

Like other women submitting religious testimony for anti-choice bills, Molly White of Redeemed for Life Ministries maintained that she'd had an abortion only because she didn't know what she was doing: "If I had been told the truth, I would never had gone through with it." But her most outlandish contribution to the proceedings, delivered in a breathless half-whisper that Marilyn Monroe would have envied, was her assertion that abortion causes "survivor guilt in children who weren't aborted."
"What if I'm not good, not wanted anymore, will my mommy kill me? [These children] don't have a purpose in life, don't understand why they're here, because of this thing called choice."
White testified that "rape victims say the abortion changed them from a victim to a perpetrator," and that abortion should be illegal even for women diagnosed with devastating fetal anomalies: "It doesn't matter the condition they're born in, it's called a mother's love. She needs to pray about it. When you make an emotional decision like I did, it's always the wrong one. If that baby dies, it deserves to be born and grieved over. Interrupting the natural bodily function of pregnancy is always damaging."
White also offered testimony purporting to prove that abortion causes breast cancer: "You say abortion is the most common procedure, so if breast cancer is the most common disease, connect the dots." She closed her testimony in the best tent revival fashion.
"God created earth and the heavens, our own sin brought death into this world. The Passover lamb changed that, protected us from the spirit of death. Satan has been after man since the Garden of Eden, out to kill and destroy. Whosoever believeth in Him shall not perish, but have everlasting life. I pray that the spirit of death will pass over Texas."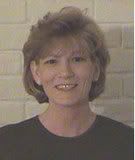 The most comprehensive catalogue of the societal breakdowns caused by a woman's legal right to safe and professional abortion care came from Rhonda Arias, whose Operation Outcry-affiliated prison outreach ministry, Oil of Joy for Mourning, recently was profiled by the New York Times. Arias played a video alleging that abortion is responsible for an explosion in the numbers of women incarcerated in Texas prisons: "'the spiral downward began with one decision: abortion."
"In Texas, it is proven that abortion is a precursor to suicidal ideation, chronic marriage problems and breakups. Abortion leads directly to substance and alcohol abuse. An unnatural act is a stressor begins that pivotal point where a woman starts to do drugs. ... I thought I had a drug problem; I had an abortion problem. ... When abortion is legal, it's forced upon a woman. This is not giving a woman a choice, it's backing her into a corner.

"[A woman who has an abortion] is more likely to become involved in auto accidents resulting in injuries to herself and others. It causes the inability to complete tasks, contributing to the breakdown in society. ... The number of women incarcerated for no other reason than abortion is costing $64 million per year.
Like Yvonne Chumchal, Arias received an enthusiastic round of applause.
Not all religiously affiliated witnesses recounted piteous tales of victimization. Janet Maykus, Principal of the College of Pastoral Leaders and Director of Christian Leadership Education at the Austin Theological Seminary, testified in opposition to anti-choice measures and in favor of a bill that would exempt women from viewing the state's "informed consent" photos of fetal development. After stating what the religious right already knows, that there is nothing about abortion in the Bible, she testified that she had had an abortion after learning that the fetus she carried had deformities that would cause her child to be born with severe pain and needing multiple amputations. Her pastor supported her decision. She further stated that since being ordained in 1988, she has counseled many women struggling with the same decision.
"Women acting as moral agents make decisions about whether abortion is necessary. Women should not be coerced to carry pregnancies to term. ... I'm convinced we made the best decision I could as a mother for this child. I do know that being showed photos of what my baby would have looked like would have been cruel."
As an ordained Christian minister, she should have been testifying for the other side, shouldn't she? And all but two members of the committee -- i.e., the white Republican males -- seemed to dismiss her testimony accordingly.
Also appearing were the legal handlers for the "victims of abortion," attorneys from The Justice Foundation and the Free Market Foundation, who assured the committee that violations of women's medical privacy, their loss of bodily autonomy and the outright criminalization of abortion all were based upon sound legal principles.
The essential message of all testimony by witnesses from the Christian right was the same: the law must protect women from the right to protect themselves. The laws of God demand it, and His law is supreme.
Anyone who doesn't acknowledge the powerful and pernicious influence of Christian right organizations over legislators who are beholden to them should have seen most of the Texas House State Affairs Committee nodding along in unison like a row of bobble heads.
This is a woman being baptized.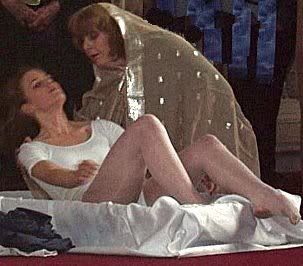 This is a woman in deep water.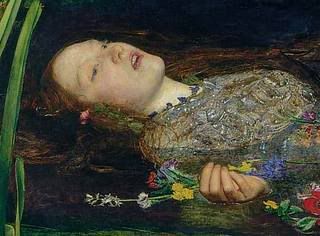 They are not the same.
[Title image: Orpheus, by Janet L. Snell
Baptism image: Women Priests.org
Final image: Millais' Ophelia from the Tate Online]