Bush's Gatekeeper to the Religious Right
A native of Fort Wayne, Indiana, Goeglein received a degree in journalism from Indiana University. In the early 1990s, he started submitting occasional, unsolicited editorial essays to his local conservative newspaper, the Fort Wayne News Sentinel. He was never paid for his published offerings, and he had no deadlines.
In 2000, he served as spokesman for the brief presidential campaign of religious right leader Gary L. Bauer. In this role, Goeglein told Salon.com's Jake Tapper:
"If it is proven that a president of the United States or a man running for president of the United States has used illegal drugs, that will be an issue. If any American has broken the law and that American is running for the highest office in the land, that would certainly be an issue."
At the time he made this statement, Goeglein had already committed intellectual theft in the forms of serial plagiarism and copyright violation -- virtually cutting and pasting extended passages and entire articles and claiming them as his own -- for at least five years.
After Bauer bowed out, Karen Hughes recruited Goeglein to join the Bush/Cheney campaign. He also served on its transition team. Although he expected to receive a patronage position working in the White House press office, Rove called him, saying, "I'm going to change your life." At that point, Goeglein became the Bush administration's liaison to social and religious conservatives. He was the go-to guy for conservative Christians to get messages directly to the president on a range of issues, such as stem cell research, abortion rights, and marriage equality.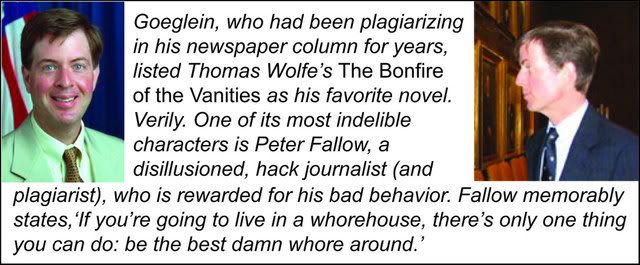 Writing for the Washington Post in December 2004, Jim VandeHei emphasized Goeglein's importance as a pipeline to the president:
Starting most days at 6 a.m. and often lasting well into the night, Goeglein, a special assistant to President Bush, operates as a virtual middleman between the White House and conservatives of all stripes seeking to shape its policies. "[I] make sure they have a reliable access point, which is me," Goeglein said.

Officially, Goeglein, a 40-year-old who looks as if he would be carded trying to buy a beer, is deputy director of the Office of Public Liaison, one of four White House political departments run by uberstrategist Karl Rove. Yet Goeglein's role is much more central to how this president operates -- and wins elections -- than the job title suggests, according to several Republicans outside and inside the White House.

It is Goeglein's job to make sure conservatives are happy, in the loop and getting their best ideas before the president and turned into laws.
My Talk to Action colleague Bill Berkowitz wrote in March 2005:
Goeglein is such a solid "ambassador" to the Christian Right that when Ted Haggard, the head of the National Association of Evangelicals, made his first post-election visit to the White House he stopped by and congratulated Goeglein for his effective work of bringing Christian voters to the polls.

"He is the key person that actually produced the evangelical vote in America," Haggard told the Indianapolis Star. "It was Karl Rove's initiative, but it was Tim that actually did it. When we call Tim, his office responds. He's the one evangelical leaders across America have a relationship with."
Haggard was a regular participant in conference calls that Goeglein moderated with religious right leaders, such as Bauer, James Dobson, and Jay Sekulow.
Sheryl Gay Stohlberg of The New York Times writes, "He was the eyes and ears of the White House in the world of religious conservatives and an emissary to that world for Mr. Rove and the president. Mr. Goeglein was often credited with turning out the evangelical vote that helped re-elect Mr. Bush in 2004."
A blogger and former columnist for The News-Sentinel, Nancy Nall, revealed the plagiarism in a post last Friday morning. Within 12 hours, Goeglein had resigned. An ongoing review by The News-Sentinel has found to date that Goeglein had plagiarized at least 27 columns published in its pages since 1995.
'The Best Damn Whore Around'
Goeglein's plagiarism was not motivated by money. He was not paid for his newspaper essays, and in his White House role as Bush's gatekeeper to the religious right, he pulled down an annual salary of $125,000.
On March 3, 2008, The News-Sentinel revealed why Goeglein committed plagiarism.
"Pride. Vanity. It's all my fault. It's inexcusable. What I did is wrong. I categorically apologize," Goeglein stated.
There it is: pride and vanity. Feverishly, foolishly keeping up appearances; white-washing the sepulchre full of dead men's bones.
This may explain why, when conservative evangelical World Magazine queried Goeglein about his favorite books and movies in July 2006, he gave the following intriguing response.
Goeglein, who had been plagiarizing in his newspaper column for years, listed Thomas Wolfe's The Bonfire of the Vanities as his favorite novel. Verily. One of its most indelible characters is Peter Fallow, a disillusioned, hack journalist (and plagiarist), who is rewarded for his bad behavior. Fallow memorably states, "If you're going to live in a whorehouse, there's only one thing you can do: be the best damn whore around."
Goeglein displayed the cynicism of Peter Fallow when he befriended the likes of fellow Hoosier Ted Haggard (who has since confessed to illegal drug use and sexual immorality with a male prostitute) and the former male prostitute Jeff Gannon, also known as Jeff Guckert, a fellow serial plagiarist who publicly thanked Goeglein for his friendship and assistance in gaining access to the White House. But when it came to selling out his principles and playing the faithful folks back home as if they were rubes, no one could match Rove's right-hand man, whose pride and vanity drove him to become "the best damn whore around."