As current Messianic Jewish Movement International head Nathan L. Jacobus describes on MJMI's website,
"My vision for MJMI, in cooperation with other Messianic people and organizations, is to spread the Good News of Yeshua, the risen Messiah of Israel. We will, with God's leading and power, work to secure the ongoing existence and vitality of the Jewish people worldwide, while simultaneously sharing Yeshua's message of love. I believe MJMI will be used by God as a significant part of "His team" to help bring about worldwide Jewish evangelism."
Among MJMI's stated future ministry goals, beyond evangelizing Jews, is the goal of "Building with materials originated by MJMI, and upon work already done by NLLI, train Jewish believers in the former Soviet Union (CIS), to spread the Good News of their Jewish Messiah Yeshua to their friends and relatives."
In 1999 MJMI developed a partnership with New Life League International (NLLI), a shadowy Christian evangelical international ministry with a branch ministry in Japan, New Life League Japan, that prints millions of Bibles, in many different languages, per year. As stated on the MJMI web site, its current head has "been in a spiritual, God-led men's accountability group since 1995 with the president of NLLI [New Life League International], Stan Runnels".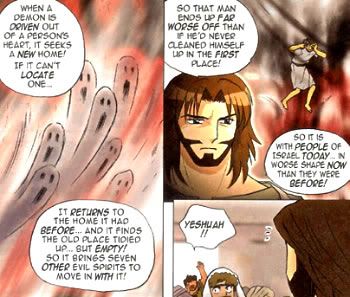 New Life League International is a subsidiary of New Life Literature ASIA/USA which, in turn, is a minstry division of the Albuquerque, New Mexico based Christian comic book company ROX35 Media, Inc., whose CEO Nathan Butler is reported to have worked in the production of the TV children's series "Sesame Street".
New Life League Japan is primarily a Bible printing ministry and boasts having the fastest printing machines, of their kind, of any Bible printing operation in the world, from which pour, yearly, roughly 3 million Bibles in dozens of different languages.
New Life League International's Japanese ministry, which also has been described as having evolved out of Youth For Christ, has over the past several years been scaling up it's printing and distribution of a new Manga-style comic book which embodies a new approach to evangelizing. New Life League Japan's "Manga Messiah" is a three-hundred page comic book depiction of the New Testament which features a theological interpretation, demonizing Jews, which was abandoned by Protestant Churches following World War Two and the Holocaust and also rejected by the Catholic Church at Vatican Two.
The first in New Life's Manga comic series, Manga Messiah was initially developed, under the head of NLLI's printing operation, Roald Lidal, for the Japanese market. Lidal, a Norwegian missionary who has lived in Japan and speaks fluent Japanese, has described as an inspiration for his ministry, the effectiveness of communist propaganda.
Japanese readers first encountered the product when volunteers for Operation Mobilisation, dressed as elves and santas, handed out free copies of the 300-page Bible comic tract in a shopping district.
When Manga Messiah proved less popular among Japanese than anticipated, the product was re-conceived as a tool for global evangelizing and now is being translated, reportedly, into as many as 20 world languages. The Manga comic was introduced to the United Kingdom and the Philippines in 2006 and to the United States in 2007 and North Americans can purchase subsidized carton-sized lots of the anti-Jewish New Testament tracts from the Bible League of Canada.
One million copies of Manga Messiah are also being distributed with the official sanction of the Government of Uganda, with the express consent of Uganda's First Lady Janet Museveni, a born again Christian and friend to Rick and Kay Warren. Under another of Warren's Ugandan allies, Archbishop Henry Orombi, the Church of Uganda plans to give out ten million abbreviated versions of the comic. In March 2008, as announced by Rick Warren publicist A. Larry Ross, Uganda officially became the second "Purpose Driven" nation on Earth, following Rwanda's 2005 lead.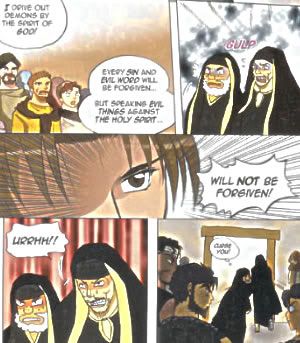 As a recent article from Ecumenical News International, favorable to Manga Messiah, described,
Originally published in Japanese and then translated into English, more than 1 million copies of its first volume, Manga Messiah, have now been printed in 9 languages. They include Tagalog, Indonesian, Norwegian, Danish, Portuguese, Spanish and French in addition to Japanese and English. It is planned to publish the Manga Messiah in a further 10 languages.
The article went on quote a statement from Next, Inc., that "Our partner in Uganda, the [Anglican] Church of Uganda, has requested 10 million copies of the 64-page evangelistic booklet." The version of Manga Messiah which the Church of Uganda plans to distribute on such a massive basis is a scaled-down, lower cost adaptation of the 300-page long full version of the Manga comic.
In Israel, June 2008, the head of Uganda's Anglican church, Archbishop Henry Orombi, attended GAFCON, a meeting of a faction of the global Anglican Church which was, according to a sympathetic prominent Anglican website, "organised by anti-gay archbishops of Nigeria, Uganda, Kenya, Rwanda, Tanzania, South American and Sydney with evangelical Anglican bishops from the UK and US opposed to the consecration of gay priests."
During the GAFCON conference, at a conference workshop entitled "The gospel and the UK's cultural context", as described in notes written up by the Rev. Tim Davies and currently published at GAFCON's official web site, in the "Resources" section under the heading "Church Planting and Evangelism", GAFCON attendees were taught that Anglicans are actually "Jews" who, collectively, represent the "true Israel".
As Rev Davies wrote,
`The issue we face in the UK is that there is already a network of "established" churches across the country. This makes our situation, ironically, closer to the New Testament than perhaps in other parts of the world, as there are two groups in most places: "Jews" (established confessing YHWHists, synagogue in the 1st Century, Anglican church in the 21st Century) and Gentiles (people who aren't religious in any real way, but are vaguely aware of these other religious types who've been a fact of life for a very long time. In lots of places that means opposition from the religious people and indifference from the Gentiles.

Again, interestingly, the argument Paul and the 1st Century Christians found themselves making over and over again in Acts was, "we're the true Israel". Which is what we'd say about us church planters. What drives us is the loss of the gospel in these other "churches", and therefore we're the real Christians just trying to put it back.'
Upon arriving in Israel the GAFCON attendees received a warm welcome from Israel's Deputy Tourism Minister Rafi Ben-Hur addressed, at Jerusalem's Temple Mount, the 1,200 Anglicans gathered for GAFCON. As described in a June 26, 2008 story by George Conger, Ben-Hur declared "God brought the Anglicans to Israel," and that "Christians and Jews must unite against a common foe." As Conger's story described the extent of Ben-Hur's praise for the GAFCON members, who would shortly proceed to learn, in a GAFCON workshop, that Anglicans are really "Jews" and constitute the "true Israel",
"It is time for Jews and Christians to be blood together," Ben-Hur told the gathering, with many African bishops shouting "Amen" and "Hallelujah" in response. "We have enemies across the world and must stand together", he said.

While Gafcon has an exclusively Anglican focus, it is likely to have political-diplomatic consequences, as Israel has fêted the Nigerian leader and visiting Anglicans. "Go out, tell the world about Israel," Ben-Hur said, and be "ambassadors of Israel."
[below: Christian Comics International reports on distribution of Manga Messiah to Ugandan school children]