The advance preparations in Michigan have been spearheaded by
Transformation Michigan,
an affiliate of the Oak Initiative, which has been covered in several Talk2action articles. (See links at the end of the article.)
Until August of this year, Samuel Rodriguez, president of the National Hispanic Christian Leadership Conference, was vice president of the Oak Initiative. Formed in 2009, the Oak Initiative is a religio-political organization that promotes a radical laissez-faire economic and political agenda as a pursuit of "righteousness and justice." Prior to the 2010 elections, the organization produced a video in which board member Lt. Gen. (Ret.) William "Jerry" Boykin claimed that the nation is in the grips of a Marxist insurgency.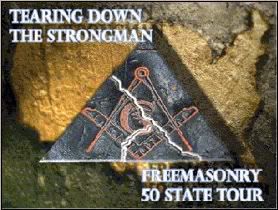 In addition to TheCall, IHOP, Transformation Michigan, and the Oak Initiative, event preparations have included the New Apostolic prayer warrior networks. Cindy Jacobs and John Benefiel, two of the national apostolic authorities over the 50-state networks, have participated in conference calls hosted by Transformation Michigan during the year.
Bill Sudduth, who heads the International Society of Deliverance Ministries (initiated by C. Peter Wagner), spoke on a Transformation Michigan conference call about the reasons why they are linking the "demonic stronghold" of freemasonry to Islam. In preparation for TheCall, apostolic leaders claim that teams have gone to Masonic lodges and mosques across the state, to perform spiritual warfare rituals.
The media publicity presents the event as one of reconciliation between the black and white communities of the region, as seen in TheCall Detroit Update, and a Transformation Michigan video with Rick Joyner and Lou Engle about Willie Lynch. According to this narrative, Lynch gave a speech in 1712 on the banks of the James River about maintaining slavery for 300 years and TheCall Detroit is a "reconciliation" effort to break their curse over African Americans.
At the time the Dome article was published TheCall had not yet confirmed the stadium, but the event is now listed on the Ford Field stadium website and is being advertised by TheCall as taking place at the stadium beginning at 6:00 p.m on 11/11/11 and continuing until 6:00 p.m. the next day.
Read more about the Oak Initiative and the NAR's war on freemasonry and Islam in the following articles.
Samuel Rodriguez and the Oak Initiative: Marketing Religious Supremacism as Social Justice
Oak Initiative Confirms Resignation of Co-founder and Vice Presdient Samuel Rodriguez
C. Peter Wagner's Denials About Dominionism and Demonization of Other Religions