My
recent post
"Rodriguez Signed Evangelical Call to Stop Mercury Poisoning While Working to Oppose Regulation" included information and links on the Evangelical Environmental Network's (EEN) efforts to oppose the TRAIN Act (H.R. 2401), which delays enforcement of air pollution regulation. Samuel Rodriguez, president of the National Hispanic Christian Leadership Conference (NHCLC), signed the
EEN statement
"An Evangelical Call to Stop Mercury Poisoning of the Unborn," but he is also on the board of the APA, which opposes regulation. Likewise, the
NHCLC
has partnered with the EEN, while simultaneously partnering with CORE. As noted in the previous article,
CORE
was once a prestigious civil rights organization, but in recent years has used its reputation to attack environmental regulation as "eco-imperialism" and a "war on the poor," while receiving funding from Monsanto and Exxon Mobil and
running campaigns
in support of genetically modified foods.
In the Townhall article Harry Jackson references Dr. Willie Soon, whose paper on mercury is also posted on the Affordable Power Alliance (APA) website. Soon, an astrophysicist and climate skeptic who has received over one million in funding from industry sources (including the Koch brothers), is echoed by Jackson, who states,
"US power plant emissions account for barely 0.5% of mercury in America's air."
Writing for the APA, Rodriguez has also repeated Soon's claims about mercury as well as global warming. Rodriguez wrote in an article for Family Security Matters, a publication of Frank Gaffney's Center for Security Policy,
"...most mercury emissions and microscopic soot now come from volcanoes, forest fires and overseas sources.  Although atmospheric carbon dioxide levels have been rising steadily, even scientists who worry about 'dangerous' warming now acknowledge that there has been no warming since 1995. This undermines EPA's claim that carbon emissions pose a health threat."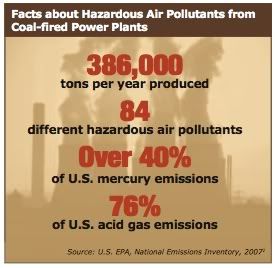 The American Lung Association's
report
based on EPA analysis states that 40 percent of mercury emissions in the U.S. is from coal-fired power plants. The brochure also details the existing technology available for addressing this issue, which has been installed by many power plants across the nation.
The impact of power plant air pollution is borne disproportionately by the poor, as stated in the American Lung Association's report.
"All too often those who have low incomes or who are members of ethnic or racial minorities bear a disproportionate share of the effects of air pollution because they live closer to industrial facilities, including power plants, and to high traffic areas.

...An analysis of the data from the 2000 Census found that 68 percent of the African Americans lived within 30 miles of a coal- fired power plant.11One study of five power plants in the Washington, DC, area found that African Americans and people with less than a high school education were among the groups hardest hit by pollution from these plants. Nearly 50 percent of the risks for premature mortality of power plant-related exposures were borne by the 25 percent of the population with less than high school education."
It is no secret that the Religious Right has been aggressively fighting environmental regulation, but much of their effort has been more transparent. A Religious Right coalition called the Cornwall Alliance produced a 12-part "documentary" series claiming that environmentalism is a cult in competition with Christianity. See a preview of Resisting the Green Dragon at Right Wing Watch. This pseudo-documentary featuring Tony Perkins, Janet Porter, Richard Land, Bryan Fischer, David Barton, and Harry Jackson also claims to be defending the poor.
The Cornwall Alliance is headed by Calvin Beisner, whose bio also includes: the Acton Institute, funded by Bradley, Koch, DeVos, Scaife, Templeton, etc.; Atlas Economic Research Institute, funded by Exxon Mobil, Koch, Scaife, Templeton; Institute on Religion and Democracy, funded by Bradley, Koch, Scaife; and Committee for a Constructive Tomorrow, funded by Exxon Mobil and Scaife. Some of the featured speakers in "Resisting the Green Dragon" are from organizations also funded by DeVos/Prince family and other right-wing family foundations.
CORE and APA have a slightly different message from the Cornwall Alliance and are targeting poor and struggling minority and elderly populations with messages like the one below from their rotating masthead.

But Harry Jackson says it is the Evangelical Environmental Network that is politically motivated, stating,
"As pastors and parents, we stand tall in protecting children. But as concerned civic leaders actively engaged in energy and environmental discussions, we know the EEN radio spots are partisan and misleading. We cannot leave them unchallenged."
[Read more about Harry Jackson, Jr. at Right Wing Watch.]