Myers was an Assemblies of God pastor for most of his career. In 2007 he joined Clark at ANGA to lead GSSM, a school with a three-year program teaching prophecy, supernatural healing, and deliverance (casting out demons), and other coursework. During his six-year tenure, Myers expanded the school to include a branch in South Africa, and Brazil, as well as several U.S. satellites. GSSM classes included regular visits from leading apostolic and prophetic figures, including from the Revival Alliance network.
Additional articles will feature more about GSSM and Myers. For those unfamiliar with the New Apostolic Reformation or apostolic and prophetic movement, see the Resource Directory on the New Apostolic Reformation in the left panel. For an overview from a conservative Christian viewpoint, read this ApologeticsIndex article by Holly Pivec, contributing writer to Christian Research Journal, former University Editor of Biola Magazine, and creator of a blog critiquing the NAR.
The NAR is a growing international movement in which churches are being organized into relational networks under the leadership of modern-day apostles and prophets. The movement is "postdenominational" in nature and is forming in the belief that Christians sharing this worldview can come together to take "dominion" over culture and government. A popular narrative used to describe this goal is called the "Seven Mountains Mandate" or the campaign to take over the seven spheres of culture - arts, business, education, family, government, media, and religion.
Apostle and leading spokesperson for the Seven Mountain campaign, Lance Wallnau, is on the board of Randy Clark's Global Awakening. Global Awakening-WLI course topics include "Invading the Seven Mountains," "Strategy and Protocol for Dominion I and II" and "Dominion over the Land."
The graphic at right is a course listing from the WLI catalog titled "Developing Structure for Apostolic Ministry" taught by C. Peter Wagner, Che Ahn and Randy Clark. The course description includes "the "transference of wealth", marketplace apostles, and the New Apostolic Reformation that we see transpiring in the body of Christ today."
Revival Alliance
Revival Alliance is a separate network from the International Coalition of Apostles, but has overlapping members. Revival Alliance is headed by Clark, Che Ahn, Heidi Baker, John Arnott, Bill Johnson, Georgian Banov, and their spouses. (Article continues below the Revival Alliance Chart.)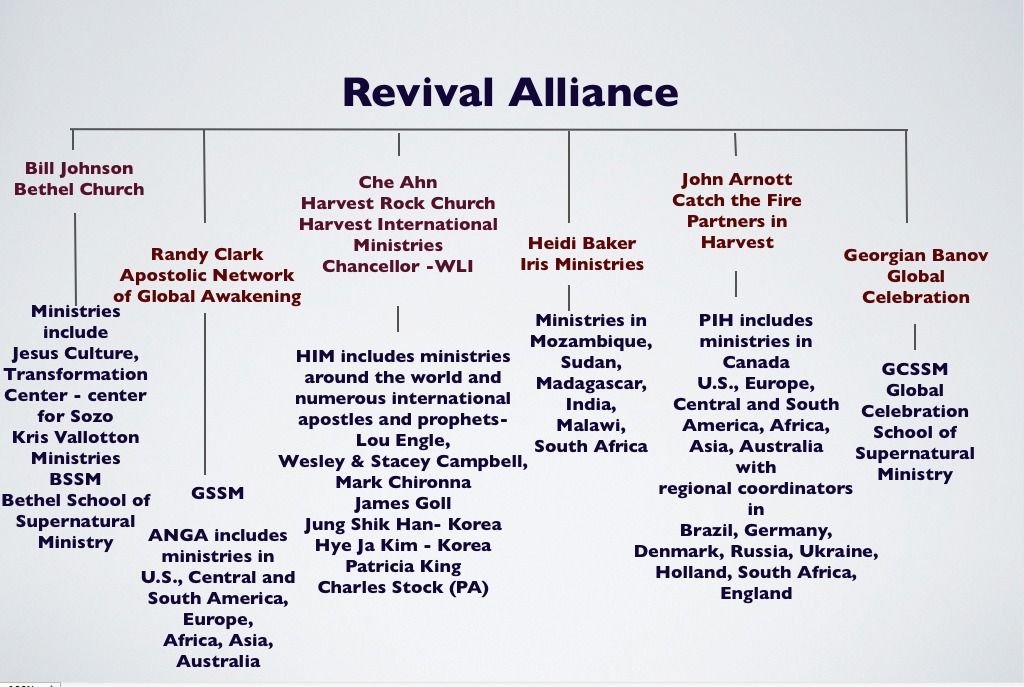 Revival Alliance is the network that commissioned Todd Bentley in Lakeland in June 2008 in an unprecedented gathering of apostles including C. Peter Wagner and Rick Joyner.
Revival Alliance's Che Ahn is co-founder of TheCall and Lou Engle is a prophet in Ahn's apostolic network. Ahn's network also includes Becky Fischer of Kids in Ministry. Both Fischer and Engle were in the popular documentary "Jesus Camp," although no mention was made of their role in the apostolic networks.
Engle is also featured in the new movie "God Loves Uganda," which premiered at the Sundance Film Festival in January. Engle led TheCall Uganda in 2010, which included Ugandan apostles and pastors in support of the nation's proposed "kill the gays" bill.
Randy Clark's ANGA is the host of the annual "Voice of the Apostles" and "School of Prophecy" gatherings. This year's Voice of the Apostles is being held in Orlando and includes Revival Alliance and other apostles along with Reinhard Bonnke and Jack Hayford.
Also see a document that I prepared for Pennsylvania progressive organizations, gay rights leaders, and state political leaders, to educate them about the NAR and Myers' role at GSSM.