One of my friends on Live Journal had an interesting post in her blog yesterday. In it, she talked about a chilling conversation she had with some Christian friends of hers, and their perception of 'persecution' and what it means for the rest of us.
| | |
| --- | --- |
| (14 comments, 1025 words in story) | |
---
---
The infamous anti-Mohammed cartoons from Denmark have been
published online
by the
Christian Communications Network (CCN)
, a Washington, D.C.-based public relations firm run by Christian right activist and anti-abortion crusader Gary McCullough. McCullough distributed press releases calling for even wider publication of the inflammatory cartoons, including one caricature of Muhammad with a fuse-lit bomb tucked in his turban, and another of the prophet on a cloud in paradise, telling newly arrived suicide bombers, "Stop, Stop! We have run out of virgins!"
Islamic tradition forbids any depiction of the religion's holiest figure; such stereotypical, bigoted cartoons have sparked protests across the Muslim world.
McCullough stated in interviews that no one paid him to post the cartoons, and that he is not "speaking on behalf of the Christian faith." McCullough claims to be making a brave stance against terrorist violence and intimidation by Islamic fundamentalists. However, he has a history of condoning intimidation and violence -- including killing -- in the name of Christ.

| | |
| --- | --- |
| (8 comments, 1341 words in story) | |
An article in a December 2005 issue of The Economist entitled
Churches as Businesses - Jesus, CEO adds info to the recent discussion on these pages about American Mega churches, with more focus on their power, organization and potential viral spread to Europe and beyond. Following in the footsteps of the rise of sales and business training combined with Christianity in the early 1900's ("Jesus as the greatest salesman"), the article illustrates how Christian churches are taking on corporate business models and terms, even coining the term "PastorPreneurs." As business models go, it's educational for progressives wondering how to build movements and organizations, and at the very least wondering how these churches got so large - and where they might be headed.

| | |
| --- | --- |
| (5 comments, 904 words in story) | |
Are you a
dominionist
? I'll skip over formal definitions, but suffice to say that it's a general category of people who are theocrats -- or people who may be headed in that direction.
Given the way things are going, it's probably good to check ourselves every once in awhile -- just as a precaution. We did this early in the life of this site, and I think it is time to do it again.
Fortunately, there is a free online test.
| | |
| --- | --- |
| (3 comments, 446 words in story) | |
One of the hardest things to understand is how conservative Christians have become so politically active over the last 20-30 years. The political mobilization of conservative Christians has had to overcome significant resistance. Conservative Christians have not traditionally been that interested in politics and even to this day, the leadership in the churches, both small and large, are mostly not pushing an explicit political agenda. A recent
study
of mega-churches gives further evidence that political activity in these churches is mostly overstated by the media.
| | |
| --- | --- |
| (15 comments, 715 words in story) | |
obituaries
marking Betty Friedan's death have quoted from her classic 1963 book,
The Feminine Mystique
. Some of its passages are quite stirring, in a retro kind of way, as she discusses the inchoate dissatisfaction felt by women convinced that they should find their isolated lives as suburban housewives fulfilling. But it was bizarre to reread this material in recent days and realize that the "mystique of feminine fulfillment" Friedan blasted apart 43 years ago is now being resurrected by the Christian right.
| | |
| --- | --- |
| (10 comments, 900 words in story) | |
| | |
| --- | --- |
| (7 comments, 1872 words in story) | |

Even people who see themselves as secular and not religious often unconsciously adopt many of these historic cultural legacies while thinking of their ideas as simply "common sense."
| | |
| --- | --- |
| (5 comments, 929 words in story) | |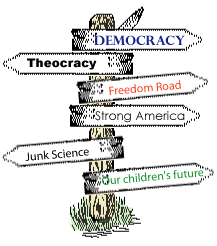 "The Christian Right wants a halfway house between democracy and theocracy," writes Gary North in "What Went Wrong with the Christian Right," an essay published in January 2006 on the Chalcedon web site. "It also wants a halfway house between theonomy and autonomy, revelation and rationalism, creationism and evolutionism. It wants equal time for Jesus, which means equal time for Satan."
North, a cofounder of Christian Reconstruction, is admitting that the full arrival of theocracy means, necessarily, the death of democracy. It is not possible for both to exist together, and he is willing to tolerate no halfway measures. North's view of a Christian Nation is not a democratic nation; his fundamental Christian country is fundamentally unAmerican.
In making clear that his vision of a Christian Nation is fundamentally unAmerican, North surfaces and shines a light on a powerful message frame. North's vision of a Christian Nation is a nation without democracy. And without democracy, our nation cannot enjoy freedom and liberty, cannot pass along America's history and heritage to our children's children.
| | |
| --- | --- |
| (8 comments, 844 words in story) | |
The End of the Spear
" has spilled over to the pages of the
New York Times
.
The movie is based on the true story of five American missionaries who gave their lives in 1956 trying to witness to an indigenous tribe in Ecuador. When the movie was first released, Al Mohler, President of Southern Baptist Seminary in Louisville, KY criticized movie makers for casting a gay actor in the lead role.

| | |
| --- | --- |
| (6 comments, 241 words in story) | |
John Danforth, a mainline Episcopal priest, former US Senator and diplomat, continues to speak out for religious moderation in the Republican party. His is a voice we all need to listen to.
Jack Danforth wishes the Republican right would step down from its pulpit. Instead, he sees a constant flow of religion into national politics. And not just any religion, either, but the us-versus-them, my-God-is-bigger-than-your-God, velvet-fist variety of Christian evangelism.
| | |
| --- | --- |
| (2 comments, 756 words in story) | |
Rodney Clapp, like
Brian McLaren
and
Donald Miller
, is another example of an evangelical Christian voice that is challenging the Christian Right. Clapp has written important articles and books since the 80's, but unfortunately his influence is minimal when compared to the more popular and politically driven conservative Christian leaders. One can only hope that in this age of decentralized media, the power of Clapp's ideas will have a better chance of influencing the Christian church and therefore paralyzing some of the political control the Christian Right has over these churches.
| | |
| --- | --- |
| (3 comments, 685 words in story) | |
Framing or "reframing" has been the buzz of the progressive wing of the Democratic Party since the publication of
George Lakoff's
book,
Don't Think of an Elephant
. The book was endorsed by
Howard Dean
, and made the
New York Times
best seller list.
Framing is an approach to politics and public policy in which conversation is based on "values" more than "issues" and the wonky details of public policy. It is a helpful way of making politics more widely accessible and persuasive, and of understanding the deep resonance the religious right movement has enjoyed across a broad swath of the American public.
Framing and reframing is an essential ingredient of any political and communications strategy -- and it has broad implications for thinking, communicating, and movement building in response to the religious right.
| | |
| --- | --- |
| (3 comments, 2173 words in story) | |

Why does the Lieutenant Governor's race in Georgia matter? It matters to Republican primary candidate Ralph Reed because his supporters view his first race for political office as a crucial test of his ability to capture the Governor's mansion and then eye a run for the White House. And it matters to everyone concerned about preserving a constitutional democracy -- including freedom of speech, freedom of association, and separation of church and state -- not only because Reed's agenda is anti-democratic. It matters, too, because Reed is right now conducting a clinic in how to organize political campaigns. Would you like to learn how to organize and win? Study this candidate; pay attention to this race.
The media is jowling about Reed's vulnerability because of his hypocrisy in preaching against gambling while "humping" major money as a lobbyist for Jack Abramoff's casino industry clients. But even as his critics jaw about defeat, Reed is planning to snatch a victory. He is building a massive grassroots network statewide on a scale never before seen in a down-the-ballot Georgia primary race. Reed's race may be lower down on the ballot, but it's far from insignificant. Reed may be lower down in the polls, but he's a long way from out; in fact, he's planning to win a remarkable victory -- and keep on running for higher offices. Anyone who wants to learn how to win an issues campaign or a campaign for elected office should study his methods.
| | |
| --- | --- |
| (2 comments, 1028 words in story) | |
AP
pick up on the fact that at least a quarter of all of Bush's international AIDS funding is going to religious organizations--with an emphasis on groups with no experience administering HIV grants. Many of these recipients, such as Franklin Graham's
Samaritan's Purse
, are well-connected players on the Christian right. Not only do most of these religious grantees put a dangerous emphasis on unproven
abstinence-only initiatives
, but this pattern of grant-making is part of a long-term effort to
defund the left
(in this case, traditional family planning and AIDS organizations) and shovel money the far right.
| | |
| --- | --- |
| (2 comments, 618 words in story) | |