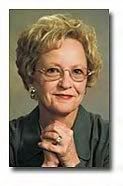 Judie Brown isn't known for her reticence, but even she pulled her punches for the New York Times. Although Brown and others do condemn what the anti-choice legions call a "
contraceptive mentality
," what they really believe is that most forms of contraception
are
abortion. ALL markets numerous books and pamphlets that have been part of the permanent stock of "educational" materials offered by
crisis pregnancy centers
for a long time.
For example, The Pill is a trifold ALL brochure that the CPCs have passed out for so many years that I've seen its cover girl morph from a pink-washed Stepford wannabe in a long dress and a garden party hat to the updated look in today's version. But some things just don't change. The pamphlet promises "Medically documented overviews" that, edited by Judie Brown, still boil down to this: "Don't depend on the pill. It could be harmful to you. It could also kill your baby - without your ever knowing it. Whether you are single or married, chastity is always the best choice."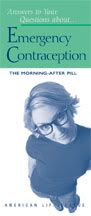 ALL's Emergency Contraception brochure used to feature a somewhat drab young woman gazing out a window in soft-focus profile, but if I didn't know better, I'd swear that Judie had talked Janeane Garofalo into posing for today's edition. The message, though, is predictably the same: "[Emergency contraception] can irritate the lining of the uterus so that if ... the woman does become pregnant, the tiny baby boy or girl will die before he or she can actually attach to the lining of the uterus. [H]er body will reject the tiny baby and he or she will die. This is called a chemical abortion."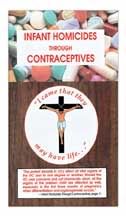 And ALL doesn't only peddle its peculiar perversions of science to young women at risk of unwanted pregnancy. There is also a 38-page booklet for pharmacists -- Infant Homicides through Contraceptives -- that "provides the technical information pharmacists need" to feel righteously justified in refusing to dispense not only emergency contraception, but any birth control prescription a woman might hand across the counter at CVS or Walgreens. And as we know, plenty of pharmacists are doing exactly that.
Russell Shorto noted that although Wendy Wright of Concerned Women for America denied to him that her organization takes a position on birth control, a CWA brochure on emergency contraception "advises that 'its main function is to abort a living human embryo,'" and that the birth control pill provokes "a chemical abortion." There's no surprise there, either; CWA has been singing doo-wops in the hallelujah chorus against contraception all along.
Guttmacher has rated states according to "level of access to contraception" with the stated assumption that more government assistance for contraception results in fewer "unintended pregnancies."

"An 'unintended pregnancy' could be a wonderful surprise, not planned but welcome," said Wendy Wright, President of CWA. "Why should the government be in the business of 'preventing' a surprising but welcome pregnancy?"
:::
"Since the 2004 election and the advent of 'values voters,' the abortion lobby has redefined, but not changed, its goal. Gone is the old slogan of `increase access to abortion' and replaced with `reduce the need for abortion.' Used by politicians, foundations, and abortion groups alike, the words may have changed but the result is the same -- continued pressure for policies and programs that feed into the abortion industry."
Albert Mohler writes that the "contraceptive mentality is an insidious attack upon God's glory in creation, and the Creator's gift of procreation to the married couple." And in a 2005 column, an editor at Christianity Today echoes Judie Brown in her account of being seduced by her birth control pill - until "a more captivating lover began to turn my eye."
In 1997, Randy Alcorn, founder of Eternal Perspective Ministries, joined the dissenters [against contraception] with his richly documented Does the Birth Control Pill Cause Abortions? Among those disturbed by the pill was also obstetrician Dr. Walter Larimore, whose influential advice can be heard on Focus on the Family radio programs.
:::
As I continued to take the little pill daily for another three years, it became harder and harder to swallow. I grew uneasy with the minuscule chance--be it one in a million of millions--that my womb might turn away a cluster of 128 or 256 cells knitted together in the image of God.
:::
What did my daily habit say about my faith in the One who reduced himself first to a cell, then two, then 128, then 256 and more, then to a defenseless baby--and whose door is always open for helpless intruders like me?
:::
When Jesus appears on my doorstep--disguised as a cluster of 128 cells or a single mother who could use some free baby-sitting --he'd better find an open door.
That contraceptive mentality is definitely to be avoided at all costs. Another Christianity Today columnist explains it like this: "It may seem strange to say that, within marriage, the free exchange of bodily fluids is a means of experiencing the grace of God, but we believe this to be true."
If all this fails as theological illumination, at least it shines a bright light on the reason why, despite published research on emergency contraception - double-blind studies demonstrating that its sole verifiable mode of action is to delay ovulation, information that everyone but the religious right has absorbed by now -- the application for non-prescription sale of Plan B continues to languish in the dark and labyrinthine recesses of George W. Bush's FDA.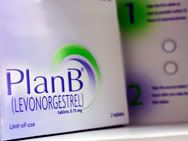 After all, even if Plan B did, in rare cases, prevent implantation, it could do so only by temporarily increasing a woman's level of progesterone -- the same biological circumstance that makes conception much less likely when a woman is nursing an infant. Oddly enough, Judie Brown, Wendy Wright and Christianity Today don't seem to have a word to say about banning "abortifacient" breastfeeding.
Last year Senators Hillary Clinton and Patty Murray announced a hold on the confirmation of Lester Crawford as FDA Director until the agency made a decision on Plan B. The FDA promised a decision, the senators released their hold on Crawford's nomination, and the FDA announced its decision: more study was needed. Now, with the nomination of Dr. Andrew von Eschenbach as Crawford's replacement, Clinton and Murray have announced a hold on his nomination as well, saying that, well ... they won't be fooled again.
The Religious Right's inside man at the FDA, their favorite medical expert, was Dr. David Hager, an OB/GYN who attempted to explain away his wife's accusations of anal rape by saying that he couldn't distinguish her anus from her vagina.


Hager's influence is credited with forestalling FDA approval for emergency contraception the last time around, but with Hager's departure, Dr. Eschenbach might have his job cut out for him.
Certainly he can expect little support from his medical colleagues. On May 8, ABC News announced that the American College of Obstetricians and Gynecologists, fed up with the FDA runaround on Plan B, has finally found a reproductive choice issue that it will stand up for. And the article's accompanying poll shows that 85% of ABC viewers agree with their doctors.
Bonnie Erbe of Scripps Howard News Service read Shorto's piece, and had this to say.
It's no secret to those who follow Washington politics that birth control has been "next on the list" of anti-abortion, religious conservatives. Following the enthronement of President Bush's Victorian coterie in 2001, their top priority -- an imposition of "everything but" a ban on abortion -- has been accomplished in five short years. Now there's undeniable proof that abortion was not the home run they longed for, but more tantamount to first base in a long-range plan to ban birth control, too.
:::
They only used to utter those kinds of statements in private, sotto voce. Now they feel free to proclaim them in print, on the record. If they want to repress their own kind, let them. It's when they try to repress the rest of us that we need to usher them back into the ward from which they emerged.
As the righteous crusaders against medical science and common sense lob their latest Holy Hand Grenade, my own prayer is: "From her mouth to God's ear."
[Title graphic from iguk.co.uk]