Flip Benham warmed up for this year's show by visiting Jackson police headquarters and
"Warning the Watchmen"
.
Flip ... was asked not to be too political or religious because the other side was not represented, so he began with an open Bible and ... connected the dots between murder in the streets and murder in the womb using Hosea 4:1-2 "bloodshed touches bloodshed", if you sow bloodshed in the womb, you will reap bloodshed in the streets. The state of emergency will not come to an end in the City of Jackson, until the last abortion mill in the state of Mississippi is pushed into its grave.
Of course, Flip is always selective when quoting Hosea. He invariably stops before God orders all pregnant Samarian women to undergo forced abortions by hysterotomy, and without anesthesia.
Samaria will be held guilty,
For she has rebelled against her God
They will fall by the sword,
Their little ones will be dashed in pieces,
And their pregnant women will be ripped open.
Maybe Flip meant to get to Chapter 13, but just ran out of time. Or maybe not.
Absolute truth is such a hard thing to find.
DAY ONE: Saturday, July 15
From the Biloxi Sun-Herald.
The National Organization for Women and other abortion rights groups gathered at a park in downtown Jackson across from the governor's mansion, vowing to counter an eight-day rally by the national anti-abortion group, Operation Save America.
:::
A bomb threat halted the rally at Smith Park, leading to angry exchanges between abortion rights advocates and anti-abortion protesters.

The Jackson Police Department said it was forced to clear the park after it received a report that a suspicious package was placed in a trash can
.
Benham's excuse for crashing the pro-choice party in the park was vintage Flip: "I'm here to tell the truth. We were out at the clinic earlier today and we are out here to bring the gospel. Of course, when you do that - bring the real gospel - all hell is going to break loose and all of heaven is going to come down."
That might even have been before the bomb threat, but "Road" from Central Texas Anti-Racist Action at least would agree that all hell broke loose.
The rally began with music and speakers from the various groups while OSA activists began to wander in with their 3'x5' foot signs of aborted fetuses. .... NOW had been assured by the police that they would be providing security. However, the police soon made it clear that they would not restrict the movement of OSA in a public park, and OSA made it clear that their intentions were to proceed to the stage and end the rally.
:::
By 1:00pm, it was no longer and (sic) issue of keeping OSA off the stage or out of the crowd, because the police began pushing everybody out of the park because of a bomb threat that had been received. Police pushed about 200 women's rights activists across the street to a narrow sidewalk against a wall, but stopped before they had pushed the OSA activists out of the park. The police had effectively turned the park used by NOW and allied groups over to OSA.
:::
The afternoon was filled with the dark underbelly of the radical right and their police protection. Women's rights activists would be hit with signs by OSA and then threatened with arrest by the police for "pushing". A young man with a t-shirt proclaiming, "Homosexuality is a sin. Islam is a lie. Abortion is Murder," blamed queers for everything from murder and crime to the dissolution of families and told one young man, "If you are a homosexual, somebody should put a gun to your head and blow it off."
Elizabeth Johnston, the visibly pregnant wife of Ohio family practitioner and Army of God front man J. Patrick Johnston, elbowed her way into the park with a sign as well, but otherwise was reported to have been a model of civility and decorum
DAY TWO: Sunday, July 16
On Sunday, Flip Benham can always be found in church -- invited or not.
No incidents were reported to police at Operation Save America's first stop Sunday morning - the Unitarian Universalist Church at 4866 N. State St.

But before police arrived, the windshield of a car driven by an abortion opponent was smashed after the car allegedly hit an abortion-rights supporter, said Waverly Liles, the church's board of trustees president.

Liles said the church had a forum at 9:30 a.m. about abortion, and that some people with the Mississippi Reproduction Freedom Coalition planned to attend.

Those with Operation Save America showed up as well and gathered across the street. Many had signs, and one man talked on a loudspeaker, which was disruptive to parishioners in the church, Liles said.
:::
"To defend the church, the pro-choice people were screening people" as they pulled up to the parking lot of the church, Liles said. "Before I could stop these guys from doing that, one of the pro-lifers, to be provocative, I'm sure, tried to drive in."

One of the abortion-rights supporters reportedly was hit by the car and the others beat on the driver's windshield, shattering it.
:::
"That was the only incident, and we had a pretty good service," Liles said. "It was another good day for liberal religion in conservative Mississippi," he said.
Flip, of course, remembers Sunday morning somewhat differently:
"MASKED MAURADERS ASSAULT OPERATION SAVE AMERICA EVANGELISTS "
DAY THREE: Monday, July 17
"We go out all over the country and do this. We come to Jackson and, all of a sudden, we are the criminals." -- Flip Benham
"All of a sudden?" Ah, Flip, there's no need for modesty, and it doesn't suit you anyway. Jackson isn't your first rodeo. Not when you boast about doing jail time in "Wichita, Baton Rouge, Birmingham, Chicago, Dallas, Houston, Orlando, Lynchburg and Washington D.C."
But as so often happens, on Monday it wasn't Flip Benham who was led away in handcuffs
Those arrested include Ron Brock of "Truth Truck" fame, whose previous arrests have been too numerous to count . .
. . . Ken Scott of Colorado, another "gentle Christian," who was remanded for psychiatric examination for his threats against Dr. Warren Hern of Boulder (and who, with several other men, attempted to force the door of our own clinic during OSA's 2002 crusade, on an afternoon when I was there with terrified young staff members getting their first experience of "pro-life ministry").
. . . and AOG stalwart Dr. Patrick Johnston.
Can this be true? After all, this is Jackson, Mississippi - where OSA roadie Rusty Thomas crowed only months ago that "there's a new sheriff in town" -- and Flip is gobsmacked: "This is police gone wild -- we are dealing with a force that is absolutely renegade."
DAY FOUR: Tuesday, July 18
The OSA web site reports that "Our American Family Association lawyers have been awesome!"
But today OSA's request for a restraining order against the Jackson Police Department was denied by U.S. District Judge William Barbour. Maybe it was simply OSA's bad luck to plead its case before one of those ubiquitous flaming liberal "activist judges" who keep Mississippi safe for fundamentalist secular humanism. But since this particular activist judge is the cousin and former law partner of Governor Haley Barbour, maybe not.
Today's Clarion-Ledger reported that "Stephen Crampton, the Tupelo-based attorney for the anti-abortion group, said he plans to file a hasty appeal to the 5th U.S. Circuit Court of Appeals." Of course, "Tupelo-based attorney" is a euphemism meaning that Crampton is employed by the American Family Association Center for Law and Policy.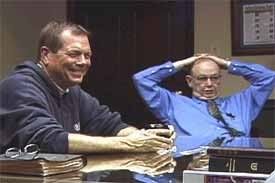 Flip Benham and Don Wildmon of AFA in a planning meeting last spring.
Photo: OSA
And how is the clinic holding up? Yes, remember the Jackson Women's Health Organization, the ostensible reason that OSA came to town in the first place? It's holding up quite nicely, thank you. Flip says that his people don't yell, but only tell women trying to enter the clinic that "what they think is a curse, God will turn into a wonderful blessing. ... We need to have a confrontation with the murderers of little baby boys and girls" Unfortunately, he can't seem to communicate that message without a bullhorn. But even that isn't doing the trick this week.
From Ann Rose, co-owner of JWHO, blogging at The Smeal Report.
Flip (the "Flipper") Benham and Operation Save America have been wandering around Jackson with an unfocused hate for everyone. Not only have they picketed the clinic, but they have also terrorized a pro-choice rally, the State Capitol, businesses along State Street, 2 churches, and anyone who doesn't look like them. Their hate is spread far and wide.
:::
This morning, about 70 protesters turned out in front of the empty clinic at 8:00 am. Cleverly, the clinic brought their patients in early and were gone by 7:30 am. So, Flipper and his band of wingnuts yelled at an empty building for a while, then they left.
:::
They announced that they were going to burn the Koran on the steps of the State Capitol today. They're so desperate for attention that they're even injecting themselves into the Middle East conflict.
It seems that OSA's permit to demonstrate on the sidewalk outside JWHO begins after 8:00 AM - and because the clinic is scheduling its patients to check in before dawn for the duration, they have all gone home by the time Flip and his gentle Christian warriors arrive. That's right. As far as any actual effect on the clinic itself is concerned, the Flip Benham Gates-of-Hell-Storming Traveling Circus is playing to an empty house.
Events just don't seem to be proceeding as planned - and even Flip Benham knows that that's the truth.
[Title Image: Joe Ellis of the Clarion-Ledger]