On September 11, Dr. James Dobson's
Focus on the Family
published a
doublespeak editorial
characterizing the upcoming statewide referendum on South Dakota's abortion ban as a plot by the "pro-abortion camp" to foil the will of the people -- democracy as despotism.
And last Friday, perennial arrestee Ron Brock and his "Truth Truck" cast their early vote on the streets of Sioux Falls.
Ronald Brock's red Toyota pickup with a homemade camper festooned with anti-abortion signs spent much of Friday on Minnesota Avenue just south of the intersection with 10th Street.

The busy stretch of Minnesota is virtually unused for parking, and though Brock's pickup was parked legally, that did not ease the concerns of Argus Leader President and Publisher Arnold Garson.
:::
"Three and one-half years ago, an Argus Leader employee lost her life at the intersection of 10th and Minnesota when she was run down by a motorist whose attention strayed from the heavy pedestrian cross traffic. We have had repeated close calls with motorists grazing or barely missing our employees crossing the street since then. ... This truck has put human life at risk."
:::
"You can pick any intersection around here. Sooner or later, somebody is going to be killed at it," [Brock] said.
:::
Brock, wearing a small gold cross on a chain around his neck, said he is from Sioux Falls but has been touring the country for 10 years making a public witness against abortion.
:::
"My concern is focused on employee and pedestrian safety at that intersection. I'm amazed the city would allow pedestrian lives to be put at risk. I don't know what else to do. It's frustrating," Garson said.

Brock, from the cab of his four-wheeled anti-abortion advertisement, wasn't sure he was going to take Garson's statement at face value.

"People use other excuses to justify what's in their heart," he said.

[Photo: Cory Myers for the Argus-Leader]
This might be the first time that Ron Brock has said anything I can agree with, but he's right. Today as always, dangerous and unscrupulous people use God to justify almost anything.
Three years ago last month, when federal judge Myron Thompson ordered Judge Roy Moore's monument to the Ten Commandments to be removed from the Alabama capital's judicial center, James Dobson sounded the call for his followers to converge on Montgomery in defense of public Christianity. Although media attention focused on luminaries such as Alan Keyes and Dobson himself, it was their ground troops who not only supported Dobson, Keyes and Roy Moore at the late August rally, but remained in Montgomery to stay the course until the monument was finally removed.
People who fail to understand Dobson's shared mission with some of the most radically fundamentalist elements of the religious right might be surprised by some of the names on that roll call -- some of the scariest names among what Bob Norman calls the "underbelly of the Christian right."
Dobson himself prefers to make more of his connection with the White House than with his less savory brethren, some of whom are much more willing than Dr. Dobson to admit their association.
Bruce Evan Murch heads the Full Quiver Mission, a ministry composed of himself, his wife Beverly, and their nine "arrows." The Murch family is so dedicated to eradicating the twin scourges of abortion and birth control that even the children manage to get themselves arrested with alarming regularity. When they're not traveling the highways of America to proclaim the word of the Lord, they're proclaiming what they did in His service while they were away from home. The Murch family photo album of their defense of Christianity in Montgomery proclaims a great deal.
Prolific patriarch Bruce Evan Murch with Troy Newman, director of Operation Rescue.
Ben Murch, Bruce's second "arrow," posed with his version of a "Christian" flag - the Third National Flag of the Confederate States of America.
Although raised in New England, the Murches have learned the true history of the Second War of Independence (1861-1865), and the godly men that served under that flag. Ben is a passionate secessionist, believing that one or more states should secede to form a new Christian nation.
The Rev. W.N. Otwell, who believes whites are superior to blacks because "God uses the white race as leaders," is pictured below on the far right.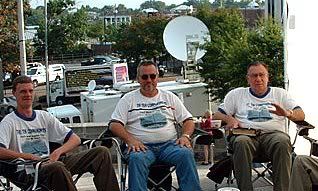 Since I have friends who have suffered his attentions at first hand, I'll permit the Southern Poverty Law Center's Susy Buchanan to portray Otwell more charitably than I could. Buchanan describes Otwell's performance at a 2004 Unregistered Baptist Fellowship conference also attended by Roy Moore.
Otwell, an ardent segregationist and militia supporter who heads God Said Ministries in Mount Enterprise, Texas, began his opening-night remarks by berating the women in the audience, one of them dressed as Betsy Ross, for not living a true Christian life.

Being saved doesn't make you a Christian, he told them in a voice as powerful and angry as his battered body could muster. Women were to take care of the home, raise children, and be completely subservient to their husbands, Otwell lectured.

"My wife doesn't need a head," he shouted. "I'm the head!"
That's vintage Otwell. Now imagine how he sounds outside the door of a women's clinic, with a couple of dozen followers to back him up.
No gathering of the Christian right would be complete without Flip Benham of Operation Save America, most recently celebrated for his burning of the Quran in Jackson, Mississippi, with yet another staged funeral for Father Frank Pavone's famous traveling fetus as an encore.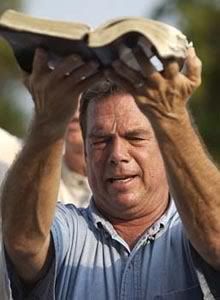 Mike McHugh is a longtime associate of both Flip Benham and Frank Pavone of Priests for Life.

Mike McHugh, founder of the Operation Rescue group in Vermont, now works to elect godly politicians and is based in northern Virginia.
Circle of Friends. Co-laborers Denny Green of Life & Liberty Ministries in Petersburg, Va along with three of his sons; Steve Lefemine of Columbia (SC) Christians for Life and former Congressional candidate on the Constitution Party ticket; Bruce Evan Murch; Cal Zastrow, a zealous pro-life warrior and Bible-smuggler to China.
And of course Green, Murch and Zastrow are all brothers in Christ of that sweet-faced family practitioner and apologist for murder, Dr. Patrick Johnston.
Neal Horsley -- who is currently hyping the upcoming Strategic Executive Assassinations of people such as Jerry Falwell, Al Gore, Larry King, Bill Gates, Anderson Cooper and Whoopie Goldberg by the "Army of God" (no, not that one) -- is associated with the Army of God that we have heard of before, and is the originator of the now-outlawed Nuremberg Files.
Neal Horsley works the crowd, talking to them about the need to seriously oppose the wickedness of child-killing, and advancing the idea of a Christian secessionist movement.
Another of Horsley's predicted targets for assassination, Randall Terry, fails to meet the Murches' standards of moral probity . . .
Randall Terry, founder and former Director of Operation Rescue, was also on hand, sporting his new 20-something wife. Randall was snubbed by virtually every Christian leader present, as he is regarded as apostate from the faith. Randall left his wife of 18 years, went to Las Vegas to live for six months so he could establish residency and get an uncontested divorce; married his 20-something office worker soon after, and moved into a house virtually across the street from his wife. Randall is an unrepentant adulterer, whom God has under judgment.
. . . but Terry still suited out and showed up with his game face on.
It goes without saying that Ron Brock was there, as always, with his legendary Truth Truck customized for the occasion.
And that sweet-looking old fellow under the tent, patiently waiting in the heat of an Alabama summer for his turn to speak?
Why, I do believe it's Dr. James Dobson.
Kipling said that "Rosie O'Grady and the colonel's lady are sisters under the skin." From the highest to the lowest strata of the Christian right, these men work in concert, in service of the same goal -- that is who they are, that is what they are, and that is all they are.
They are, all of them, brothers under the skin.