The Rev. Drake has issued a denial that paints him as the most pitifully uninformed anti-abortion activist in the country.
I did not sign any such document and anyone who says I did is a telling a lie.

Until a friend called me about this I had never heard of nor did I know who James Kopp is.

My stand against killing babies has not changed. I am against killing babies.

Killing a doctor that is a baby killer is never right. Two wrongs do not make murder right.

Please hear my heart, I am deeply sadden about our killing of babies, and all those who do so will face an angry God; but that's God's business not mine.

Dr. Wiley S. Drake Sr.
Drake's name has now been scrubbed from the Declaration of Support for James Kopp hosted online by the Army of God (AOG). Prior to May 5, Drake's signature on that document also bore this comment:
"The price of blood is high. Some will pay high, and some will pay low, but pay, we all will for the 40 million babies we have killed. God bless you my brother as you serve Him, and His little ones."
And on the first edition of the declaration, inspired and hosted by Steve Wetzel of Missionaries to the Unborn (MTTU) in January, 2003, Drake's signature and comment still remain.
Ethics Daily reports on the origin of the declaration, as provided by Steve Wetzel.
Wetzel said in an e-mail that no one actually "signed" the declaration, which existed only online. He said he added names as he received e-mails from those wishing to sign on.

"I do know that names were added that should not have been," Wetzel said. "Fraudulent e-mails were sent in by the God-haters, but as I was going the verification process, Kopp stunned everyone by admitting he did it. Rather than continue the process, I simply deleted the file, as it no longer had meaning."
As of this writing, MTTU still has that "deleted" signature file online -- as it has been for over four years.
Drake did not respond over the weekend to Friday's e-mail from EthicsDaily.com, which also asked if he had any knowledge of Missionaries of the Unborn.
[:::]
The Web site that carried Drake's signature took his name down soon after EthicsDaily.com sent Drake an e-mail asking questions including whether he would take steps to have it removed. An EthicsDaily.com e-mail to a contact listed at the Army of God Web site asking if anyone requested the removal went unanswered.
AOG appears unwilling to talk about why it cleaned up its own version of the declaration for Wiley Drake. But the Rev. Don Spitz -- the AOG webmaster whose signature also appears on the Declaration of Support -- has undeniably cleaned up after himself on that same document.
Spitz's signature on the current version of the declaration hosted at his own site is simple:
Don Spitz
Director Pro-Life Virginia
Chesapeake VA
In 2003, Spitz was less reticent (hyperlink in the original signature).

Rev. Donald Spitz
Director, Pro-Life Virginia
Comment: James Kopp stopped Babykilling abortionist Barnett Slepian from murdering any more helpless babies. For this reason I believe James Kopp is a true American hero.

Spitz (right) has tinkered with the record before, erasing the name of Ohio's Dr. J. Patrick Johnston from AOG's Heroes of the Faith roster when Johnston's interests turned to Constitution Party politics. Now you see him -- now you don't.
Such retroactive housekeeping is an understandable impulse, since Spitz so clearly understands the implications of public support for premeditated murder.
"I would advise, if you contemplate ever taking action against babykilling abortionists or their houses of murder, e.g. abortion mills; you DO NOT SIGN THIS, NOR MAKE YOURSELF OR YOUR PLANS KNOW (sic) IN ANY MANNER WHATSOEVER TO ANYONE AT ANY TIME."
The wisdom of keeping one's name off such a document -- even though one agrees with it wholeheartedly -- is explained by Wiley Drake's partner in antiabortion activism, Bruce Murch.
Just a few minutes ago, my friend Paul Hill was strapped to a table, and injected with a lethal combination of poisons that ended his life on earth. It was a deliberate killing on the part of the State of Florida.

Paul Hill was a gentle man with a kind face. Not the kind of guy you actually expected to see on the sidewalk in front of the abortion clinic every day they killed babies, calling out to the women and offering help, and calling out to the abortionists to repent from their wickedness and turn to Christ for salvation.
[:::]
Paul had circulated a statement called "Defensive Action". For several months he had been trying to get me to sign it. Basically it said, "whatever force is justifiable to use to save a born child is justifiable to use to save an unborn child".

I agreed with the statement. But I did not sign it. It did not seem "wise" to me. Why would I bring the scrutiny of the feds upon me and my family by signing such a document?
[:::]
But I agreed with it. I still do.

Less than four months after that meeting, Paul took a loaded 12 gauge shotgun, and killed the baby-killer John Britton, and his armed bodyguard, as they got out of his truck to walk the few steps to the building, to go in and butcher 32 unborn children. Those children did not die. John Britton did. He never killed another baby.
[:::]
I offer this eulogy because I am ashamed. I am ashamed that I was unwilling to sign his Defensive Action Statement nine years ago.
[:::]
But I stand by what I have said for the last nine years: Paul Hill did a righteous deed.
In May 2003, only 20 days after Jim Kopp received a sentence of 25 years to life, both Murch and Drake traveled to Washington, DC, to mount a protest on the steps of the Supreme Court. Bruce Murch documents that event at Full Quiver Mission.
Four men came from Texas, one from New Hampshire, one pastor came from Clinton, Iowa, and Wiley Drake, the instigator of the famous Disney Boycott came out from Buena Park, California.
[:::]
During this time, both Pastors Otwell and Drake had live radio shows going on, and they can be seen on cell phones broadcasting the prayer service as it was taking place.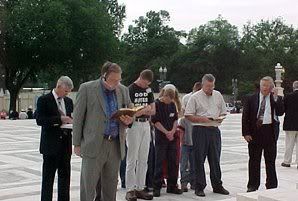 Wiley Drake (second from left) with Bruce Murch (white shirt) and W.N. Otwell (right)
Like the name of Wiley Drake, the signature of the late Robert Ferguson, AOG Hero of the Faith, appeared on the Kopp declaration from the beginning. Ferguson and Murch shared the belief that "defensive action" (the killing of doctors who provided abortion care) was Biblically justified. Last December, Ferguson published an email from Murch to explain their jointly held views.
This is a word from a friend of mine, Bruce Murch, who I first met in 1991 while we (Operation Rescue) were rescuing preborn children by blockading abortionist George Tiller's butchertorium for about a month or so.

I loved Paul Hill. I believe that what he did was justifiable by scripture and by civil law. I believe it was a righteous act.
[:::]
To me there has been only one question since Paul defended 32 children in Pensacola in 1994: Was he justified?

In my opinion, killing abortionists is not expedient. In my opinion, killing abortionists is not mandatory. Those are not the questions. The question is whether or not Paul was justified. Based on the principle that I believe is Biblical, to wit: that whatever force is justified to use to defend a born person is justified to use to save an unborn person; Paul Hill was justified.

This has been my position all along. Tactically, such intervention IMHO, should be used only when all other intervention fails.
[:::]
I have asked prolifers to allow God to use this opportunity of Hill's witness in death to change and to spur their heart on to the peaceful action that I invite them and others to join me in. Not everyone is called to be a Paul Hill type defender.

But if prolifers continue to refuse to defend children peacfully and prayerfully- it will just give more need for last min. defense of the children by shotgun.
[:::]
Scripture shows us that it is within God's character to use men to kill in defense of another. Such drastic action might be used when all other prolife efforts have failed. Perhaps some would say ONLY when all other efforts have failed.

Certainly for those 32 that day- all the support offered by PL groups, show the truth tours, sidewalk counceling, education, voting, graphic signs, preaching, etc FAILED miserably those 32. If not for Hill's defensive action to stop the abortionist from killing these 32 would be killed that day.
Perhaps Murch, feeling the guilt of having failed to support Paul Hill, never uttered a word about James Kopp during the time he spent with Drake on the steps of the Supreme Court, not even in prayer -- or perhaps he did.
In 2004, Ferguson published an article at MTTU describing an antiabortion action in which he partnered with Wiley Drake.
The seemingly peaceful community of Orange County's affluent Corona Del Mar was disrupted when approx. 35-40 abortion abolitionists invaded their neighborhood where Afsaneh and Jalal Alisobhani of 1524 Keel Drive, Corona del Mar, Ca where plotting the raiser of funds for the willful killing of preborn children. Courageous Christians United with a number of other Christian groups were on hand to expose this wicked conspiracy.

I got there about an hour early and watched as proabortionists hid their faces as they learned that their shame was to be exposed to their neighborhood. Rev Wiley Drake came and shared in this outreach. This man is unlike so many pastors and we in So Cal are most fortunate to have him.

While Wiley and I waited for the time of the scheduled event, an ambulance and fire engine came 'lights and siren' and at first we thought it God's answer to our imprecatory prayers for these baby killers but unfortunately the engine passed the blood house and went to the next door neighbor.

[:::]

It was a great night of exposure. God be glorified.

Robert Ferguson The Frolicking Frogplague
Ferguson (pictured below), participated with other known Army of God operatives in a massive anti-abortion action at the 53rd Annual Meeting of the American College of Obstetricians and Gynecologists in San Francisco, where proponents of lethal "defensive action" against providers of abortion care were in the majority.
Bruce Murch and his family joined Army of God operatives, including the now-sanitized Dr. Patrick Johnston, to do the same at an ACOG conference in Philadelphia.
This is what we know:
We know that Wiley Drake has a history of association and partnership with at least two hard-line antiabortion activists who have repeatedly and publicly asserted their support for premeditated murder. And we know that it beggars belief to imagine that at least one of those men -- Bob Ferguson -- didn't know Drake's name was on the Kopp declaration, since his own was there as well.

We know that after the date in early 2003 when his signature first appeared on the Declaration of Support, Drake participated in anti-abortion actions with both Murch and Ferguson -- both of whom networked extensively within the antiabortion movement, so almost certainly would know that Drake's signature was published on the Declaration of Support for James Kopp.

We know that Wiley Drake denies not only having signed the Declaration of Support with his friend Ferguson, but also -- despite the fact that James Kopp's name has made national headlines for eight years, from the 1998 murder of Dr. Slepian until his second conviction only four months ago -- even denies ever having heard of Jim Kopp before the current controversy arose.
Ethics Daily reminds us that in "criticizing fellow California Southern Baptist pastor Rick Warren for inviting pro-choice Democratic Sen. Barack Obama to an AIDS conference at his church, Drake said, 'You can't work together with people totally opposed to what you are.'"
The question still remains: did Wiley Drake authorize his signature and the accompanying comment on the Declaration of Support for James Kopp in 2003?
We report; you decide.
Images:
Wiley Drake: Deep Thoughts
James Kopp: Army of God
Drake, Murch, Otwell: Full Quiver Mission
Robert Ferguson: Christian Gallery