Last week Jonah Ka'auwai, the Hawaii Republican Party Chairman, posted a letter on the state's Christian Coalition website claiming that Republican candidate Lt. Gov. Duke Aiona is "operating in the power and authority of the name of Jesus." The letter warned Republicans not to cross over to vote for a Democratic candidate who has also cultivated a Religious Right following support in preparation for the open primary on September 18, the last primary in the country before the November election. Ka'auwai's letter included one exception. He provided instructions for cross over voting in the state's District 33. The letter also featured NAR's spiritual warfare lingo, which is not surprising considering the many years of organizing in Hawaii by the International Transformation Network (ITN). ITN's founder has bragged,
"It doesn't matter if the Democratic or Republican candidate wins the governorship. Either one is in the Kingdom."

(The first video in Bruce Wilson's related article includes this quote.)
Ka'auwai is apparently concerned about the ramifications of large numbers of Republicans voting Democratic in the primaries.
In his letter, Ka'auwai claimed that current Lt. Governor Duke Aiona is the "only righteous candidate" running for governor and included the words, "We are the head and not the tail, the victor and not the victim." Based on a verse in Deuteronomy, this is the battle cry for the NAR's Seven Mountains campaign to 'transform' the world under the leadership of the apostles and prophets of the movement. It not limited to the NAR and the Seven Mountains campaign, but is a quote that has been used by Charismatic evangelicals who have embraced dominionist theology, or the idea that Christians should take dominion over communities, states, and nations by gaining control over the power centers of society and government.
There has been a significant shift in this sector of evangelicals from emphasis on the spiritual realm to the earthly realm. Instead of only focusing on proselytizing in preparation for end times, they believe they have a mandate to take control over the earthly realm in the here and now. There are several different dominionist theologies which have considerable support in the U.S., but this particular Charismatic movement, the New Apostolic Reformation, has become extraordinarily well organized through 'Strategic Level Spiritual Warfare' and 'prayer warrior' networks that more closely resemble a national (or international) political campaign than a traditional denomination.
We Are The Head And Not The Tail
The quote, "We are the head and not the tail," is used repeatedly by the apostles and prophets of the NAR including Chuck Pierce, Lou Engle, Cindy Jacobs, Lance Wallnau, and Johnny Enlow. Enlow, author of The Seven Mountain Prophecy and The Seven Mountain Mantle explains in a video clip titled Being The Head And Not The Tail that this refers to the mandate for the church to take control over the Seven Mountains of society and government, just as the biblical nation of Israel displaced seven nations in order to take control over the promised land. In another clip from the same interview Enlow explains that the Seven Mountains refers to a shift from a gospel solely about saving souls, to a gospel of 'Kingdom,' meaning Christian reign on earth in which the church is to displace the current rulers over the Seven Mountains of government, business, arts, media, education, family, and religion.
"The Head and Not the Tail" is the title of Chapter 12 of Enlow's Seven Mountain Prophecy, endorsed by C. Peter Wagner, Seven Mountains guru Lance Wallnau, and Bob Weiner. The latter was the founder and leader of the now defunct Maranatha Campus Ministries and Weiner currently serves as an apostle in C. Peter Wagner's International Coalition of Apostles (ICA).
More examples of the use and definitions of the "head and not the tail" terminology follow in Part Two.
Hawaii's Transformation Networks
The dominionist-minded spiritual warfare or prayer warrior networks have become deeply entrenched in Hawaii, largely through the efforts of the International Transformation Network (ITN) led by Ed Silvoso and Francis Oda. The NAR's 'Transformation' entities, including ITN and the Transformation Associates of George Otis, Jr., have been involved in Uganda for many years and have close ties to religious and political leaders including First Lady Janet Museveni. The process through which these Transformation organizations became entrenched in Uganda is summarized in Bruce Wilson's Transforming Uganda video and his two -part article titled Transforming Hawaii.
Lt. Governor Duke Aiona, the Republican candidate for governor, has been involved with ITN and Transformation Hawaii for years and serves as honorary chair of the latter. Aiona's bio is on Silvoso's ministry website along with other top international transformation leaders including Os Hillman, head of Marketplace Leaders or the 'workplace apostles' division of the NAR. Aiona can be seen in video on Silvoso's website performing ceremonies dedicating Hawaiian schools to Jesus and Silvoso claims that all of the state's schools have now been 'prayer walked,' an activity that is a component of Strategic Level Spiritual Warfare (SLSW).
Competing for the Democratic spot on the ticket for governor is Neil Abercrombie and Mufi Hannemann. Hannemann has also participated in activities led by Silvoso and Oda's Hawaii movement including the ITN worldwide convention. The event is now held annually in Hawaii with the 20th annual convention scheduled for November 9 -14, 2010 in Honolulu and advertised at "Transform Our World," the latest reincarnation of ITN's website. Hannemann has been supported in fliers and radio ads by a group called Island Values. The speaker in their radio ad, Dennis Arakaki, is a former director of the Hawaii Family Forum, also founded by ITN's Francis Oda. In the ad Arakaki states,

"In the battle of HB444, we learned the importance of electing people with our traditional Christian values."

Arakaki continues,

"There are acceptable and unacceptable candidates. Neil Abercrombie is unacceptable. He declares no religious affiliation."
The ads encourage crossover voting by Republicans. HB444 is the bill in support of civil unions which was vetoed by Gov. Linda Lingle.
Discipling the Nations One Precinct at a Time
Aiona has responded to the publicity over the Republican Party chairman's letter by claiming that he wants to represent all Hawaiians regardless of their religion. However, Bruce Wilson's two-part article Transforming Hawaii documents Aiona's extensive participation for years in ITN including his intention of 'discipling' the state and ceremonies dedicating Hawaii's public schools to Jesus.
[Photo: From left to right are 1) Hawaii Lt. Governor James "Duke" Aiona, 2) Transformation Hawaii President Allen Cardines, 3) International Transformation Network CEO and Founder Ed Silvoso, who is also an apostle in C. Peter Wagner's International Coalition of Apostles]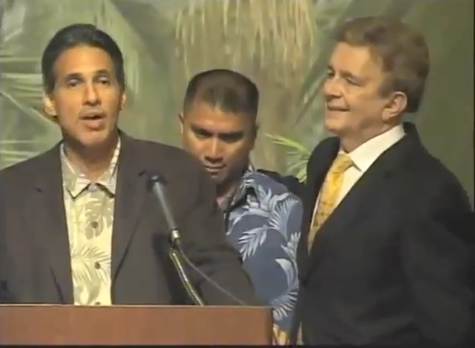 Wilson states, "At the ITN's 19th world conference, on November 7, 2009 at the Hilton Hawaiian Village, Hawaii's current Republican Lt. Governor James "Duke" Aiona, running in 2010 to be Hawaii's next governor, repeatedly jabbed his finger at the podium, for emphasis." Aiona said, told his audience,
"We're one body of Christ, we're one church and we're all here to disciple the nations, here in Hawaii and everywhere else, and I want you all to know that... May God's grace be with the participants of the International Transformation Network Global conference."
"Disciple the nations" is NAR lingo for bringing communities and nations under the authority of the apostles and prophets of the network. The term 'discipling' in this context refers to 'shepherding,' or the process used in a charismatic authority structure by which individuals are required to answer for their actions to peers and a hierarchy of mentors. When the concept was introduced by the self-proclaimed prophets who were the forerunners of the NAR, it was considered too radical by much of the Religious Right, even by leaders like Pat Robertson. But Robertson, ordained in 1960 as a Southern Baptist minister, became a convert to charismatic dominionist belief. As dominionsts perfected their approach and learned to tone down language and soften their authoritarian approach, the idea of shepherding became a useful political tool. (Robertson was re-ordained on his 70th birthday by a group of leading Pentecostal and Charismatic ministers including Jack Hayford, a Pentecostal leader but also promoter of the New Apostolic Reformation and Strategic Level Spiritual Warfare, such as spiritual mapping. Robertson terminated his Southern Baptist ordination in 1987, prior to running for President.)
Robertson described the stated goal for Christian Coalition as simple,

"to mobilize Christians -- one precinct at a time, one community at a time -- until once again we are the head and not the tail, and at the top rather than the bottom of our political system."
Kingdom Candidates
In August the Hawaii Family Forum and Hawaii Catholic Conference produced a voter's guide. Neil Ambercrombie declined to respond, but Aiona and Hannemann provided the same answers on the seven issues including opposition to physician assisted suicide, gambling, and civil unions. (Another Republican candidate John S. Carroll only differed on one question for which he answered undecided.) The other four items were supporting a marriage constitutional amendment, term limits, additional state funding for inexpensive rentals, and allowing religious affiliated healthcare givers to refuse to provide emergency contraception. Hawaii Family Forum was founded by ITN's Francis Oda.
Allen Cardines became the new executive director of the organization on September 1, 2010 and currently has an article in the Hawaii Reporter titled "Hawaii Famiy Forum Director: We Can Improve the Futer of Hawaii's Families By Voting; 'Do Not Remain Neutral.'" Another leading article in this past week's online edition is by Danny de Garcia, titled "Why Have A Majority of Hawaii Democrats Refused to Participate In the Hawaii Family Forum Candidate Survey?" De Gracia has a blog titled FALCON, which stands for Free and Living Conservative, in which he calls for the end of the Federal Reserve and argues against Healthcare Reform, among other causes.
From his August 2, 2010 posting,
If Christians would vote like the other special interest groups mobilize to vote, we would dominate every election every time and no worker's union, no megacorporation, no bank, no worldly controlling interest would be able to wrest from our hands these United States of America. We would, in effect, fulfill the command of Deuteronomy 28:13 which calls for us to be the head and not the tail in domestic, intermestic and international affairs... We have a chance in 2010 to make America a place where righteousness reigns and prosperity flows, because when Holy Spirit filled people take positions of authority in government, stuff just works!
Francis Oda also founded Transformation Hawaii. From the website,
Hawai'i He'e Nalu, formally known as Transformation Hawai'i, is registered as a 501(c) non-profit organization on October 2007.  It is a chartered member of the Global International Transformational Network (ITN) headquartered in Minneapolis, Minnesota.
Elk River, Minnesota, just north of Minneapolis was one of the original "prototypes" of "Transformation" and the state has very active New Apostolic networks. In late July, Hawaii Family Forum under their "IVOTE" banner,
hosted David Barton
in a series of talks on voting at Oahu, Maui, and the Big Island.
As ITN founder Ed Silvoso pointed out, the governor's election could end up with one 'Kingdom' candidate versus another. Hawaii merits a page on Silvoso's ministry website as a transformation prototype. But Jonah Ka'auwai, chairman of the Hawaii Republican Party is clearly concerned that many Republicans will cross over in the open primary and vote on the Democratic ticket, impacting numerous state and local elections. In his letter he warns that Republicans should not cross over to vote Democratic with one exception. (The formatting is retained from the original.)

"Duke will win because the Church has been behind him the entire time operating in the POWER and the AUTHORITY of the NAME OF JESUS!  We are the HEAD and not the tail; we are the VICTORS not the victims!  If Duke Aiona does not win it will be the burden of the Body of Christ to bear so rather than preparing to have to deal with either Mufi or Neil winning the Church, we should be preparing for Duke to WIN.  Neither Mufi Hannemann nor Neil Abercrombie is righteous and a vote for either in the primary or general election is succumbing to fear and advancing unrighteousness!

KINGDOM-MINDED RIGHTEOUSNESS; NOT PARTY-LINE
Exception:  If you and or your members live in Democrat Gary Okino's House District 33 (Pearl City), vote on the Democrat Ballot and leave the other Democrat represented offices blank.  Otherwise vote for Duke Aiona and your local principled, righteous candidates."
Crossover voting in primaries has been a standard operating ploy since Rush Limbaugh's promotion of Operation Chaos in 2008, but in the case of Hawaii the NAR's involvement adds additional layers of strategy. The chair of the Hawaii Republican Party appears to be saying that his priority is to build the 'Kingdom' as opposed to electing Republicans. However, outside of District 33, he is clearly concerned about the ramifications of large numbers of Republicans voting a Democratic ticket.
The Hawaii Christian Coalition website promotes Gary Okino in District 3, a strong opponent of HB 444, the bill for civil unions. Okino is also an ITN participant, including serving as one of the opening speakers with Duke Aiona, Mufi Hannemann, Ed Silvoso, Francis Oda, and Allen Cardines for the 2008 conference of the Hawaii chapter of ITN. Okino is currently in trouble with the Hawaii Democratic Party for endorsing Republican candidates. He has endorsed candidates who are against abortion rights and civil unions, and urged voters to make their decisions based on religion, according to the Hawaii Star Advertiser.
Scroll down the webpage of the Hawaii Christian Coalition to view a list with the headline,

"FYI - Here is a convenient list of PROGRESSIVE candidates to DEFEAT!"
Note that the Hawaii Christian Coalition also links to David Barton's Wallbuilders. Barton has had close connections to major apostles, including Cindy Jacobs, for many years. Jacobs began her 1994 book
Possessing the Gates of the Enemy: A Training Manual for Militant Intercession
with the claim that her prayers miraculously stopped the wheels from dropping off of the Barton's family van as they traveled to meet with her in 1990. Barton's Christian nationalist histories are used by Jacob's Reformation Prayer Network, a politically-focused state by state prayer warrior network which has joined the previous United States Strategic Prayer Network (renamed the United States Global Apostolic Prayer Network) under the authority of Apostle Dutch Sheets.
The NAR lingo can be difficult to follow for those not familiar with the movement, but as seen in the examples following in Part Two, the head and not the tail refers to religious supremacism and a full scale assault on religious pluralism and separation of church and state. We can now expect this assault to take place from inside of both major political parties.
*Explanation of the meaning anointing, prayer warriors, and transformation, in the NAR context:

In the New Apostolic world the 'laying on of hands' refers to 'impartation' of spiritual gifts or the passing of supernatural powers from one person to another. This is controversial because Assemblies of God, although they also pray with laying on of hands, has made official statements that the supernatural gifts must come directly from God, not person to person. Wasilla AOG is one of many Pentecostal churches which has openly embraced the NAR and its controversial ideology. For example, in 2008, Pastor Ed Kalnins claimed to bring home an impartation received on his visit to Rick Joyner's MorningStar Ministries and bring it back to his Wasilla, Alaska congregation.

Also note that prayer warriors can be a fairly generic term and is used by many groups with no relation to the NAR. (There were 'prayer warriors' for Obama.) The NAR use of the term prayer warriors implies the application of strategic level spiritual warfare as defined by C. Peter Wagner and other apostles and prophets. See spiritual warfare definitions at Strategic Level Spiritual Warfare Glossary.

Transformations is a series of movies produced by Sentinel Group which teach spritual warfare and show prototypes of communities supposedly transformed. The movies have continued to be produced since the first release in 1999, and have resulted in the formation of Transformation entities around the world such as Ed Silvoso's ITN.

For more on Mufi Hannemann's involvement with ITN see Bruce Wilson's
Christian Right Claims Both 2010 Hawaii Gubernatorial Candidates
and
Mormon Candidate for Governor of Hawaii Tied to Movement that Burns Books of Mormon.