[
video, below: ITN head Ed Silvoso tells his fellow leaders that it doesn't matter who wins the race for governor because both candidates, Republican and Democrat, running to be Hawaii's next governor in the 2010 election, will be "in the kingdom."
]
The power of Hawaii's evangelical rightwing churches has been growing for decades and, through smart and typically deceptive electoral politics, the movement has been able to achieve a startling level of control in Hawaiian government (for general background, see this story on my 2010 May 2nd radio show appearance on Hawaii's 1080 AM, and also this story from Hawaiian environmental activist and AM radio show host Carroll Cox).
Although she is Jewish, Hawaii's current governor Lind Lingle has shown a disturbing and possibly unethical level of support for Hawaii's Christian right and in Fall 2008 Lingle likened herself, as a politician, to Sarah Palin. But if Mufi Hannemann wins the Democratic Party primary, the Aiona/Hannemann bipartisan slate could place a "true believer" in the governor's office.
As I describe in my two-part April report, both Aiona and Hannemann have attended multiple events held by the International Transformation Network and in May 2010 ITN's CEO Ed Silvoso told top leaders of his theocratic Christian tendency at a Texas conference, "It doesn't matter if the Republican or the Democratic candidate wins the governorship [of Hawaii]. Either one is already in the kingdom."
But Silvoso may have spoken too soon.
Last week, the head of the Hawaii state Republican Party chairman Jonah Kaauwai made waves when he sent out an email to pastors in Hawaii encouraging them to bar Democratic Party gubernatorial candidate Mufi Hannemann from speaking in churches. When the email leaked to the press, there was national media notice and Kaauwai even won a mention on Keith Olbermann's MSNBC show as the "worst person in the world" of the day.
Kaauwai's letter, which was reprinted on the web site of the Hawaii Christian Coalition with an endorsement from Hawaii Christian Coalition President Garret Hashimoto, made strong allegations against the Hannemann campaign:
It has come to my attention that Christians are being courted by Ken Wong of the Mufi Hannemann Campaign for Governor into thinking that Christians should vote in September 18th's Primary Election on the Democrat ballot for Mufi Hannemann to retard the chances of a Neil Abercrombie win rather than supporting Duke Aiona through both the primary and general elections. I have been anguishing over those who believe that there is PURITY OF INTENT behind this strategy since hearing about it 3-4 weeks ago from a close pastor friend. I have delved in the Word and consulted many of my Christian mentors and counselors. I cannot find righteousness in this approach and certainly it is coming from a campaign that has conducted itself unethically, immorally, and far below reproach
The letter also provided clear indication of the electoral potential of Hawaii's churches:
Politics is a game of perception, BE NOT DECIEVED! Mufi appearing and speaking at your church is and will be used as an endorsement for Mufi in the primary election. "Wow Jonah, Mufi spoke at my church this weekend. My Pastor must be okay with supporting Mufi."
Keith Olbermann and national media picked up on an obviously offensive part of Kaauwai's letter in which the Hawaii GOP head evinced the nakedly Christian supremacist sentiment that,
Duke will win because the Church has been behind him the entire time operating in the POWER and the AUTHORITY of the NAME OF JESUS! We are the HEAD and not the tail; we are the VICTORS not the victims! ...Neither Mufi Hannemann nor Neil Abercrombie is righteous and a vote for either in the primary or general election is succumbing to fear and advancing unrighteousness!

[...]

The Primary Election is the first step to bringing back a righteous leader to the highest office in this State which has not been seen since Queen Lili'uokalani. Over 100 years ago! With more than 400,000 Christians in the State of Hawaii, WE are responsible no matter what the outcome of Duke's race because we have been given the POWER and the AUTHORITY in the NAME OF JESUS!!!!
But much of the mainstream media coverage of Kaauwai's letter missed his allegations that Mufi Hannemann, while mayor of Honolulu, has built up a corrupt political machine and abused his mayoral powers. As Jonah Kaauwai wrote,
I deal daily with local businessmen who are scared to give the Republican Party donations because of fear of retribution from the Democrats and their friends. These men and women fear that their businesses will be destroyed by crooked politicians withholding contracts and permits. Mayor Mufi Hannemann's name and the names of his political cronies often come up when these guys are probed.
Kaauwai's email was also striking for his claim that Mufi Hannemann was in fact a worse (less moral) candidate than his rival for the Democratic Party gubernatorial nomination, former US Hawaii Congressman Neal Abercrombie.
But a July 28th ethics violation charge filed by liberal Hawaiian environmental activist and radio show host Carroll Cox suggests Kaauwai's accusations may have merit. Cox's filing charged that Hannemann's campaign was using city employees:
I have reliable and confirmed information that former Mayor Mufi Hannemann and former City Managing Director Kirk Caldwell knowingly used non-civil service secretaries ("exempt positions") from various City and County of Honolulu Departments to work on Hannemann's 2010 campaign at Hannemann's Beretania Street headquarters. These City employees were routinely assigned and rotated by their Directors and Deputy Directors to conduct campaign work for the Hannemann campaign.
Hannemann and Aiona: Theocratic Peas in a Pod?
As I detailed in my extended report Transforming Hawaii (part 1, part 2), the leading Republican gubernatorial candidate James "Duke" Aiona, currently Hawaii's Lt. Governor, has extensive ties to a global ministry called the International Transformation Network that touts Hawaii as a prototype for "Transformation" (see 1, 2) but Former Honolulu Mayor Mufi Hannemann has many ties to the International Transformation Network as well and, as ITN's CEO Ed Silvoso told leaders in his religious movement at a May 2010 religious conference in Texas, "It doesn't matter if the Republican or the Democratic candidate wins the governorship [of Hawaii]. Either one is already in the kingdom."
Silvoso appeared to anticipate a Hannemann win in the Democratic Primary, a dismal possibility for Hawaiian voters who value the separation of church and state, because over the course of the last 1/2 decade Mufi Hannemann and Duke Aiona could be found together at numerous major events of the International Transformation Network.
For example, in the image below, from Ed Silvoso's February 2005 ministry newsletter, Silvoso exulted over a controversial ceremony Duke Aiona led in December 2004, in which Aiona publicly dedicated Hawaii and its public schools to Jesus (Sarah Palin made a similar dedication, of her state to Jesus in June 2008) and announced an upcoming 2005 ITN conference in Hawaii. Duke Aiona attended that conference but according to a June 27th, 2005 column from Richard Borreca of the Honolulu Star Bulletin, Mufi Hammenann attended the conference too, during which Ed Silvoso commissioned those present to be "ministers in the marketplace" meaning, to unpack Silvoso's jaunty jargon, that they would aggressively promote evangelical Christianity in their places of work.
But that was not the only International Transformation Network Mufi Hannemann has attended - as shown in the second image below, a screen shot of the program from a several day ITN conference in Hawaii held in 2008, Duke Aiona and Mufi Hannemann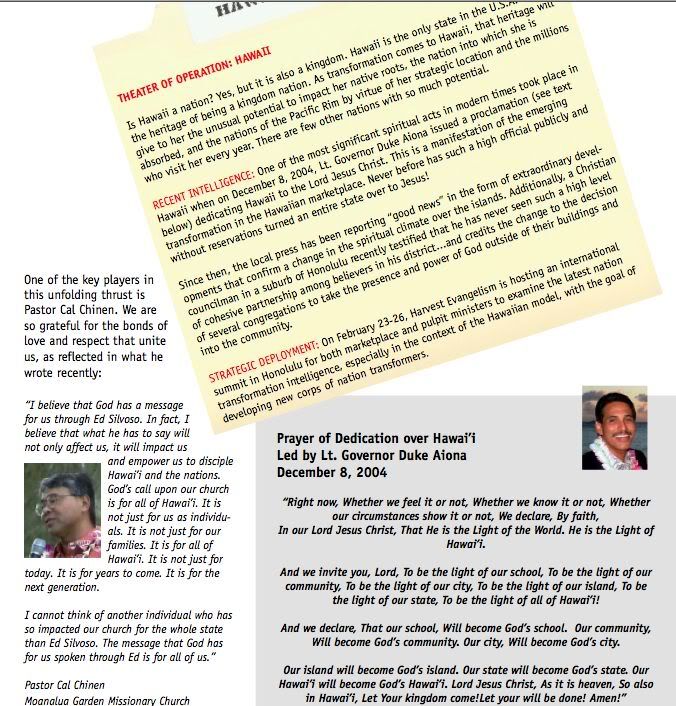 Below is an extended excerpt from my April 22 story, "
Christian Right Claims Both 2010 Hawaii Gubernatorial Candidates":
"It doesn't matter if the Republican or the Democratic candidate wins the governorship [of Hawaii]. Either one is already in the kingdom" - Ed Silvoso

In Uganda and the Philippines Ed Silvoso meets with heads of state. His ministry is linked to the so-called "Kill the gays" bill looming before Uganda's parliament that threatens to execute or imprison Uganda's entire homosexual population.

In the first video shown below [see full story], Ed Silvoso suggests his movement owns both the Democratic and the Republican candidate for Hawaii governor in the 2010 race. Silvoso appears to be referring to Duke Aiona and Mufi Hannemann and he's so confident Silvoso is already planning the victory celebration, on November 9-13, 2010. [I cover activities of Silvoso's Hawaii organization in my 20-page report "Transforming Hawaii", part 1 & part 2]

In the third video, below, Ed Silvoso likens opponents of his movement to rats that will be exterminated when necessary. The following video shows Silvoso blessing and anointing Duke Aiona, in a November 7, 2009 ceremony.

In 2004 Lt. Governor James "Duke" Aiona, dedicated Hawaii and its public schools to Jesus.
Aiona is the ITN's main horse in the Hawaii 2010 gubernatorial race but If Aiona doesn't win there's a backup plan.

"It doesn't matter if the Republican or the Democratic candidate wins the governorship [of Hawaii]. Either one is already in the kingdom," declared International Transformation Network Founder and CEO Ed Silvoso at the March 4-6 Convergence 2010 conference in Dallas, as Silvoso was announcing the ITN's upcoming 20th Institute On Nation Transformation conference, scheduled to be held November 9-14, 2010 at the Hilton Hawaiian Village near Honolulu.

The Silvoso electoral strategy

What is Silvoso talking about ? Well, the Hawaii chapter of his International Transformation Network has put together a sizable church-based voter turnout machine in the Aloha State, and that machine will vote for Aiona in the general election.

Now, Former Democratic Congressman Neil Abercrombie has declared he's running for the governor's seat but Honolulu's Mayor Mufi Hannemann, also a Democrat, is expected to declare and challenge Abercrombie. Hannemann has raised more money than either of the three and is popular.

Because Hawaii has open primaries, Silvoso's voter turnout machine can throw its weight behind Hannemann in the Democratic primary.

Silvoso appears to think it's all sewn up.

Mufi Hannemann and the International Transformation Network

While my Hawaii sources suggest it's unlikely that Mufi Hannemann is the true believer Duke Aiona seems to be the Honolulu Mayor, a Mormon, is at least along for the ride.

Hannemann attended the International Transformation Network's first big Hawaii conference according to Richard Borreca of the Honolulu Star Bulletin and on 9:00 AM on January 21, 2008 Duke Aiona and Mufi Hannemann shared a stage at the opening ceremonies for a Transformation Hawaii / International Transformation Network "Catch the Wave" two-day conference at the Hawaii Convention Center.

Lt. Governor Aiona and Mayor Hannemann could also be found together at a January 18, 2010 Honolulu rally against same sex marriage that was organized by the Hawaii Family Forum.

The Hawaii Family Forum was founded by International Transformation Network Chairman Francis Oda, who also chairs the board of the Hawaii Family Forum. Ed Silvoso is ITN's CEO.

In several Internet notices advertising International Transformation conferences, one under Ed Silvoso's name, International Transformation Network Council Member Cal Chinen is described as "shepherding" Lt. Governor Aiona, Honolulu's mayor Mufi Hannemann, and several members of the Hawaiian Congress.