Footage from Gingrich's and Barton's talks at the October 20th to 21st meeting is now being showcased in a 2-hour long
video
that's being screened in churches across America, titled "One Nation Under God".
In his talk at the October 2011 meeting featured in the "One Nation Under God" video, David Barton declares that the authors of the Constitution "gave us the First Amendment, not because it guarantees separation of church and state - there's no such thing". As Barton went on to explain,
"Strikingly, if you look through that document, it is amazing how many Biblical clauses appear in Constitutional clauses. Biblical verses and phrases - you'll find them throughout - so many concepts, the founding fathers pointed to bible verses as the source of those concepts. See, today we're "oh no, the government's secular" - that's that compartmentalization again. They never believed it was secular. They looked to God to be included in everything they did.
While Barton narrates, the video shows the pairing of important clauses in the Constitution with their alleged sources in scripture from the Bible's books of Jeremiah, Isaiah, Ezra, Exodus, Deuteronomy and Leviticus. The Book of Leviticus prescribes stoning as a capital punishment for a range of transgressions including blasphemy and cursing, adultery, and witchcraft.
Shortly after in his talk, Barton delves into the First Amendment:
"Now, after you get the Constitution done, you got the first congress, now you need a Bill of Rights. And so we come back with the Bill of Rights - those first ten amendments to the Constitution... they gave us the First Amendment, not because it guarantees separation of church and state - there's no such thing - it guarantees the free exercise of religion. They weren't trying to secularize the public square. They wanted to make sure that you could include God in those areas... Now, we don't teach that much in history anymore, but the documents are really clear."
The First Amendment states that "Congress shall make no law respecting an establishment of religion, or prohibiting the free exercise thereof." The clause is currently interpreted as prohibiting government support for sectarian religious tendencies.
In a speech at the October 20th to 21st "Pastor's Policy Briefing" also featured in the Champion The Vote video, Newt Gingrich states,
"It is a lie to teach American history as though this is a secular nation in which God did not reappear, again and again and again for every generation...

Frankly, we should be very direct about this fight. I, for one, am tired of the long trend towards a secular, atheist system of thought dominating our colleges, dominating our media."
Gingrich has made numerous appearances at events alongside David Barton, head of the nonprofit group Wallbuilders and author of numerous works of Christian nationalist history revisionism, and Gingrich has pledged to seek Barton's advice during his 2012 presidential campaign.
"One Nation Under God", which heavily promotes Newt Gingrich as the candidate who can best enable Christian nationalist voters "retake" America in the 2012 election, is connected to pastor David Lane's ongoing Renewal Project/Pastors Policy Briefing events being held over the past several years in swing states including in Iowa, that trace back to efforts by Lane to rally pastors behind Rick Perry in Texas. An April 2, 2011 New York Times story characterized Lane's events as a "broad effort to revitalize the religious right."
"One Nation Under God" is being deployed in a well-funded and organized national campaign, orchestrated by an entity, whose efforts seem to interlock with Lane's Renewal Project events, called United in Purpose/Champion The Vote that aims to register and get to the polls, millions of new conservative evangelical voters--with Gingrich as the current beneficiary. The effort includes the targeting of African-American and Hispanic evangelicals.
Since widespread publicity and controversy concerning Texas Governor Rick Perry's The Response prayer event in August 2011*, which was dominated by apostles of the New Apostolic Reformation, conventional wisdom holds that Texas governor Rick Perry has been the candidate of choice for the hard evangelical right in the 2012 presidential election. But the timing for the release of the "One Nation Under God" video, especially in light of the low key, but well-connected effort behind the video suggests that power centers and political kingmakers on the evangelical right may have opted to throw their weight behind Former Speaker of the House Gingrich.
According to the "One Nation Under God" video, a UIP/Champion The Vote analysis shows that registering five million new Christian voters in 21 targeted swing states could determine the outcome of the upcoming 2012 election.
Newt Gingrich and the New Apostolic Reformation
The Champion The Vote / United In Prayer effort may be the most ambitious electoral initiative of the evangelical right leading up to the 2012 presidential election. It is also is well connected to C. Peter Wagner's New Apostolic Reformation.
As reported by the LA Times, one of the major financial backers of the Champion The Vote / United In Prayer initiative is tech boom entrepreneur Ken Eldred, whose several nonprofit foundations are endowed with upwards of $50 million dollars. In his 2008 book Dominion! How Kingdom Action Can Transform The World, C. Peter Wagner identifies Eldred as a "marketplace apostle" who has provided "what might prove to be our most viable guidelines for a new strategy of social transformation."
According to the 990 tax forms of his several "Living Stones" foundations, Ken Eldred has financed several aspects of Wagner's movement including the work of apostle George Otis Jr., whose Transformation videos show evangelical believers achieving dominance over cities, towns, and geographic areas by driving away demon spirits and hounding out or neutralizing ideological foes, often portrayed as witches and warlocks.
In September 2008, shortly before the 2008 presidential election, footage surfaced showing a star from Otis, Jr.'s first Transformation video, Kenyan evangelist Thomas Muthee, blessing and anointing Sarah Palin against "every form of witchcraft."
The "One Nation Under God" also features National Hispanic Christian Leadership Conference President Samuel Rodriguez, listed as a member of Peter Wagner's International Coalition of Apostles in 2009 and 2010, who currently works closely with many of Wagner's Apostles and serves under NAR apostle Steve Perrea and ICA apostle Pat Francis.
Samuel Rodriguez, who has been dubbed the 'Hispanic Karl Rove' and purports to represent ten million Hispanic born-again evangelicals and 5 million Hispanic charismatic Catholics, appears to be one of the leading architects of a strategy designed to peel off traditional Democratic Party constituencies, such as Hispanic voters. As Rodriguez told Charisma magazine for a November 5th, 2008 story,
"White evangelicals by themselves cannot preserve a biblical world view or a biblical agenda within American political and public policy arena. It is impossible. 2008 said it is over."
Former Speaker of the House Gingrich's courtship of the NAR has included his participation, in Summer 2009, at an event held at the Virginia Beach Rock Church of the late John Gimenez, an apostle in NAR mastermind C. Peter Wagner's International Coalition of Apostles. Blessing and anointing both Newt Gingrich and Mike Huckabee at the event was TheCall cofounder Lou Engle, who has served on Wagner's elite Apostolic Council of Prophetic Elders (ACPE).
[video, below: Lou Engle anoints Newt Gingrich and Mike Huckabee]
Gingrich returned, along with Lou Engle, to the Rock Church in 2011 for an event advertised under the title "Rediscovering God in America". Also receiving top billing at the event was Wallbuilders founder David Barton, a close colleague of top New Apostolic Reformation leader Cindy Jacobs - who describes Barton as attending movement events as early as 1990.
By all indications David Barton is in all but name an apostle in Peter Wagner's NAR. Along with Jacobs, Wagner, Ed Silvoso and much of the NAR's top leadership, Barton shows up on the Board of Reference of TheCall, a signature organizing event of the New Apostolic Reformation, from the inception of TheCall in 2000.
ICA Apostle Sandy Grady serves in Barton's Wallbuilders organization and in 2005, Barton worked with Grady and her fellow ICA apostle Craig Lotze to write a manifesto to "declare and proclaim the Lord God Almighty as Our Supreme Judge over our courts in America" that was in turn promoted by ICA apostle and ACPE member Dutch Sheets.
At a March 24th and 25th, 2011 Pastor's Policy Briefing also sponsored by Champion the Vote, former Arkansas Governor Mike Huckabee introduced David Barton by quipping that he wished every American citizen could be forcibly indoctrinated with Barton's history, at gunpoint if necessary.
Barton has been publicly identified by at least one author and critic as a "liar for Jesus" and was recently the subject of an extensive report from the liberal nonprofit People For The American Way, which lambastes Barton for "sloppy scholarship" and outlines his notable political positions that include a claim that the environment is self-regulating because of "divine provenance", and an assertion that Jesus was opposed to the minimum wage.
Since 2003, Barton's Wallbuilders website has featured an article by Wallbuilders board member Stephen McDowell, that repeatedly cites the work of theologian R.J. Rushdoony and appears to sanction biblical slavery.
Rushdoony, the founder of Christian Reconstructionism, was a virulent racist who wrote that Africans were lucky to become slaves in America, claimed the Holocaust death toll was wildly inflated, and maintained that the Sun orbits the Earth.
Newt Gingrich's involvement with factually-challenged Christian nationalist history revisionism traces back at least to his 2006 book Rediscovering God in America: Reflections on the Role of Faith in Our Nation's History, which makes the misleading and inaccurate claims that Thomas Jefferson promoted the use of government funds to evangelize Indian tribes and recommended the use of the Bible as a text in the District of Columbia school system.
While some commentators have missed Newt Gingrich's ties, the reality is that the Former Speaker of the House, who led the Republican takeover of the House and Senate in the 1994 election, has been a strong partisan of the religious right for decades.
In 1985, Gingrich was a keynote speaker at the Reverend Tim LaHaye's Washington DC "How To Win An Election" conference, held by LaHaye's American Coalition for Traditional Values (ACTV). As described in a 1995 story from the Institute From First Amendment Studies, the conference, which featured the slogan "Serve the Lord by running for public office", emphasized that Christians have a "Biblical mandate" to become involved in politics.
As Religion Dispatches contributing editor Sarah Posner (who provided the archival image, below, from a flyer for the 1985 ACTV conference) comments, "Gingrich... has long known how to pander to Christian right leaders and sell himself as someone who shares their "values" and, crucially here, win elections."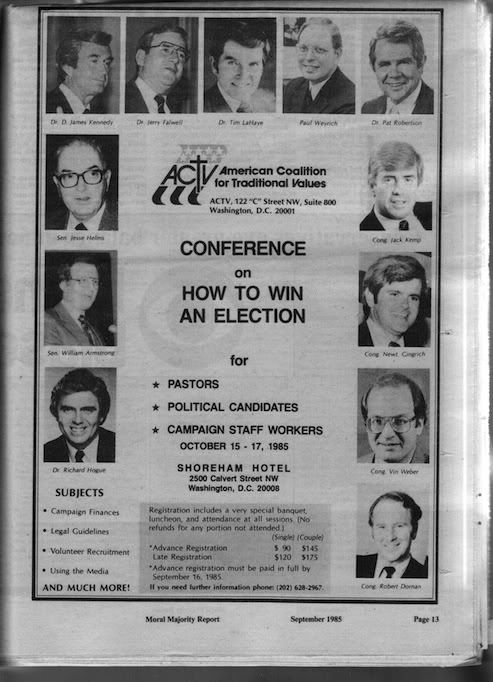 *footnote - Leading up to The Response, the Texas Observer published a landmark story, by Forrest Wilder, on the NAR and its ties to Rick Perry. Talk To Action contributor Rachel Tabachnick appeared on Terry Gross' NPR show Fresh Air for an August 24, 2011 interview to explain the New Apostolic Reformation, and NAR mastermind C. Peter Wagner appeared on Fresh Air on October 3, 2011, to present his side of the story.
*a correction: an earlier version of this story incorrectly dated the Orlando, Florida Pastors Policy Briefing as having occurred on September 19th. The event was held October 20th to 21st, 2011.