On Tuesday, Rachel Maddow did the world a favor by airing a series of short video clips of the endorsers of Rick Perry's upcoming prayer event. The clips were posted by Right Wing Watch, with some originating from Talk2action.org. These video clips should receive much more national exposure, but they need to be viewed in context of the movement they represent. Rachel Maddow, keep at it!  Perry's endorsers are not just a random group of radical evangelists making outrageous statements.
These are the apostles and prophets of the New Apostolic Reformation, the biggest international religious movement you never heard of.
C. Peter Wagner, the one in the video clip about the Japanese stock market plunging because the emperor slept with the sun goddess, is probably the most powerful religious leader that you never heard of.
Below is the video clip of Jack Hayford and C. Peter Wagner originally posted at Talk2action.org in 2009. C. Peter Wagner
Peter Wagner is the Convening Apostle of an international network of apostles and prophets who believe they are unifying the church to take control over government and society, and bring about the return of Jesus.  The apostles have a 50-state communications and mobilization network of "prayer warriors," which is becoming increasingly enticing to right-wing politicians.  Remember Sarah Palin's repeated thanks to her prayer warrriors?  This was not a generic use of the term, as described in a previous Alternet article by Bill Berkowitz in 2010.
Wagner coined the term New Apostolic Reformation, and describes his movement as "the most radical  change in the way of doing church since the Protestant Reformation."  The movement primarily draws from the Independent Charismatic sector of Christianity, which encompasses almost 400 million people worldwide and is sometimes referred to as neo-Pentecostal or neo-Charismatic. The latter description is used in World Christian Trends, the gold standard for statistics for the evangelical missions movement.
Wagner is the brains behind the demon and witch-hunting that is part of Strategic Level Spiritual Warfare, or SLSW, which has drawn interest throughout much of the charismatic evangelical world.  With the aid of some of his top apostles including Cindy Jacobs and Ed Silvoso, Wagner developed and promoted the SLSW techniques of spiritual mapping, warfare prayer, and "Reconciliation" events.  The latter are are claimed to remove the "generational curses" from certain population groups such as Native Americans, African Americans, Roman Catholics, and those of non-Christian faiths.
Sam Brownback's promotion of the U.S. Senate's resolution of apology to Native Americans was in coordination with Apostles Jay Swallow, Nigel Bigpond, Lou Engle, and John Benefiel, who believe the removal of a generational curse will bring an end to abortion.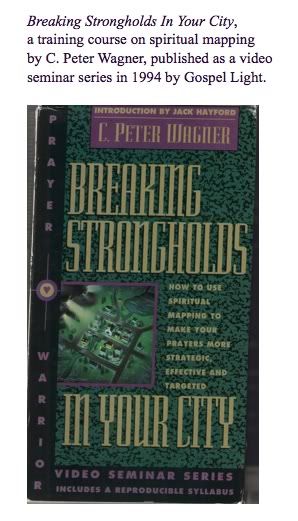 The video clip of Wagner's claim that the Japanese stock market slump could be explained because the emperor had sexual intercourse with the sun goddess, is from a Wagner video seminar series.  It's titled Breaking Strongholds in Your City: How to Use Spiritual Mapping to Make Your Prayers More Strategic, Effective, and Targeted. The training series is introduced by Jack Hayford, former head of the International Foursquare Gospel, who has played a pivotal role in Pentecostals' embrace of Wagner's New Apostolic movement and ideology.
While you may be tempted to chuckle and brush off this sudden onslaught of information about the apostles - their burning of other people's religious objects and claims that the Statue of Liberty, monuments, and Indian mounds are demonic - don't.  Chances are the apostles have a prayer warrior group or "Transformations" entity in your city or region.
[The graphic, below right, is from C. Peter Wagner's 2008 Dominion! How Kingdom Action Can Change the World and shows the "Workplace Apostles" or Market Apostles as the bridge between the "Biblical Government of the Church" and the "Great Transfer of Wealth." ]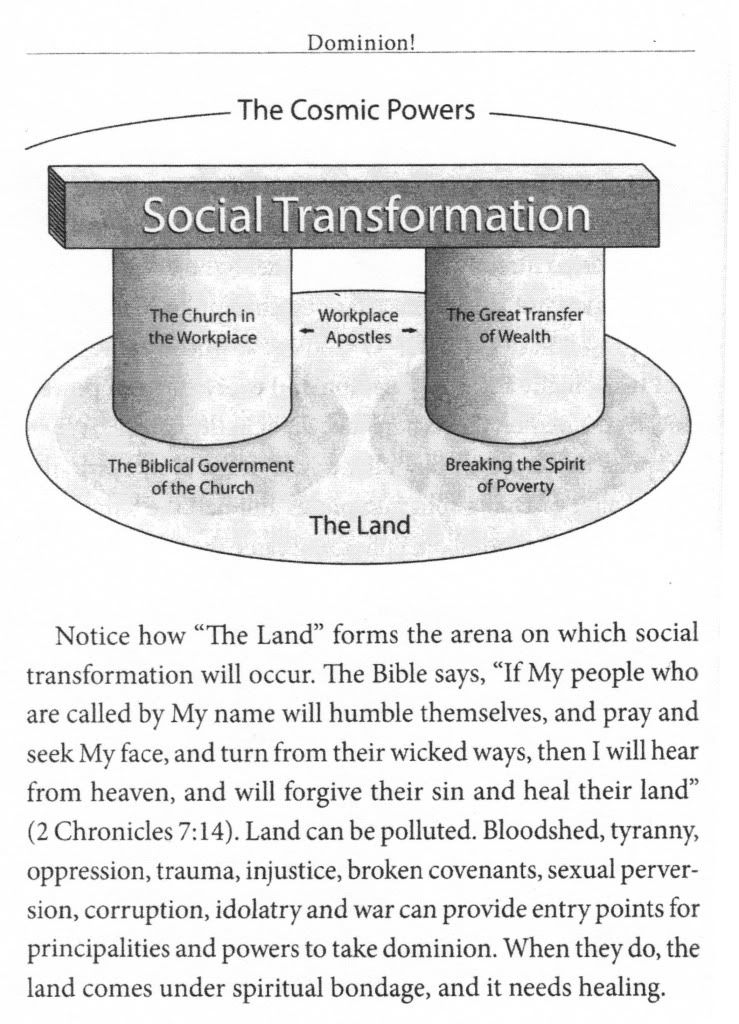 The Global Day of Prayer initiated by South African Graham Power is a product of this movement and much Religious Right activism in this country has been commandeered by the movement.  Religious Right leaders like James Dobson, former head of Focus on Family, and Tony Perkins of Family Research Council, have participated in events led by the apostles, as have numerous other traditional Religious Right leaders.  American Family Association is sponsoring Rick Perry's event, whose organizers include leadership of Lou Engle's The Call and Mike Bickle's International House of Prayer.
International Christian Zionist activism is increasingly dominated by the New Apostolics.  John Hagee, founder of Christians United for Israel (CUFI) and another endorser of Rick Perry's prayer event, teaches a different end times theology.  However, many of his CUFI directors are New Apostolic leaders and support the aggressive proselytization of Jews and "Israel Mandates" that characterize the movement.
Peter Wagner and Rick Warren
C. Peter Wagner was Rick Warren's mentor for his dissertation at Fuller Theological Seminary.  That dissertation was the foundation for Warren's book The Purpose Driven Church, which was followed by Warren's blockbuster book The Purpose Driven Life.  Warren's dissertation promoted the idea, also advanced by Wagner's movement, that evangelical churches should not be democratically governed.
Wagner has written about Warren's P.E.A.C.E. plan as being "Phase One" in a God-given mandate for Christians to take "dominion" or control over the earth. Wagner describes Phase one as, "strategic-level spiritual warfare and associated activities have not been placed front and center."  This takes place in Phase Two and Phase Three, as Wagner defines it, includes the apostolic/prophetic government of the church, dominion theology, the Seven Mountains mandate, and the great wealth transfer.  The latter is the belief taught by the apostles, that there will be an imminent transfer of wealth from the ungodly to the godly. The Seven Mountains mandate is the call for charismatic evangelicals to take control over arts, business, education, family, government, media and entertainment, and religion.
C. Peter Wagner and Ted Haggard
In the late 1990s, Wagner was finishing up his leadership role in a massive world missions project called AD 2000 and Beyond, which aimed to evangelize the world by the year 2000. Billy Graham served as the honorary co-chair of the effort.  Wagner left his 30-year position teaching Church Growth at Fuller Theological Seminary to move to Colorado Springs and set up the nerve center of the New Apostolic Reformation.  His partner in this enterprise was Ted Haggard, who would later lead the National Association of Evangelicals.  What could be described as the Pentagon of Spiritual Warfare, was set up in the World Prayer Center adjacent to Haggard's New Life Church.
Haggard had worked with Wagner in AD2000 and Beyond, and Haggard wrote in his book The Life Giving Church that their worldwide prayer network involved 40 million people at its peak.  Haggard promoted the spiritual warfare ideas of the movement, including conducting "spiritual mapping" of his community of Colorado Springs.  He claimed this effort drove witches out of the town and, in Haggard's words, resulted in reduced cattle mutilations.  This tidbit can be found in Haggard's 1996 book Primary Purpose.
While Warren and Haggard became well known to the public, Wagner managed to stay completely out of the limelight as he developed a global religious network.  His apostles in this movement can now be found in countries around the world, meeting with presidents, prime ministers, business leaders, and politicians.
Apostles and Politics
In the U.S., in addition to Sarah Palin and Sam Brownback, Newt Gingrich, Mike Huckabee, Michele Bachmann, Rick Santorum, Jim DeMint, and many others have participated in events led by the apostles.  In Jacksonville, Florida, Kimberly Daniels, a leading apostle specializing in demon expulsion was recently elected to city council - as a Democrat.  In the primaries prior to the 2010 election, Hawaii's gubernatorial race included two candidates working closely with Apostle Ed Slivoso's International Transformation Network - Republican Duke Aiona and Democrat Mufi Hannemann.
This is ironic, given that Aiona is Catholic and Hannemann is Mormon.  These two faiths have been literally demonized by the New Apostolic leadership, who have written openly about destroying the icons, artifacts, and relics of these and other religious beliefs.
Leading apostles go on spiritual warfare ventures around the world with the goal of taking on the "Queen of Heaven," described by Wagner as "one of the most powerful spirits in Satan's hierarchy" and responsible for blocking the evangelization of both Catholics and Muslims.   Wagner has written extensively about one particular venture in 1997 called Operation Ice Castle, led by Wagner's wife and a lead prophetess, and later described as perhaps contributing to the death of Mother Teresa.
In 2008, after Sarah Palin was named as John McCain's running mate, contributors at Talk2action.org published tens of thousands of words documenting Palin's ties to leadership and activities of the New Apostolic Reformation.  Despite having video and audio documentation, the idea of a specific network of apostles and prayer warriors was treated with derision by most of the mainstream press, and many academics and religion writers.
The video of Palin being anointed by an Kenyan pastor in a ceremony that included calls for protection from witchcraft, was discounted as overblown and part of the Kenyan  pastor's native cultural heritage.  The reality is that Thomas Muthee was an international leader in Wagner's network and well known around the world in some circles for his role as a star in movement's training films called The Transformations. 
These movies are produced by George Otis, Jr. and  feature vignettes of communities around the globe that have supposedly been transformed through this prayer movement of the end times. The crowning jewel in this series of transformations is supposedly the nation of Uganda, site of several Transformations movies.
The spiritual mapping and spiritual warfare techniques taught by the movement are the product of Wagner and other western missionaries, as described in an extensive academic treatment of spiritual mapping, written by Rene Holvast.  The overview of my well-worn copy of this resource states, "The reader is presented with a unique insight into Spiritual Mapping as an expression of Americanism, as well as the socio-political concept of Manifest Destiny and U.S. religious marketing."
Others dismissed the investigation of Palin's association with the apostles as an attack on conservative Christianity.  However, outside of the progressive writers at Talk2action.org and PFAW's Right Wing Watch, almost all of the critical media on the apostles has come from conservative evangelicals. Many evangelicals are opposed to the dominion theology and politicized Christianity taught by the movement, as well as their goal of eradicating denominations and restructuring world Protestantism.
In 2008, Palin's religious activities were brushed off as either weird, none of our business, or overhyped.  There was little serious effort by the press, including religion writers, to analyze her relationship to a movement that threatens religious pluralism and separation of church and state.
Numerous journalists used sources at Charisma Magazine to dismiss the documentation being released by contributors of Talk2action.org and other authors.  This was questioning the fox about who ate the chickens.  at that time, both the publisher of Charisma, Stephen Strang, and editor, J. Lee Grady, were apostles in C. Peter Wagner's International Coalition of Apostles.
The offhanded dismissal of the apostles has already started.
C. Porter Wagner?
Cathy Lynn Grossman, writing for USA Today, discounted the efforts of Right Wing Watch to expose the New Apostolic network behind Perry's event.  She implies that Perry should not be held accountable for the evangelists who endorse his event and failed to note that the organizers, not just endorsers, include leaders from this movement.  Grossman referred to C. Peter Wagner, one of the most influential religious leaders in the country, if not the world, as "C. Porter Wagner."
Grossman states that one source knows that the American Family Association "is running this show."  It is true that the AFA, designated as a hate group by the Southern Poverty Law Center, is financing the event, but they are not the sole organizers of the event.  And I would be a little wary of Grossman's source, which has a vested interest in how this event is publicized. 
Her source was Charisma Magazine.
Also see the following Talk2action.org articles:
Rick Perry Partnering with New Apostolic Groups for Houston "Call to Prayer"
New Apostolic Reformation's Apostles Receiving Long Overdue National Coverage
Rick Perry's Own Private Alamo