"Transformation" in the context of Global Awakening and the NAR has a different meaning than what one might expect, and there is abundant evidence that Myers is talking about the NAR's definition.
I've recently written a report on the meaning of "transformation" in the NAR for Political Research Associates' "Colonizing Africa's Values" report. (Start on page 51. Report can be download from this page.)
Transformation in the context of the NAR means supernatural healing of society, keeping in mind that "healing society" does not mean the same thing to all people. The modern-day apostles and prophets of the movement teach that this healing can not take place until a community and its churches join together to repent, convert, expel the demons (literally) in their midst, and turn leadership over to those chosen by God. This process requires the taking of "dominion" over the "seven mountains" or seven spheres of culture, including government. The movement's apostles are to lead the nuclear church, but also the other "mountains" of society and government. Since the late 1990s the movement has produced a series of Transformations movies and hundreds of Transformation entities around the world, from Melbourne, Australia to Lancaster, Pennsylvania.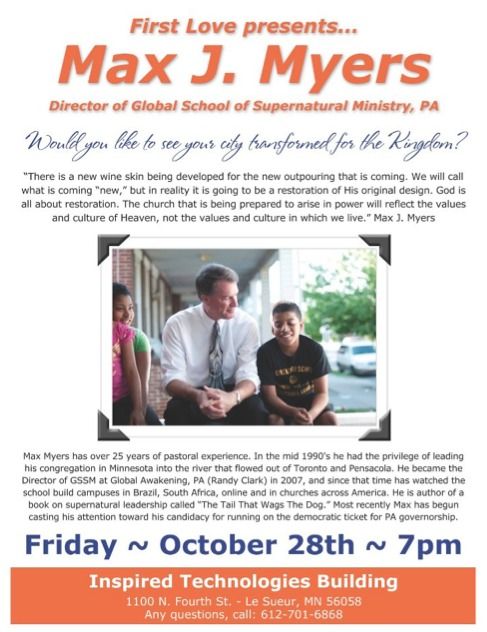 For those who question that Myers is a part of this movement, or that he is talking about this brand of transformation, please see my last Talk2action article on Myers and the following examples of the transformation message by Myers and his New Apostolic colleagues. More quotes from Myers' lectures and writing will be in future articles.
Before most Pennsylvanians had heard of Max Myers, his upcoming candidacy for governor as a Democrat was celebrated at an event in his honor by a ministry group in Minnesota, where he had pastored an Assemblies of God church. The October 28, 2011 event began to be advertised on social media in September as "Transforming Your City for the Kingdom, Max Myers from PA with Potluck." The poster for the event was subtitled "Would you like to see your city transformed for the Kingdom?" and featured a quote from Myers.
Max says, "There is a new wine skin being developed for the new outpouring that is coming. We will call what is coming "new," but in reality it is going to be a restoration of His original design. God is all about restoration. The church that is being prepared to arise in power will reflect the values and culture of Heaven, not the values and culture in which we live.
Also on the poster,
Max Myers has over 25 years of pastoral experience. In the mid 1990's he had the privilege of leading his congregation in Minnesota into the river that flowed out of Toronto and Pensacola. He became the Director of GSSM in 2007, and since that time has watched the school build campuses in Brazil, South Africa, online and in churches across America. He is author of a book on supernatural leadership called "The Tail That Wags The Dog." Most recently Max has begun casting his attention toward government.
The idea that the church is going to "arise in power" and transform society is echoed throughout Myers' lectures and writing. Nevertheless, he was quoted today by Philly Daily News political columnist John Baer as saying the following.

"My theology does shape who I am . . . [but] by no means am I wired to try to advance the causes of religion in Pennsylvania."
The "river that flowed out of Toronto and Pensacola" refers to the faith-healing revivals in the mid-1990s that broke out in Toronto and Pensacola and involved charismata or charismatic manifestations such as uncontrolled "holy laughter." The "Toronto Blessing" is the common tie between the leading apostles of the Revival Alliance, described in my previous article.
Also note the wording of Myer's quote to John Baer. He says he would not try to advance the "causes of religion." The term "religion" has negative connotations in the NAR. For example, a number of leading apostles and prophets of the movement contributed to a book titled Freedom from the Religious Spirit, describing institutional religion and religiosity as a demonic obstacle to "God's plan and purpose." The religious spirit that is the topic of this book is supposedly what stops people from embracing the Charismatic belief and agenda shared by the NAR apostles and prophets.
The introductory webpage to GSSM includes a message from from Randy Clark, apostle over GSSM and all of the Apostolic Network of Global Awakening ministries. The webpage, prior to this year, also included a message from Myers and the message quoted below from Clark.
Over the last decade, we have developed strong relationships with anointed apostolic leaders from around the world. Many of these key apostolic leaders are excited to serve as adjunct instructors for our school. From these leaders and other instructors, students receive powerful impartation through the laying on of hands, and learn key strategies to nations transformation and church planting. [Bolding of text is mine and not in the original.]
In addition to the GSSM, Randy Clark's ANGA includes a certification program in supernatural healing called CHCP and a branch of Wagner Leadership Institute called WLI-Global Awakening. The catalog of WLI includes the following course description and explanation of how "transformation" must take place.
Transformation of society has always been on the heart of God. To transform cities, regions and nations, we need to capture and rule the seven mountains (business, government, family, religion, arts & entertainment, education, and media) that shape each area's culture. Learn how apostolic intercession has the power to enable leaders to receive revelation of Christ's purposes, plans and strategies for the workplace and remove obstacles that hinder advancement to the top of the seven mountains.
Another course taught by leading apostles including C. Peter Wagner and Lance Wallnau is titled "Taking Dominion Now Seminar" and is described as,
This power-packed course is a must for those desiring to learn how to advance God's Kingdom in their generation! Topics include the history of the Church, social transformation, the transfer of wealth, workplace apostles, and the history of dominion theology and how to take dominion in one's given sphere of influence.
Lance Wallnau, one of the instructors of the above course, is shown as a board member of Global Awakening on the IRS tax 990 tax forms of the ministry. In 2006, Global Awakening was dissolved and reformed as Apostolic Network of Global Awakening, a church association, and was no longer required to file 990s. Wallnau is known nationally as one of the primary spokespersons for the "Seven Mountains Mandate."
Link here to an article with embedded video of Wallnau, introduced by Patricia King of Extreme Prophetic TV, on the seven mountains. Max Myers advertised his 2011 book, along with an endorsement from Patricia King, on his website "Vertical Leadership." That page has been removed and entering the url for www.verticalleadership.net now leads to the Max Myers for Governor website.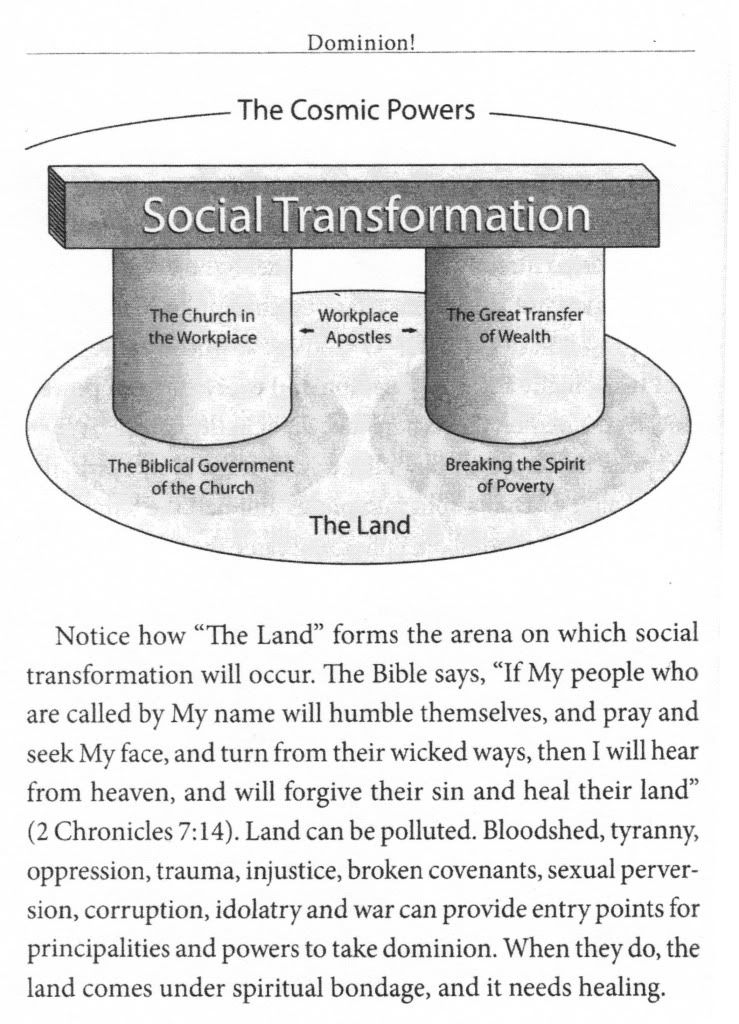 Peter Wagner, instructor in the course described above, is the founder of the Wagner Leadership Institute and, until 2010, the convening apostle of the International Coalition of Apostles. In his 2008 book Dominion: How Kingdom Action Can Change the World, he describes transformation and includes this chart, said to be revealed to him by God, of the "components for transforming society." These include "Workplace Apostles" or "Market Apostles" as the bridge between the "Biblical Government of the Church" and the "Great Transfer of Wealth." In other words, the goal is to have apostles in every area of society, including government, in order to accomplish their agenda. The "Great Transfer of Wealth" is described in a previous article.
Myers 2011 book, The Tail that Wags the Dog, is about the need to replace democratic church leadership with theocratic leadership. In other words, members should not vote for their leaders, God should choose them.
The beauty of supernatural leadership is that it can be lived out in any house church, independent, or denominational setting as long as the supernatural leader has the freedom to follow the Father's direction. Supernatural leadership is not a Western or American form of leadership. It is kingdom of God leadership. It's a theocracy of God choosing to lead His people through someone of His choice, who will follow what they see in the kingdom and hear in the Spirit. Since it is kingdom of God leadership, it also transcends every ethnic and cultural barrier. Theocracy was God's plan for all of His people, so it will work with "every tribe and every tongue."

As a new wine skin, the intent of supernatural leadership is to be able to carry the new outpouring of the kingdom of God with longevity. When His presence and power step into our environment, our desire is that this occurrence will not just be a historical moment in time. We want His presence to shift the atmosphere indefinitely and that individuals, families, businesses, territories and governments will be transformed. Can you or I do that? That's the point. We've been failing at if for thousands of years. Can He do that through our leadership and those that we lead? Absolutely. That has always been His plan.

Myers, Max J (2012-03-06). The Tail That Wags The Dog: A Journey Towards Supernatural Leadership (pp. 110-111). Creation House. Kindle Edition.
Also from Myers book,
-Itís time for us to end self-rule.
-Itís time to relook at Godís original design for how His kingdom is to be led.
-Itís time for a new style of leadership.
-Itís time for a new type of leader.
-Itís time for supernatural leadership.
(p. 44)
These examples of transformation are not limited to a culture war over hot button social issues. The transformation described in the books, lectures and media of the NAR's leaders is a narrative in which all other faiths and belief systems are viewed as obstacles to the evangelization and transformation of the world. The current church institutions are viewed as corrupt, and denominational divides as impeding the advancement of the agenda of the apostles and prophets for transformation of society.
Progressives and conservatives, Democrats and Republicans, Denominational Christians and those of other faiths, and anyone else valuing secular democracy should be wary of Max Myers plan for "transformation of Pennsylvania."