Wilks is discussing "The Nehemiah Plan," a term that is being used to discuss
Transformation campaigns
around the country. The audio is poor, but it's worth the effort. The transcript is below the video.
Here is the thing.  The city's charter specifically specified - and the expert on this is Lloyd Turner and I guess Joanne has a lot of it too, maybe by studying and some by osmosis -   the charter did specify that Newark was to be a representation as closely as possible to the Kingdom of God, here on earth.  All of the voting citizens of the city, all of them were believers and members of the church.  They allowed others to reside there but they didn't have the same rights and privileges as those who were committed to Christ. Now, the original charter required that, and some how that aspect of our spiritual heritage has been lost, where it was the body of Christ that was the [total?] leadership with governments over the city.  So, we want to see that restored as much as possible and we want to see the residents of this city no longer in great affliction and no longer a reproach.
Wilks is an apostle in the New Apostolic Reformation (NAR), apostolic covering for Transformation Newark and Pray for Newark. He is also a member of the International Coalition of Apostles. This phenomenon of NAR networks infiltrating existing churches can be seen all over the country. Communities across the nation are being introduced to the "Transformation" agenda of Ed Silvoso, founder of International Transformation Network and described in more detail in this article. The Global Day of Prayer is an outgrowth of ITN and its transformation campaign. The city transformation plan calls for merger of church and state and a mandate for control by born-again Christians over society and government. Newark has become a model for this effort or a "detonator city" as described by Wilks and other Transformation leaders.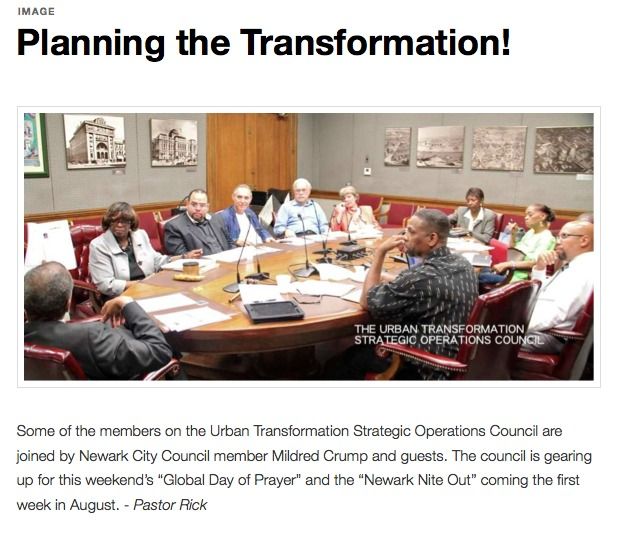 Wilks wears many hats, including leading Transformation Newark, ReMa, the Resident Minister's Alliance, and the Urban Transformation Strategic Operations Council. In this photo of the latter group, Wilks is meeting with Newark City Council president Mildred Crump and Transformation Newark leaders planning the city's celebration of the Global Day of Prayer and Newark Night Out.
Newark Night Out is part of New Jersey's "National Night Out Against Crime," an event to foster links between law enforcement and the community. Events across the city were hosted by the city, Bernard Wilks, Transformation Newark, and ReMA leaders and affiliated churches.
According to their publicity, ReMA activities also include:

-Host the Clergy Annual Clergy Appreciation Banquet, at Metropolitan Baptist Church  
-Host the Annual National Day of Prayer celebration on City Hall Steps.
-Hosted Political Candidates forum at Newark Symphony Hall
-Founded the Heritage Employment Learning Placement (HELP) Center (ex-offender Employment Agency), 
-Host the Annual (Cherry Blossom) Walk-A-Thon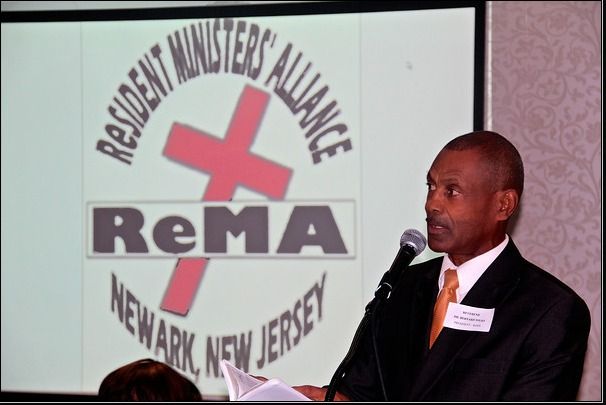 ReMA has hosted Transformation Collaboration meetings between pastors and government leaders. In this meeting at Metropolitan Baptist Church, Wilks, Sr. Pastor David Jefferson, and ReMA leaders report meeting with some of Newark's city council members and "former NJ Secretary of State Buster Soaries, Essex County Urban League president Vivian Cox Fraser, the Chairman Behavioral of Health at Newark Beth Israel Hospital, Dr. Trevor Forbes, Columbia University professor and advisor to the Newark Water Group, Dr. Brendan O'Flaherty, Essex County Freeholder (and chief of staff to Senator R. Rice, Sr.), Rufus Johnson, Founder of Evangelism Explosion, Dr. Bill Iverson, UMDNJ Health Clinician Jacelyn Matthews."
DeForest "Buster" Soaries was the former secretary of state under Gov. Christine Whitman, an unsuccessful GOP candidate for the U.S. House in 2002 (losing to Rush Holt) and is senior pastor of First Baptist Church of Lincoln Gardens in Somerset, New Jersey. Soaries is described in his bios as a pioneer of faith-based community development and appointed by President George W. Bush to serve as a public director of the Federal Home Loan Bank. Bill Iverson, also listed in above attendees, is considered the "grandfather" of the late D. James Kennedy's Evangelism Explosion. Iverson is in his mid-80s, but has recently planted several multi-ethnic PCA churches in Newark.
Leaders from Ed Silvoso's ITN, Lloyd and Joanne Turner, can be seen at the far end of the table in the photo above of the Newark city council president meeting with Transformation Newark leaders. The Turners are the couple referenced in Bernard Wilks' video above. Lloyd Turner is the author of a book published by Silvoso's ministry on "transforming" New Jersey and Eastern Pennsylvania through supernatural means. A democratic gubernatorial candidate in Pennsylvania, Max Myers, has also written and taught about the need for new "supernatural leadership" to transform the state.
In 2011, Silvoso held his annual "City Transformation" conference at Metropolitan Baptist. It included the participation of pastors David Jefferson and Bernard Wilks and was advertised through ReMA. Although Silvoso may not be familiar to many readers, this could be compared to Jerry Falwell or Pat Robertson holding a convention at a church at the height of their political clout. Today's religio-political leaders somehow remain invisible to much of the population as they plant organizations in communities across the nation.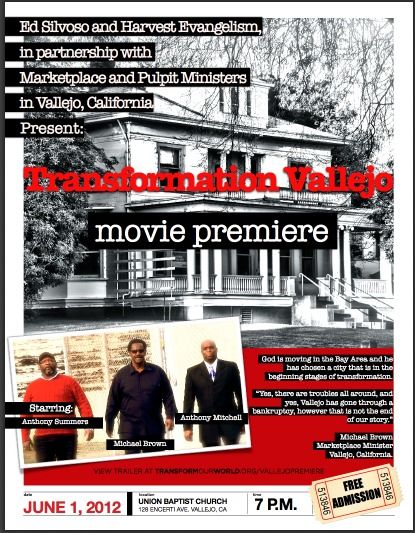 Silvoso's 2012 summit on city transformation was held in Vallejo, California. The video "Transformation Vallejo" was premiered at the event held at Union Baptist Church and cosponsored by Transformation Vallejo. One of the keynote speakers at the 2012 summit was Gerald Whittaker of Transformation Newark. Whittaker was chosen to give the opening prayer at Booker's 2010 "State of the City" address. Whittaker is also at the meeting of the Urban Transformations Strategic Council pictured above.
The Daily Beast has an article today questioning how Cory Booker got himself "in such a dumb mess" with his equity payoffs and internet startup. The article continues, "There is an irreconcilable dissonance between the guy who cares so much he lives in public housing and the guy who uses his connections to become a millionaire while working a full-time, highly paid government job." Yes, there is, and there are other reconcilable differences between Booker's progressive persona and what has been going on behind the scenes in Newark.
Programs from Silvoso's 2011 and 2012 summits shown below.