Operation Rescue's connections to Phill Kline became a matter of public record with Kline's appointment of
OR associate Don "the Dingo" McKinney
as a special prosecutor charged with continuing Kline's
attempted prosecution
of Dr. Tiller. But its connection to Dr. D. James Kennedy's Coral Ridge Ministries had flown under the radar until now.
The Center for Reclaiming America is led by Dr. Gary Cass, who traveled to Wichita last week to lend his organization's full support to Operation Rescue and its effort to revive Kline's failed prosecution of Dr. Tiller. Cass is pictured below (left) with Rev. Pat Mahoney of the Christian Defense Coalition.
Photo: Operation Rescue
Rev. Pat Mahoney of the Christian Defense Coalition and Dr. Gary Cass of the Center for Reclaiming America told reporters that they would seek a federal investigation to find out why District Attorney Nola Foulston and Kansas Attorney General Paul Morrison are not enforcing the law by prosecuting Tiller for illegal late-term abortions.
Both Mahoney and Cass, along with Jeff White (pictured far right) and Cheryl Conrad of Survivors, have threatened Sedgwick County District Attorney Nola Foulston with a federal investigation of her office unless she accedes to their demand that she prosecute Dr. Tiller. As Cass once said, "If they don't vote our way, we'll change their view one way or another."
We are deeply concerned that there may be an intentional effort underway on the part of the Sedgwick County District Attorney's office and the Kansas Attorney General's office to deny due process in the matter of criminal charges against George R. Tiller for illegal late-term abortions.
:::
We hope that progress is being made toward properly enforcing the laws of the State of Kansas. In the case that we determine that progress is insufficient, we will be forced to request a Federal Investigation in order to determine why the Sedgwick County District Attorney's office and the Kansas Attorney General's office will not enforce the law. We hope it does not come to that.

You may contact Rev. Pat Mahoney at [phone number redacted], if you need to communicate with our group.

Sincerely,

Rev. Pat Mahoney
Christian Defense Coalition
Washington, DC

Dr. Gary Cass
Center for Reclaiming America
Ft. Lauderdale, FL

Troy Newman
Operation Rescue
Wichita, KS

Cheryl Sullenger
Operation Rescue
Wichita, KS

Jeff White
Survivors
Los Angeles, CA

Cheryl Conrad
Survivors
Los Angeles, CA
Jeff White founded the Los Angeles-based Survivors, a group long associated with violent elements of the movement. A Survivors group invaded an annual meeting of the American College of Obstetricians and Gynecologists.
Jonathan O'Toole, from Kansas City, Missouri, [a] member of the anti-abortion group, which is called Survivors, told Medscape that the group used videotape to "identify these people." Moreover, he said his group selected the Tuesday morning session because "we knew there would be abortionists there."

Asked what will be done with the video images, O'Toole said they might be posted on a Web site called the Nuremburg List as part of a dossier on the physicians. "We're doing this so that someday these people can be tried for crimes against humanity."

When Medscape asked if circulating the physicians' pictures might make those physicians targets of violence, O'Toole said, "I can see how that could happen, but you see I'm not telling anybody to be violent."
O'Toole had learned a bit of discretion by the time he was interviewed by Medscape. He was less reticent in HBO's "Soldiers in the Army of God."
At once shocking, compelling and beautifully made, the film is essentially the national television debut for the aboveground spokesmen and spokeswomen of the Army of God.

The film follows the mentoring relationship of long haul trucker and Army of God recruiter Bob Lokey, of Opp, Alabama, and 19-year-old Jonathan O'Toole of Kansas City, Mo., who says he is seeking the most "radical" and "terroristic" anti-abortion group he can find.
And so, it would seem, is Troy Newman. Comments on Operation Rescue's Web site are strictly moderated, with no dissenting voices allowed: "OR reserves the right to remove any comment for whatever reason." Its public renunciation of violence is belied by its publication of this fan letter from the Rev. Michael Bray (address link contained in the original)
Michael Bray

Good to see any effort offered to shut down Abortionist Tiller. Your efforts call to mind the noble sacrifice of Shelley Shannon.

Shelley Shannon spared Tiller's life when she walked up to his car and purposely shot him twice in the arms rather the head or heart in 1994. Although she had blown up several abortuaries around the American countryside, she just did not want to stop the murder of children by lethal means. Consequently, she shot him twice: intentionally once in each arm. The hack prosecutor charged herewith intent to murder (a false charge), but she did not aggressively resist it in order not to disrespect the work of Michael Griffin who had recently terminated Abortionist David Gunn in Florida. She did not condemn such terminations, but simply did not opt to take such action personally.
Bray fully endorses the concept of divine sanction for the murderers of doctors who provide abortion care.
The actions of those who have killed abortionists or destroyed their machinery of death ought to be lauded rather than lamented. Prisoners and defendants ought to be honored rather than demeaned. Judges who have sentenced such citizens, calling the convicts cowards, ought to repent and honor them as heroes. They ought to be provided with compensation and honor so that the contrast is not less than what the world observed in the treatment of Nelson Mandela: one moment a prisoner; the next the prime minister.
And that sentiment seems to be OK with Operation Rescue, which long maintained a close relationship with another Army of God veteran, Paul deParrie, who was memorialized on its site as a "Christian brother" by Kline's pet prosecutor, Don McKinney.
While Phill Kline, like Leslee Unruh, was a no-show at OR's award ceremony in his honor, he did garner standing ovations on Sunday for his anti-abortion speech at a Best Western convention center in Park City, a Wichita suburb.
His message was part of a service that was sponsored by Heartbeat Ministries, which provides sidewalk counseling to women outside Women's Health Care Services, an abortion clinic on East Kellogg.
:::
"There is a cry in Wichita and it's been multiplied 1,000 times over," Kline said. "And not just by the lives taken, but by the women and girls who have been deceived."

After the sermon was over, Heartbeat Ministries took a collection for local anti-abortion efforts and for Kline.

Audience member Jeff Herzog called Kline a "modern-day hero" for filing charges against Wichita abortion provider George Tiller.

"Phill Kline has got a real hand on the pulse for what's going on in our city and nation," said Herzog, 50. "Women come here and they're pressured into abortions. They think that's the answer.

Karen Myers, 24, said she was 5 years old when she started praying at area abortion clinics.

She said Kline's message is one that all Kansans need to hear.

"The charges he brought against Tiller have merit, and they should have their day in court," she said of the 30 misdemeanor charges Kline filed earlier this month.
Jeff Herzog (left), a longtime Operation Rescue "Truth Truck" driver with an extensive history of stalking Dr. Tiller and his office staff, is quoted as if he were your average Joe Citizen.
The second commenter from Kline's audience, Karen Myers, is pictured below as she posed this weekend (center front) with hardliners such as Ron Brock (far left), who has been arrested well over a hundred times as he and his own bright red Truth Truck made their presence felt at protests from South Dakota to Mississippi.
Brock, who refits his truck especially for each protest, was prominently parked in front of Dr. Tiller's clinic this weekend.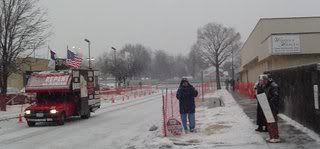 Brock has long assisted such apologists for murder as Army of God Hero of the Faith Robert Ferguson, and he traveled to Florida in 2003, where, with a few dozen others, he and Donald Spitz of the Army of God awaited Hill's execution.
Outside the northern Florida prison, about three dozen people hailed him as a hero for protecting unborn babies, released yellow balloons as he was executed and sang a Christian hymn.
:::
"What Paul Hill did was the correct thing to do. He did what God called him to do," said Don Spitz, a pastor who heads the Pro-Life Virginia anti-abortion group, runs the Army of God web page and had acted as Hill's spiritual adviser.

Another supporter claimed Hill was doing God's work in killing Britton. "God's justice system calls for retribution," said Ronald Brock, who drove to the prison from San Diego, California, in a large camper van covered in huge, pictures of aborted foetuses.
While Brock does not publicly boast of membership in the Army of God, he reliably attends actions in which AOG members participate. At the Paul Hill vigil, AOG "Heroes of the Faith" Robert Ferguson (top photo, right) and convicted clinic arsonist John Brockhoeft both posed for photos in front of Brock's trademark red truck, Brockhoeft with his children.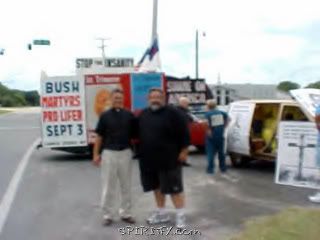 OK, so Bill O'Reilly's "thousands" didn't flock to Wichita last weekend. But let's think about who did show up in town for Operation Rescue's party: former Attorney General and Johnson County District Attorney Phill Kline, Rev. Pat Mahoney of the Christian Defense Coalition, Survivors founder Jeff White, Gary Cass of Coral Ridge Ministries and Ron Brock of most dubious associations. Whatever Troy Newman failed to do, he certainly pulled off a gathering of the clans. If Michael Bray considers it a success . . . well, Bray is a man who ought to know.
Photo credits: Operation Rescue, Maggot Punks, ezekielsystems.com and the currently inactive SpiritFX.com
Title image: Missouri Dept. of Conservation