Creationism, Creationism Everywhere
"Despite a court-ordered ban on the teaching of creationism in US schools, about one in eight high-school biology teachers still teach it as valid science, a survey reveals. And, although almost all teachers also taught evolution, those with less training in science - and especially evolutionary biology - tend to devote less class time to Darwinian principles.

US courts have repeatedly decreed that creationism and intelligent design are religion, not science, and have no place in school science classrooms. But no matter what courts and school boards decree, it is up to teachers to put the curriculum into practice.

"Ultimately, they are the ones who carry it out," says Michael Berkman, a political scientist at Pennsylvania State University in University Park.

But what teachers actually teach about evolution and creationism in their classrooms is a bit of a grey area, so Berkman and his colleagues decided to conduct the first-ever national survey on the subject..."

[ From New Scientist Magazine. continue reading article ]
As a new UK documentary shows, the teaching of Creationism in schools is more than a US phenomenon: Creationism is an international phenomenon. The recent survey, as discussed in New Scientist Magazine, documenting the spread of Creationist ideas among American high school teachers is striking on several counts - because Creationist ideas have become so pervasive in American society and among American educators but also for the fact that the survey discussed in New Scientist--carried out by Michael Berkman, a political scientist at Pennsylvania State University in University Park, and colleagues of Berkman's--was the first of its kind. Previous to the study no one had thought to conduct a clinically rigorous survey on the spread of Creationist ideas through the American educational system.
Fake History: Christian Nationalism's Stealth Persuader
There's another dubious type of belief spreading through the American educational system: fake US history. But, there has been no effort, comparable to the U Penn/Berkman (et al) study, to assess the spread of falsified American history even though Talk To Action broke the news, last year, that falsified American history, in the form of a bizarre re-interpretation of church-state separation constructed by Christian nationalist history revisionist David Barton, has been inserted into US Department of Defense JROTC curriculum taught in Junior ROTC programs in high schools across America. Another vector for the spread of fake US history is by way of Bible class curriculum being promoted in public schools (and written by) the National Council For Bible Curriculum in Public Schools.
"History is powerful", writes Talk To Action Co-Founder Frederick Clarkson, and I have outlined how falsified versions of American history feed American Christian nationalism. Why is the teaching of accurate American history so vital ? Here's why:
In 2004, The Texas Republican Party platform declared the United States to be a "Christian nation". Christian nationalism is probably the driving ideology of the Christian right, and that ideology rests on a falsified version of history that tens of millions of Americans believe to be true.

Falsified history, asserting that the US was founded as a "Christian nation" and that the founders intended the separation of church and state principle to keep government out of religion but not vice-versa, has become shockingly widespread:

It is being taught at hundreds of US high schools, through an elective Bible class curriculum, it gets taught in the US Army's Junior ROTC curriculum, it gets showcased in an exhibit from the US Library of Congress, blasted from talk radio, broadcast by PBS, pushed by many religious broadcasters as a matter of course, distributed appended to Bibles given US troops, spread via Christian homeschooling curriculum taught to hundreds of thousands of students (at least), and promoted via a blizzard of videotapes, works of dubious and brazenly falsified American history..... on and on (I'm sure the full list of vectors for fake history is longer still).

The rewriting, and fabrication, of history can be most deadly expression of totalitarian impulses : those who control the past, the record of what has been, control the future. Falsified American history has seeped into not only homeschooling curriculum, America's public schools, and Congressional debates, but it also has distorted public understanding that the religious neutrality of American government was, and still is, key to the success of American democracy itself.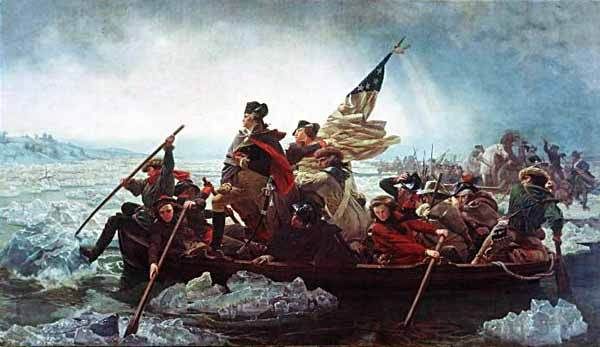 As Frederick Clarkson, Co-Founder of this website, wrote in a recent Public Eye story entitled History is Powerful: Why the Christian Right Distorts History and Why it Matters:
"The notion that America was founded as a Christian nation is a central animating element of the ideology of the Christian Right. It touches every aspect of life and culture in this, one of the most successful and powerful political movements in American history. The idea that America's supposed Christian identity has somehow been wrongly taken, and must somehow be restored, permeates the psychology and vision of the entire movement. No understanding of the Christian Right is remotely adequate without this foundational concept.

But the Christian nationalist narrative has a fatal flaw: it is based on revisionist history that does not stand up under scrutiny. The bad news is that to true believers, it does not have to stand up to the facts of history to be a powerful and animating part of the once and future Christian nation. Indeed, through a growing cottage industry of Christian revisionist books and lectures now dominating the curricula of home schools and many private Christian academies, Christian nationalism becomes a central feature of the political identity of children growing up in the movement. The contest for control of the narrative of American history is well underway."
America is splitting into two opposing political camps and one of those embraces a falsified version of American history, and that fake history has even become cited pervasively in Congressional debates. The consequences are not minor. One might have expected such government-sponsored lies from a totalitarian regime such as the former Soviet Union. But the United States government claims to foster the teaching of accurate history. At stake are the rights of minorities in America, the separation of church and state, and the preservation of religious liberty. In fact, pluralistic American democracy is itself at risk.
America, and the American electorate is bifurcating, wrote political science professor Tom Schaller, in a recent Baltimore Sun editorial. Schaller makes this grim diagnosis:
America seems to be coming to the end of a period of partisan dealignment that began with the civil rights movement and the Vietnam War. The so-called vital center is collapsing."
Which political camp, and which narrative of history, will exert more influence in America in the coming decades ? Church state separation has become badly eroded and breached over the past two decades. Consider - religious organizations that get federal funds to provide social services can now practice religious discrimination in their hiring practices; a new federal program launching this summer will literally install courts in churches; several billion dollars in federal domestic and international aid dollars have gone to promote failed "abstinence-only" sex ed programs advocated by the religious right.
What has been behind growing support for such violations of church/state separation is the fact that millions of Americans, probably tens of millions, believe that the church/state separation principle is a fraud, a pernicious myth, and that the United States was founded, and intended, as a Christian nation.
A substantial percent of Americans now believe that America was founded as a Christian nation, and they believe that in part because the flood of revisionist history, based on historical lies, fabrications and distortions, and misquotes and false quotes incorrectly attributed to America's founders, that has been written over the past several decades.
Many of America's leaders, in fact, have come to believe in the "Christian Nation" myth and the precepts that myth has been built on have become, to a worrying extent, taught to American teenagers; through Bible class curriculum taught in hundreds of America's public schools, through homeschooling curricula and, through the JROTC program, to America's future military leaders.
What view of history did recently resigned US Department of Justice staffer Monica Goodling, and her 150-odd fellow graduates from Pat Robertson's Regent University, hold ?
Almost assuredly, they were taught, at Regent, that the United States was founded as a Christian nation. In fact, up to 1/2 of Americans may believe in some version of the "Christian nation" myth, and many of those Americans who do will also tend to believe the separation of church and state to be a pernicious myth.
Fake "Christian nation" history is being taught in hundreds of American schools and American politicians across almost the whole breadth of the political spectrum seem to have forgotten that the United States was founded as a secular nation, and why America's founders chose to do so. Recently, hundreds of thousands of Turkish citizens rallied in support of secular Turkish government but, as Frederick Clarkson and I have written about, at length, many of America's national political and religious leaders seem to have lost an understanding of what secularism, a core foundational principle of American government, is about.
As more and more Americans have come to believe in falsified "Christian nation" history, the admixture of church and state in America has grown, and incidents in which minorities, Jews, Wiccans, atheists, and others, are persecuted seem to be growing more common [footnote 1]. The logic is simple ; if the US was founded as a Christian nation, minorities should simply shut up and get out of the way. An entire generation of American children growing up now is being taught a falsified, heavily politicized version of American history, and to the extent that we neglect to pay attention to that we will continue to be surprised to find, as with Monica Goodling and her cohorts today, partisan religious ideologues embedded in American government, warping our nation's agenda, for decades to come.
Arguably, America is slowly splitting in to two diametrically opposing politically camps. Each camp has its sense of reality, grounded in its own understanding of history:
One camp holds an orthodox historical interpretations of American history built up by historians over decades and centuries. The other political camp holds a view of American history that has been constructed, quite recently, by activists on the Christian right, from fake quotes and misquotes, lies, distortions and omissions and which holds that America was founded as a "Christian Nation", and that the separation of church and state is myth and America's true heritage has been stolen and the intent of the nation's founders thwarted by liberals and "secularists".
That second view is a lot more common than many on the left believe: according to a 2002 Newsweek poll, 45% of Americans at that time saw the United States as a "secular nation", while 29% saw the United States as a "Christian nation" and 16% as a "Biblical nation, defined by the Judeo-Christian tradition".
It is a fair guess that those in the poll who saw America as a "Biblical nation" would also tend to agree, except for a small percentage of Jewish Americans, that the US was also a "Christian nation", and so Newsweek's poll indicated that Americans were almost evenly split. But the United States was founded as a secular nation in which church and state were intentionally decoupled ; the first government in history to expressly prohibit the use of religious oaths as a precondition for holding national political office. Almost 1/2 of America seems on the verge of forgetting those historical facts ; history is being overwritten by myth.

Historian Chris Rodda Explains Why David Barton and His Work Matter





"Because the portrayal of history so affects current policy, some groups have found it advantageous to their political agenda to distort historical facts intentionally. Those particularly adept at this are termed 'revisionists.' "

Who wrote these words? The answer might surprise you. It was David Barton, in the foreword to his book Original Intent. And, Barton has certainly proved this statement to be true. No group has found it more advantageous to their political agenda to have "revisionists" as adept as himself on their side than the religious right, and, in fact, the entire Republican Party.




Just how influential is Barton? How valuable is he and his distorted version of American history to the religious right and the Republican Party? For those who don't already know, the following, from the 2005 Time Magazine article naming him one of Time's 25 Most Influential Evangelicals, will give you an idea.




David Barton
The Lesson Planner: Even before he got directly involved in politics, David Barton was a major voice in the debate over church-state separation. His books and videotapes can be found in churches all over the U.S., educating an evangelical generation in what might be called Christian counter-history. The 51-year-old Texan's thesis: that the U.S. was a self-consciously religious nation from the time of the Founders until the 1963 Supreme Court school-prayer ban (which Barton has called "a rejection of divine law"). Many historians dismiss his thinking, but Barton's advocacy organization, WallBuilders, and his relentless stream of publications, court amicus briefs and books like The Myth of Separation, have made him a hero to millions -- including some powerful politicians. He has been a co-chair of the Texas Republican Party for eight years, is friends with House majority leader Tom DeLay (whom he has advised on the Pledge Patriot Act, which seeks to keep the phrase "under God" in the Pledge of Allegiance) and was tapped by the Republican National Committee during its election sprint as a liaison to social conservatives. Those elected as a result of his efforts need not feel lonely in Washington: Barton conducts tours of the Capitol, during which he shows his rare copy of the Bible that Congress once printed -- for use in the schools.




The pseudo-history lessons of Barton, the "Lesson Planner," were once confined to churches and homeschools. Now, however, these lessons are making their way into more and more of our public schools via the National Council On Bible Curriculum In Public Schools (NCBCPS), an organization whose advisory board includes Barton. The NCBCPS curriculum, which not only recommends Barton's materials, but contains an entire unit devoted to promoting the Christian nationalist version of American history, has already been implemented in 382 school districts in 38 states.




Over the past decade, the lies of Barton and and other revisionists have been used with disturbing frequency in debates in Congress -- by senators and representatives who learned American history before the days of Christian homeschooling and the NCBCPS. If those of the generations currently in Congress have been so greatly influenced by this Christian nationalist pseudo-history, what will our Congress be like in a few decades from now, when it is packed with a generation who were never taught real history?




Historical Revisionism from the National Council On Bible Curriculum In Public Schools - 3/10/07
More Historical Revisionism from the National Council On Bible Curriculum In Public Schools - 3/18/07
Barton Revises History to Promote the National Council On Bible Curriculum In Public Schools - 3/24/07
Historical Revisionism in the NCBCPS Curriculum - 3/31/07


More Historical Revisionism in the NCBCPS Curriculum - 4/5/07
The Influence of the Ten Commandments on American Law - According to the NCBCPS - 4/12/07
Chuck Norris Helps the NCBCPS Spread David Barton's Lies - 4/15/07
Even More Historical Revisionism in the NCBCPS Curriculum - 4/22/07
"Revisionism: A Willing Accomplice" -- The Remarkable Hypocrisy of David Barton (Part 1) - 4/29/07
footnotes
David Barton is one of the principle architects of the Christian right's "Alternate" version of American history. See Barton's Wallbuilders website.
See Frederick Clarkson's grimly funny Who's Secular Now ? quiz series for an example of the sorts of language politicians and religious leaders across the politician spectrum use in relation to the word and concept of "secularism" ; Clarkson's multi part quiz series demonstrates just how degraded and twisted American understanding of the principle of secularism, a foundational principle of American government, has become.
For an example of where Christian nationalism can lead, see Jewish family flees Delaware school district's aggressive Christianity from Jews On First